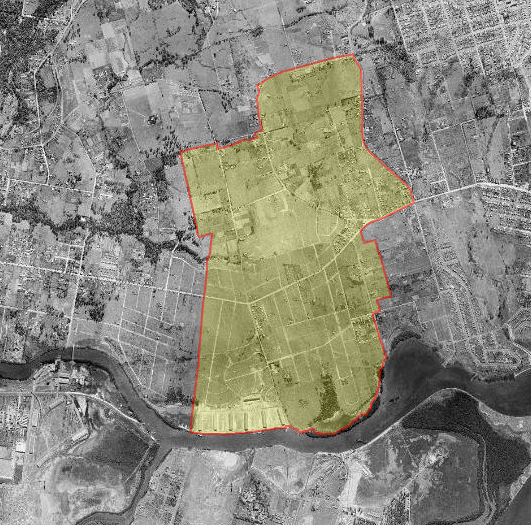 Ermington is a residential suburb located on the northern bank of the Parramatta River and is to the east of the Parramatta CBD. It is part of the Dundas Ward of the City of Parramatta.
Aboriginal history
The original inhabitatants of the area we now know as Ermington were the Wallumede or Walameda people. They lived along the northern side of the Parramatta River and were concentrated in the areas that are now Ermington, Dundas, Eastwood and North Ryde. Their land was known as Walumetta. [1]
The naming of Ermington
The suburb of Ermington was named after Major Edmund Lockyer's home. Major Lockyer arrived in New South Wales in 1825 in command of the 57 Regiment. In 1827, when he sold his army commission and became Parramatta's Police Magistrate, he also began farming. In 1828 Lockyer bought 80 acres of land which was situated on the eastern side of Wharf Road, approximately where McIntosh and Lancaster Avenue meet. This land had been originally granted to John Colethread. He then built a stone mansion , which he called Ermington. He had taken the name from the parish in South Devon where he was born. In April 1841, a portion of the property was subdivided and advertised as the Township of Ermington. In 1843 Lockyer was forced  to sell the property to Oswald Bloxsoime and George Turner as a result of the economic depression of the time. In 1876, the house was purchased by John Richard Linsley, a local resident and politician. By this time the area was known as Ermington Park. [2] The house remained in the Linsley family until 1926 when it was sold. In c.1930 the house was demolished for residential development and subdivided.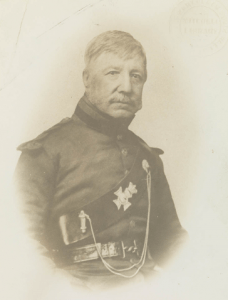 Major Edmund Lockyer 1784-1860, in the uniform of the Sydney Volunteer Rifle Corps c.1854-60. Source: State Library of New South Wales, 110352740
 First land grants
In 1791, Governor Arthur Phillip granted land to former convicts, and some of these holdings fell within the boundaries of what is now Ermington.  Matthew Everingham, for example, got 50 acres bounded by Bennetts Road, Spurway, Delaware and Bartlett streets. [3] This farm was settled by November 1791. Governor Phillip then granted land on 3 January 1792 to eight marines who decided to remain in the colony after their term of office had expired. This settlement was given the name Field of Mars, but this is distinct from the later Parish of the Field of Mars. These pioneer settlers were:
Isaac Archer – 80 acres
John Carver – 80 acres
John Colthread – 80 acres
Thomas Cottrell – 80 acres
Alexander McDonald – 130 acres
James Manning – 80 acres
Thomas Swinnerton – 80 acres
Thomas Tynan – 80 acres
Within a short time the marines had cleared a lot of their land and cultivated many grains. The crops however largely failed as the soil was unsuited to farming. The land belonging to the marines was largely sold over time, with Thomas Cottrell's and Thomas Tynan's grants being bought by Reverend Samuel Marsden. After Marsden's death, Cottrell's grants were inherited by his daughter Elizabeth. By the early 1840s Edmund Lockyer and Elizabeth Marsden owned a significant portion of what is today Ermington. The economic depression of the 1840s affected Elizabeth Marsden as well as Edmund Lockyer, and in the 1850s her land was also subdivided. [4]
Rose Farm House
Rose Farm House at 17-19 Honor Street, Ermington, was built on land granted by Governor Phillip to Alexander McDonald in 1792. It was completed in 1820, and was lived in by McDonald until his death in 1821 from a boating accident. It is a cottage of high historical significance, and is a rare surviving example of early Colonial Georgian style cottages in the area. [5] Features include sandstone internal and external walls, and mature fig trees. The corrugated iron roof is one of the few alterations since its construction. Rose Farm House has had many changes in ownership in 200 years, including at one time Nathaniel Payten.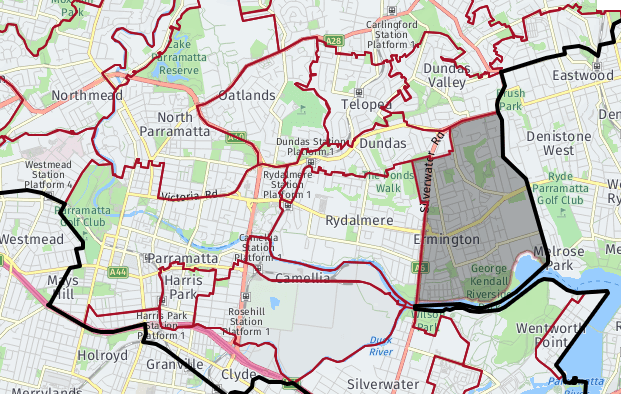 Ermington Profile Area 2019. Source: City of Parramatta Community Profile
 Village of Ermington
The original township of Ermington developed as a 'village' at the crossroads of Kissing Point and Marsden/Wharf Roads. This Ermington 'village' eventually comprised of a church (St Mark's Church of England, 1881, which was built on land received by Jane Catherine Marsden from her father Samuel Marsden), stores, a post office, a butchery, a livery stable, a blacksmith, and an inn.
Kissing Point Road was formed in 1813. It was an extremely important road for anyone wanting to travel by boats available at the Pennant Hills Wharf, as well as for farmers from the entire district to transport their produce to the Sydney markets via the Pennant Hills Wharf.
Orchards and Nurseries
Ermington was a significant site for fruit growing and nurseries, and remained largely a farming and fruit growing area until the 1920s when light industries began to develop. One of the largest orchards was the Mount Pleasant Nursery, owned by W. Atkins and his son. The following report from The Cumberland Argus and Fruitgrowers Advocate states:
Mr. W.A. Atkins, proprietor of the well known Mount Pleasant Nursery, is evidently strongly imbued with that spirit enterprise and energy characteristic of the Atkins family….The Mount Pleasant Nursery is situated in Atkins Lane off Victoria Road, Ermington within ten minutes walk of the Ermington wharf or half an hour from the train. It consists of eighteen acres, ten acres being under cultivation as an orchard and eight devoted to the nursery. The land has an easterly aspect with a gentle slope from the western to the eastern boundary and is thus naturally drained. The soil, a rich black loam, seems adapted to all kinds of fruit, but Mr. Atkins having early discovered that apricots thrive best, is gradually replacing the old trees with this luscious fruit, the Camden, a superb early variety, being his favourite. Last season nearly three hundred cases of apricots were marketed, and when the young ones come into bearing Mr. Atkins expects to have a thousand cases to send. [6]
During the late 1940s, post-war housing settlements grew with the Housing Commission building. The New South Wales State Government resumed a large amount of land for public housing and built many of the houses in the area. Light industries, mostly pharmaceutical and food processing developed in the area.
Education
Ermington High School joined the Primary School in January 1959 but within a short time the name was changed to Marsden.
Ermington Shopping Centre
In 1958 the Ermington Shopping Centre opened, which became a hub for the new residents. Ermington is also the birthplace and was for many years the home of the 1956 Olympian, 'Golden Girl' Betty Cuthbert. The main street of the Ermington Shopping Centre is named Betty Cuthbert Avenue in her honour. A monument created by artist Jamie Sargeant is also installed in the pavement near the shops.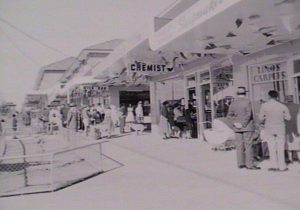 Opening of Ermington Shopping Centre, 1958.  Source: State Library of New South Wales, 110157168
Naval Stores
Ermington was also the site for the former Naval Stores site on River Road. It was used by the Royal Australian Navy as a stores depot from 1947 until it was declared surplus in 1990. A Masterplan for the site came into effect in 2002. [7]
Post-War Migration
The first wave of post-war migration to Ermington was Australian returned servicemen and their families who occupied the newly built Housing Commission homes. This was followed by residents of inner city suburbs of Sydney such as Newtown, who had been living in high density accommodation and sought housing that was more spacious. Overseas migration then became an important part of Ermington's community. First British citizens, then European and later Eastern European. Eventually migrants and refugees from other parts of the world including Asia, the Middle East and South America broadened Ermington's community.
Recent History
In 2016, the most common ancestries identified in Ermington were Australian, followed by English, Chinese, Irish and Lebanese. 58.1% of people were born in Australia, 7% China, 4% Republic of Korea (South), 2.5% Lebanon, 2% England and 1.6% India. [8] This diversity is celebrated by the City of Parramatta with many events and festivals. [9]

Caroline Finlay, Regional Studies Facilitator, City of Parramatta, Parramatta Heritage Centre, 2020
References:
[1] Yates Avenue Public School. (n.d.). A History of our School and its Community. Retrieved 3/9/2019 from https://yatesave-p.schools.nsw.gov.au/content/dam/doe/sws/schools/y/yatesave-p/localcontent/yates_ave_history.pdf
[2] McAndrew, A. (2002). Carlingford Connexions. Sydney: Author. p. 41.
[3] Dictionary of Sydney staff writer. (2010). Ermington. In Dictionary of Sydney. Retrieved 3/09/2019 from http://dictionaryofsydney.org/entry/ermington
[4] Dictionary of Sydney staff writer. (2010). Ermington. In Dictionary of Sydney. Retrieved 3/09/2019 from http://dictionaryofsydney.org/entry/ermington
[5] New South Wales Office of Environment and Heritage. (2019). Rose Farm House. Retrieved 24/9/2019 from https://www.environment.nsw.gov.au/heritageapp/ViewHeritageItemDetails.aspx?ID=2240295
[6] Mount Pleasant Nursery. (1893, May 13). The Cumberland Argus and Fruitgrowers Advocate. p. 2. Retrieved 24/9/ 2019 from http://nla.gov.au/nla.news-article85648656
[7] Architectus. (2019). Ermington Master Plan. Retrieved 30/10/2019 from https://www.architectus.com.au/en/projects/ermington-master-plan
[8] Australian Bureau of Statistics. (2016). 2016 Census Quickstats: Ermington. Retrieved 30/10/2019 from https://quickstats.censusdata.abs.gov.au/census_services/getproduct/census/2016/quickstat/SSC11435
[9] City of Parramatta. (2019). Things to do. Retrieved 30/10/2019 from https://www.cityofparramatta.nsw.gov.au/living-community/things-to-do