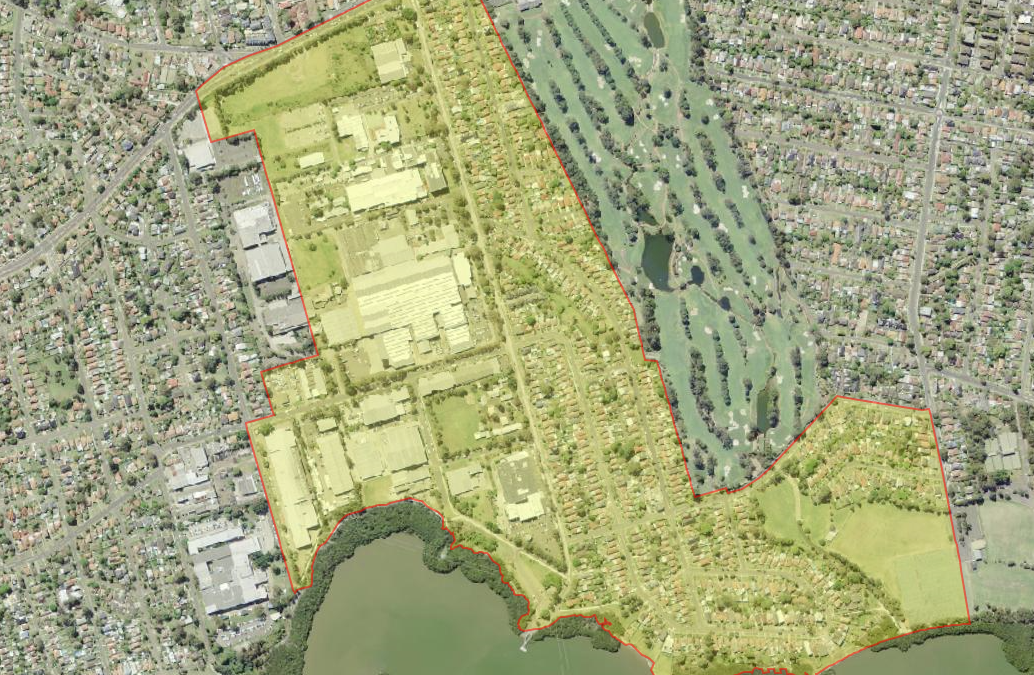 Melrose Park is located on the northern bank of the Parramatta River, between Victoria Road and the Parramatta River. It is part of the Rosehill Ward. Melrose Park is shared between the City of Ryde and the City of Parramatta, with the main dividing road being Wharf Road, with the City of Parramatta part located on the western side. Streets in the City of Parramatta part of Melrose Park include Hope Street, Wharf Road, Waratah Street and Victoria Road.
Aboriginal history
The Wallumedegal or Wallumede clan of the Darug people were the traditional owners of the area which they called Wallumetta. For a period of time the area which is now known as Melrose Park was meant to be called Wallumetta, but after much debate involving the Melrose Progress Association, the name Melrose Park was chosen.
First land grants and development of the area
The land that is Melrose Park was originally part of a grant given to two ex-marines, John Colethread/Coulthread (1761-1802), and Isaac Archer (1754-1836) on the 3 of January 1792. These land grants were part of eight grants given to former marines. John arrived on the First Fleet per 'Lady Penrhyn' and served in the company of Captain James Campbell. His grant was 80 acres. Isaac, who arrived on the First Fleet per 'Alexander', also served in the company of Captain James Campbell and received a grant of 80 acres.  In 1798, Isaac bought John's grant for 40 pounds. He continued to live on this property until 1825 when he sold it to Reverend Frederick Wilkinson, who later that year sold the original two grants to Major Edmund Lockyer. [1] To the west of Wharf Road Reverend Samuel Marsden consolidated a grant of 335 acres which today constitutes the entirety of the City of Parramatta part of Melrose Park.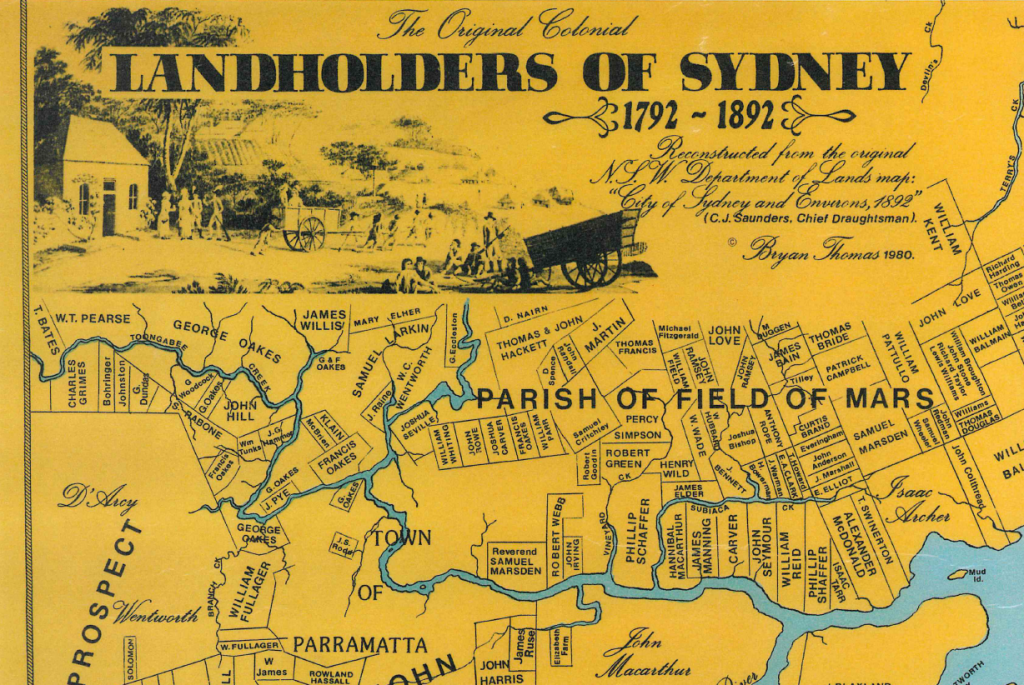 This land was bought by Major Edmund Lockyer, who at one time was a police magistrate in Parramatta, and he constructed a property called "Ermington House" in 1828. This property was a two-storey sandstone Georgian style mansion. The mansion had a road leading to the public road now called Wharf Road. This road led down to the wharf which provided an important link from the west to Sydney. Lockyer in the 1840s had financial difficulties which resulted in him selling his property to Oswald Bloxsome and George Turner. This land was eventually acquired by Jabes King Heydon in 1854. The mayor of Ryde, John Richard Linsley then purchased the property in 1876, by which time it was called Ermington Park. This house and surrounding property were tenanted until it was bought in its entirety by the City Mutual Life Assurance Society Limited in 1926 for 35,000 pounds. This was then subdivided in 1929 and is now occupied by Ryde, Ryde – Parramatta Golf Club and Melrose Park. Lockyer's home east of Wharf Road was demolished in 1930 to accommodate the new housing being built.
The naming of Melrose Park
George Crowley, who was the general manager of City Mutual Life Assurance Society Limited at the time of the subdivision, envisioned a satellite town complete with its own golf course and the subdivision plan of the Golf Links estate in 1929 heralded 'the birth of a new suburb'. [2] Melrose Park was named in honour of the very famous aviator Charles James (Jimmy) Melrose (1913-36), who amongst his many achievements made the first non-stop Adelaide-Tasmania flight, and was part of the unsuccessful search for Charles Kingsford Smith. On the 5 July 1936 Jimmy and his passenger died when his plane broke up in turbulent conditions in a charter flight from Melbourne to Darwin. It was later determined that this was due to structural failures in the plane. The Prime Minister Joseph Lyons joined the funeral services that included funeral services in both Adelaide and Melbourne. [3] The area officially became known as Melrose Park in 1947. The Melrose Park Public School when it was opened in 1945, to educate the children on the Golf Links Estate, was initially known as the Walumetta Infants School, but this was changed to Melrose Park Public School in 1947. Also by November 1947 one of the polling places for the election of aldermen for Ryde Municipal Council was listed as being Cobham Avenue, Melrose. [4] This naming however only applied to the part of Melrose Park which is within the Ryde local government area. The part of Melrose Park, which is represented by the City of Parramatta was known as Ermington until recently. In 2005, Parramatta City Council in consultation with the Geographical Names Board (GNB), recommended the extension of Melrose Park into its LGA. As part of this process GNB advertised the proposed amendments for public comment in local newspapers in 2005, and a map of the proposed boundary amendments was on public display in local libraries. This boundary was officially gazetted on the 16 June 2006, and the Geographic Names Board assigned it as an official name on the 19 January 2017 under the Geographical Names Act 1966.
Major industries
The historic Ryde council area of Melrose Park was largely established as a housing estate, with many of its streets also named after other aviators such as Sir Arthur Cobham, Jean Batten and Amy Johnson. Melrose Park within the City of Parramatta council area on the other hand, was initially farming and agricultural, but later became an industrial site with major pharmaceutical companies represented. These include:
Pfizer Australia at 38-42 Wharf Road, opened in 1959 and sold their site to Payce Consolidated in 2015.
GlaxoSmithKline located at 82 Hughes Avenue, is occupied by GSK Consumer Healthcare until its manufacturing facility implements a phased closure, expected to conclude in 2020.
 Eli Lilly at 112 Wharf Road, is a global pharmaceutical company, and was sold in 2015.
Aeroplane Jelly moved from Paddington, New South Wales to 8 Wharf Road in 1973, and remained there until 2006 when production was moved to Clayton, Victoria.
Big Sister Foods at 44a Wharf Road, was a New South Wales food manufacturing company that made fruit cakes, fruit mince pies and cupcakes, and closed in 2014.
Reckitt Benckiser at 12 Wharf Road, is a multinational household and healthcare manufacturer. This manufacturing site closed in 2012.
Ermington Putt Putt was Melrose Park's most famous and loved attraction since it opened in 1969. It had three 18 hole mini golf courses, Fun Run, Waterways and Jungle Trail, which were played by almost four million people, and hosted 200,000 children's parties and 2000 groups. The venue officially closed on 30 April 2017. [5]
Recent History
Melrose Park is currently undergoing a transformation from an industrial area to a residential, commercial and retail hub. In 2016, plans were lodged by City of Parramatta Council, in conjunction with Payce Consolidated Limited, to develop this area of under-utilised industrial land between Victoria Road and Wharf Road into a sustainable and liveable hub of Parramatta with residential housing, community facilities and retail opportunities. [6] This would include approximately 5500 new dwellings, affordable rental housing units, open space on about 18% of the site, recreation opportunities including significant work along the riverfront with the construction of the Parramatta Valley Cycleway and new green spaces and community initiatives such as the Melrose Park: Smart Planning for Climate Responsive Neighbourhoods project. This will pilot the use of a range of sensors to capture, analyse and visualise environmental data including temperature, humidity, air quality, noise, and stormwater. The data will provide useful information to monitor local environmental conditions. [7] As a new living and growing community, this new transformation of Melrose Park is underpinned by four guiding elements: New housing models, a focus on the environment, a real quality of life and a complete community. [8]

Caroline Finlay, Regional Studies Facilitator, City of Parramatta, Parramatta Heritage Centre, 2020
References:
[1] Hale, J.S. (1988). The Growth of Ermington. Ermington, NSW: Ermington West Public School. p. 9. [2] Phippen, Angela. (2008). Melrose Park. In Dictionary of Sydney. Retrieved 19/11/2019 from https://dictionaryofsydney.org/entry/melrose_park [3] Jones, Helen. (1986). Melrose, Charles James (Jimmy) (1913–1936). In Australian Dictionary of Biography. Retrieved 19/11/2019 from http://adb.anu.edu.au/biography/melrose-charles-james-jimmy-7554 [4] Phippen, Angela. (2008). Melrose Park. In Dictionary of Sydney. Retrieved 19/11/2019 from https://dictionaryofsydney.org/entry/melrose_park [5] Putt Putt cast out with nowhere to go. (2016, January 14). Parramatta Holroyd Sun. p. 5. [6] City of Parramatta. (2019). Melrose Park Southern Precinct Structure Plan. Retrieved 25/11/2019 from https://www.cityofparramatta.nsw.gov.au/sites/council/files/inline-files/melrose-park-southern-precinct-structure-plan-august-2019.pdf [7] City of Parramatta.  (2019). Melrose Park: Smart Planning for climate responsive neighbourhoods. Retrieved 25/11/2019 from https://www.cityofparramatta.nsw.gov.au/council/future-city/future-city-featured-projects/melrose-park-smart-planning-for-climate [8] City of Parramatta. (2019). Melrose Park Southern Precinct Structure Plan. Retrieved 25/11/2019 from https://www.cityofparramatta.nsw.gov.au/sites/council/files/inline-files/melrose-park-southern-precinct-structure-plan-august-2019.pdf