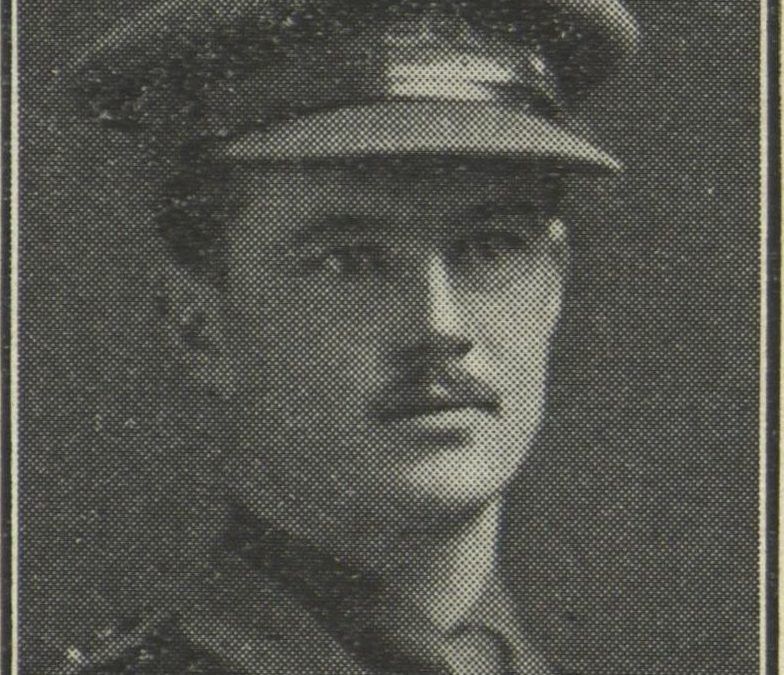 Roy Dadson Mulvey was born on 3 November 1889 at Mayfield, Newcastle, New South Wales. He is the son of George W. and Myra Elizabeth Mulvey (nee Christie) [1] and grandson to Colin Christie, one of Newcastle's first mayors.
Mulvey is connected to Parramatta through his early teaching years in Parramatta as a high school teacher in mathematics and science. He also married his former Parramatta High School colleague Gladys Taylor on 20 December 1915 at the Congregational Church on Pitt Street in Sydney.[2]. 
At the age of 26, Mulvey gave up his post-graduate scholarship to further his studies in teaching secondary science in England to join the Australian Imperial Force on 2 October 1915. On 11 March 1916, he embarked from Sydney aboard HMAT Orsova A67 as Lieutenant of 8 Infantry Brigade, 30 Infantry Battalion, 4 Reinforcements. His wife Gladys is recorded as residing at Gipps Street, Concord, New South Wales.
Arriving in Suez, Egypt on 13 April, he was promoted up the ranks to 2 Lieutenant on 9 September, and whilst seconded to the 8 Light Trench Mortar Battery was further promoted to temporary Captain on 11 November until he relinquished the role upon injury but was promoted again on 3 May 1917 as Captain.
Mulvey was recommended on 2 occasions for the Military Cross medal which he received on 3 June 1917 for his distinguished gallant services and devotion to duty in the field. As mentioned in Sir Douglas Haig's Despatch on recommendation by Major General E. Tivey on 9 March 1917 [3]
"This officer was appointed to command the Battery on 19th August 1916. He took part in successful raids on the German trenches at Fleurbaix on 16th September 1916 and Armentieres on October 12th, 1916. On both occasions he showed conspicuous gallantry and devotion to duty under heavy fire. In the latter raid, one of his gun teams was destroyed by a large minenwerfer, but Captain Mulvey stuck to the remaining guns and carried out his part of the programme with the greatest coolness. On the Somme front, from January 18th to 29th, opposites LE TRANSLOY, Captain Mulvey was constantly in action and often under heavy fire, taking part in operations and directing the fire, taking part in operations and directing the fire, of his guns on the enemy trenches, with remarkable effect.
On February 25th, he was wounded by a sniper in the front line, while selecting positions for his guns."
Struck off strength on 10 January 1918, having suffered gunshot wounds to his back, right arm, chest and lung, he embarked from England per HMAT Cornithie to return to Australia on 7 March 1918. Upon discharge, he was issued a Star medal, Victory medal and British war medal as a honour.
Upon returning to civil life, he went on to complete a medical degree and practiced as a doctor in Oberon and then Bathurst for 20 years. Sadly during World War 2, his son Captain Eric Mulvey [4] died on 15 September 1945 while on active service with the Royal Australian Army Medical Corps in the Islands. On 1952, Dr. Roy Mulvey passed away while on his second honeymoon in Holland. He was survived by his children John, Peter, Helen and Margaret. [5]

Anne Tsang, Research Assistant & Naga Durga Devi Kona, Volunteer Research Assistant, Parramatta Council Heritage Centre, 2016
[1] Cathedral Memorial Service For Late Mrs. Mulvey (1942, April 24). The Newcastle Sun (NSW : 1918 – 1954), p. 4 ; Mrs. Myra Mulvey's Death Announced (1942, April 23). The Newcastle Sun (NSW : 1918 – 1954), p. 2.
[2] Mulvey – Taylor [Marriage notice] (1916, January 29). The Sydney Morning Herald (NSW : 1842 – 1954), p. 16.
[3] Australian War Memorial. (n.d.) Retrieved from https://www.awm.gov.au/images/collection/pdf/RCDIG1068052–116-.pdf
[4] Captain Eric Mulvey (1945, September 29). The Dubbo Liberal and Macquarie Advocate (NSW : 1894 – 1954), p. 2 ; Death of Captain Eric Mulvey (1945, September 26). Newcastle Morning Herald and Miners' Advocate (NSW : 1876 – 1954) , p. 2.
[5] DR. MULVEY (1952, August 18). National Advocate (Bathurst, NSW : 1889 – 1954), p. 2 ; Mulvey, Roy Dadson. [Death notice] (1952, August 18). The Sydney Morning Herald (NSW : 1842 – 1954), p. 10.