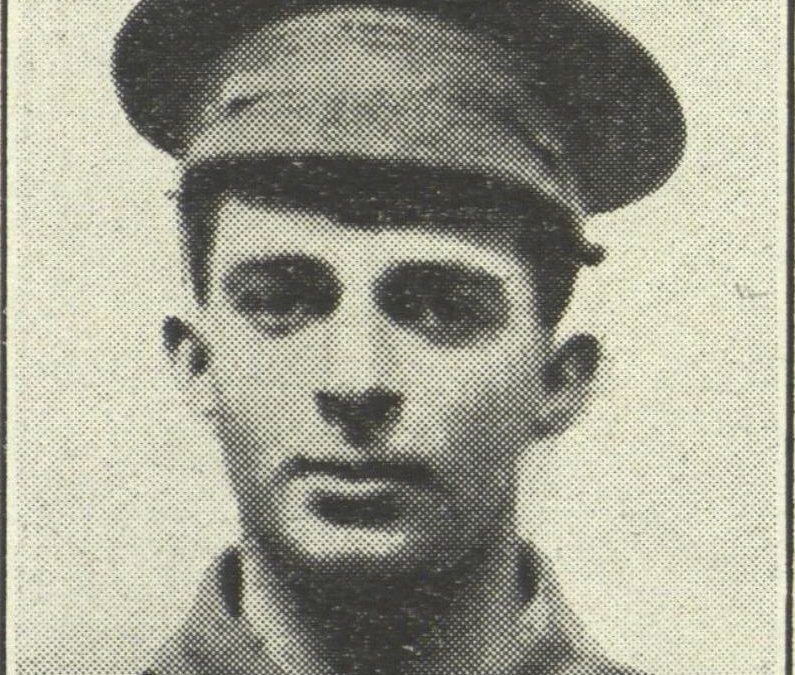 Lieutenant John Herbert Olfen was born in Bundaberg Queensland. At the time of his enlistment at Granville in July 1915, he was nineteen years of age. He lived in the Avenue Granville. Formerly, he had been a student at Granville Technical College. His occupation was recorded as joiner. He named his mother Mrs E Olfen as his next of kin. His father was Mr C Olfen.
An article was published in the Cumberland Argus of 21 August 1915 at page 2 describing a function held at Granville Technical College to send off their former student.  He was presented with a pocket wallet by fellow students and a fountain pen by the teaching staff:
Mr. Crosswell, in making the presentation on behalf of the students, spoke of the high esteem in which the recipient was held, and Mr. Geering, teacher of carpentry, expressed the same sentiments on behalf of the teachers. Mr. J. B. Brown, the Principal of the College, hoped that Mr. Olfen would be able to use the pen to write an account of the triumphal entry of the Australian troops into Constantinople, or, better still, Berlin.
Private John Olfen embarked for service overseas on 30 September 1915. He was at Gallipoli with the 20 Infantry Battalion 4 Reinforcements until the evacuation and then served in France with the 2 Pioneer Battalion. During this time he rose to the ranks of Corporal, then Sergeant, and subsequently was promoted to the rank of Lieutenant in October 1917. He returned to Australia on 7 September 1919. He was discharged on 7 November 1919. Lieutenant John Olfen was awarded the Star, British War and Victory Medals.  In a letter dated 9 May 1967, he applied for the Gallipoli Veterans' Medallion and lapel badge.  At this time he was living in Burwood, a suburb of Melbourne Victoria.
Neera sahni, Research Services Leader, Parramatta Heritage Centre, City of Parramatta, 2019