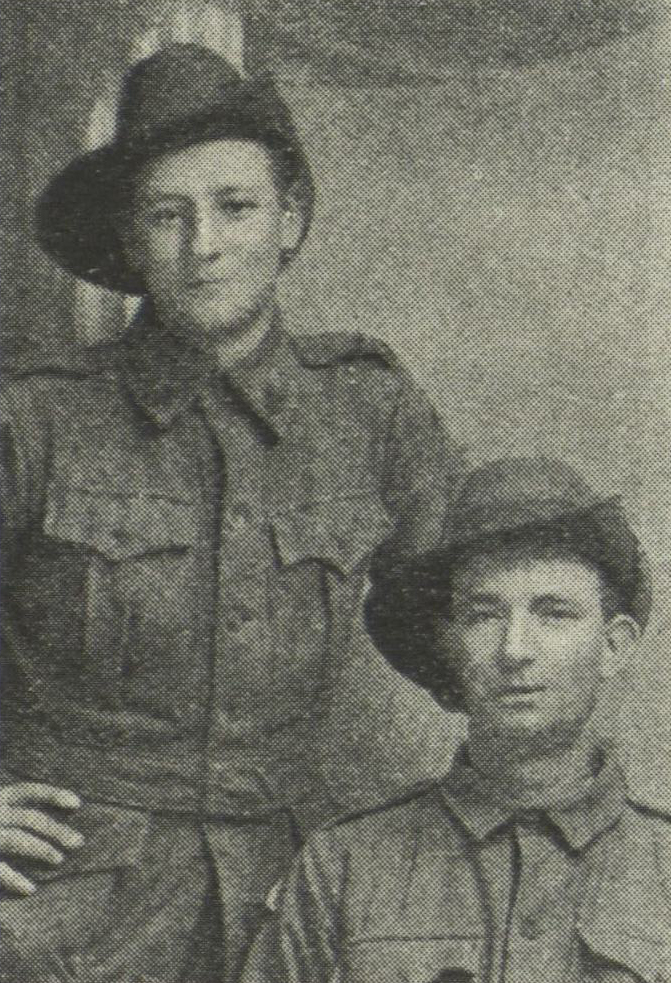 Robert William Lee (standing) was a 21-year-old iron moulder from Clyde Street, Clyde, New South Wales and was the son of Mrs. Bessie Lee. He enlisted on the 8 June 1915 and was assigned to the 1 Infantry Battalion, 8 Reinforcement with the rank of Private. He embarked with his unit aboard the HMAT 'Runic' from Sydney on the 9 August 1915 but was admitted to hospital on the 16 November 1915 with mumps. He re-joined his unit on the 29 November 1915 and was hospitalised again on the 17 December 1915.
He was sent to hospital from his battalion on the Gallipoli Peninsula with convulsions on the 8 December 1915. He re-joined his unit in Tell-el-Kebir on the 5 February 1916 but was wounded in action, suffering a gunshot injury to his left ankle on the 5 November 1916.
On the 13 November 1916 he embarked at Calais, France for England aboard the HS 'Newhaven' and was hospitalised from the 3 January to the 18 January 1917 for treatment to his ankle wound. He proceeded overseas again to France via Southampton, England on the 10 June 1917. On the 10 February 1918 he was again injured, suffering a fractured right clavicle and was admitted to hospital. He embarked for England aboard the HS 'Cambria' on the 13 February 1918. He returned to France on the 24 July 1918 and then returned to Australia per 'Sardinia' on the 13 June 1919 and was discharged on the 12 August 1919.

Research Team, Parramatta Heritage Centre, City of Parramatta, 2016