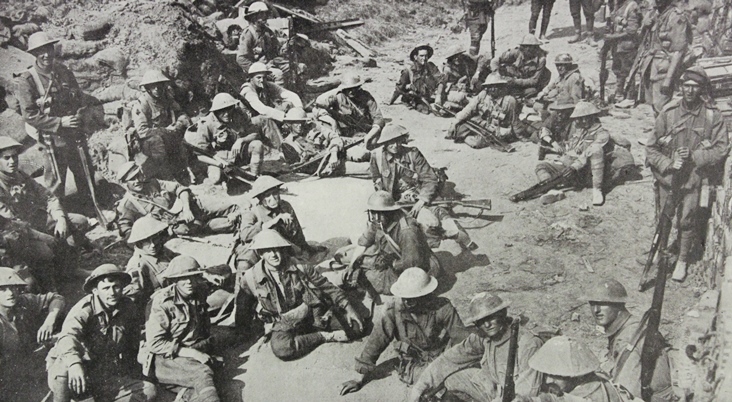 An article in the English newspaper 'The Telegraph' brings attention to the search for World War One soldiers' relatives.  The soldiers came from Australia, South Africa, England and Canada.
A collection of poems, sketches and jokes penned by dozens of these wounded soldiers have recently emerged almost a century after the conflict ended.  The collection has been gathered together in one journal that was created by a nurse at the Duston War Hospital.  The nurse, Sister 'Dolly' Derham looked after these soldiers when they returned from the front.  Two of these soldiers were from Parramatta, and others from around Australia.
The two Parramatta soldiers were Sapper G H Roots fromAlbert St, North Parramatta and Trooper J Waddup, 1st Light Horse Regiment in Parramatta.
The other Australian soldiers were Sapper J O Ethell, Australian Engineers; Sapper G M McFadden, Australian Mining Corps, SJF; J S Wallace, Victoria; J H Scott, Adelaide, South Australia; and L/Corporal J W Martin, No. 1583, 30th Battalion 8th Australian Infantry Brigade from Mosman in Sydney, NSW.
According to the Telegraph article, the journal was given to Sandra Bemrose, a local historian who was researching the history of the site.  She is trying to locate the relatives of the men who made entries in the book. The book is around 50 pages long and most soldiers provide their name, rank and unit. Their contributions range from sombre reflections on the front, to jokes and flirtatious remarks, often directed at the nurse herself.
One entry, entitled "A Hint", from an Australian soldier, says: "Said Jim with a wicked, brainy smile / A sacrifice, to be true / Must really be something worth the while / So I'll give up kissing you."
The boldest approach is from a soldier, called Elliott, from the London Regiment, who writes the chat up line: "Dolly Derham is your name / Single is your station / Happy to be the gentleman / That makes the alteration."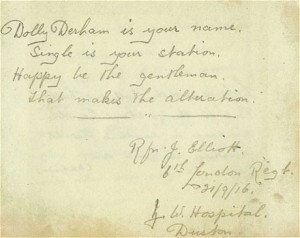 The entries cover topics such as women, warfare, trench life, the emotional and harrowing experiences of war and the reproduction of popular poems which reflected their feelings.
A Parramatta soldier Sapper Roots wrote:
"We have been thy sons, Dear father, for more than twenty years, But we would die now, rather than see thy face in tears; Do not weep, we cannot bear it, for we must go away. There is war and we must share it. It comes in our young days. Hark and Hark and the danger is on us, screams of the dying till that peace is further from us, Dear Father, fare thee well.
Try to forget Dear Mother, that we were even thine, And let your love, some other Responsive heart entwine; think not, at bedtime of us, Nor on thy pillow weep, Nor fancy that we are lonely and sinking in the deep; Think not that we are lying In some dark prison cell, Nor on the cold ground dying, Dear Mother, fare thee well."
According to the newspaper article, about 25,000 soldiers passed through the hospital and many of these had lost limbs at the front.  It also goes on to say that Sister Derham, who gathered these entries, perhaps in an effort to give the soldiers an outlet to their feelings, never married despite the documented offers!
Sandra Bemrose, who was given the journal by Sister Derham's family says that "…it is a wonderful collection, so full of pathos. There is a lot of humour too. I would like the relatives of the men to have copies. I know if it had been my grandfather, I would have wanted a copy."
We came across this information while researching for information about Parramatta soldiers who fought in World War One and would like to facilitate the search for relatives.  If you think your relative may be among those to have contributed to the book and you would like a copy of their entries, please email: jasper.copping@telegraph.co.uk
References:
The Telegraph newspaper, 2 April 2014