Eric Tweedale is one of Parramatta's favourite sporting sons and is the oldest surviving rugby legend at 99 years old and a war veteran. He enlisted in the Royal Australian Navy during the Second World War (service number A/6346). At the time, he was engaged to marry Enid Wagner, employed by Shells Oil Company and playing Rugby for Parramatta (now Western Sydney Two Blues). 
In a Cumberland Council Library 2018 oral history project, Eric shared his experience of the war serving with the navy as a convoy signalman with. To hear or read the transcript of the full interview, please refer to the Cumberland Council webpage https://www.cumberland.nsw.gov.au/oral-history  
Growing up in Merrylands and Guildford
Eric Tweedale was born on 5 May 1921 in Rockdale, Lancashire, England, the son of Alexander and Annie Tweedale nee Green. At 3 years old, his family immigrated to Australia in 1924 and settled in Merrylands, N.S.W. Alexander later worked for Arnotts Biscuit Factory in Homebush.
Eric attended Guildford Public School and then Parramatta Intermediate School. After he graduated with his certificate at 14, he worked for Anthony Hordern's in the city while learning typing and shorthand at the Metropolitan Business College. It was through the College that he gained a good job at Shells Oil Company.
Second World War
Eric recalls when the declaration of war was made on Sunday 3 September 1939 at 9.15 pm, his family were seated around the radio listening to then Prime Minister Robert Menzies announce the beginning of Australia's involvement in the Second World War:
"Fellow Australians, it is my melancholy duty to inform you officially that, in consequence of the persistence of Germany in her invasion of Poland, Great Britain has declared war upon her, and that, as a result, Australia is also at war. No harder task can fall to the lot of a democratic leader than to make such an announcement. Great Britain and France, with the cooperation of the British Dominions, have struggled to avoid this tragedy. They have, as I firmly believe, been patient; they have kept the door of negotiation open; they have given no cause for aggression. But in the result their efforts have failed and we are, therefore, as a great family of nations, involved in a struggle which we must at all costs win, and which we believe in our hearts we will win …"
Upon hearing the announcement, he saw his father breakdown having served in in the British Army during World War One in the Middle East as a private of the 6th Lancashire Fusiliers (regimental number 11618), 9th Garrison Rifle Brigade (regimental number 208757) and 4th Ceches Regiment (regimental number 202934). Alexander died at the age of 56 on 05 February 1948.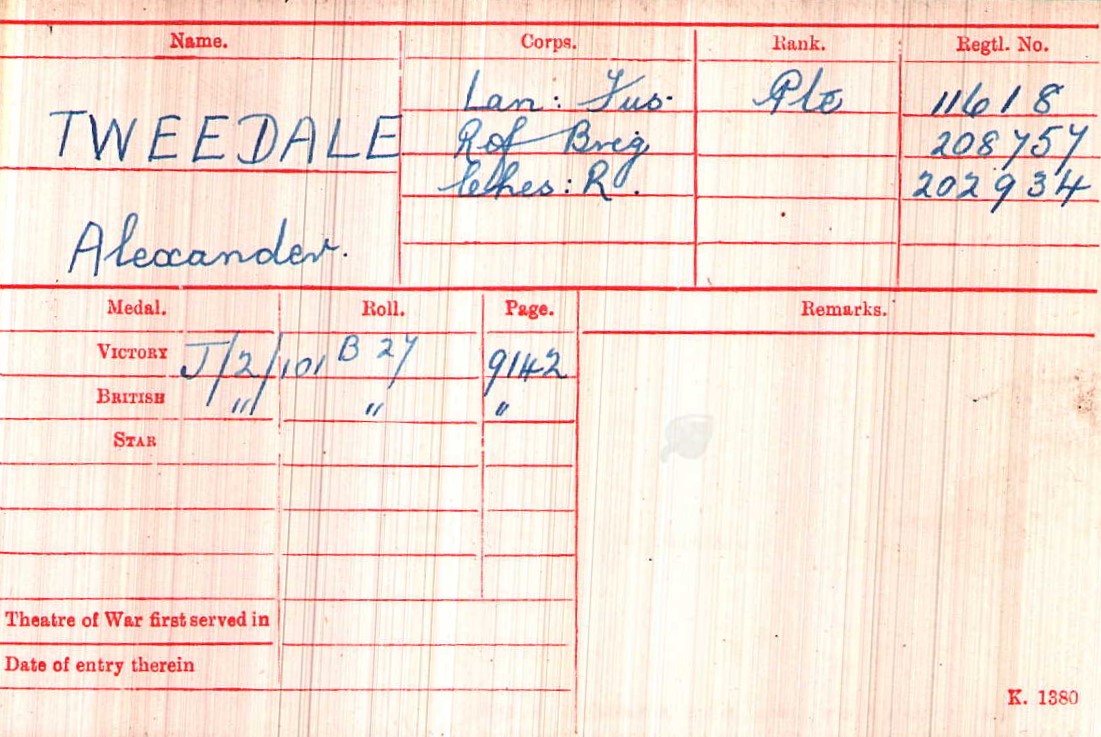 Alexander Tweedale's British Army WWI Medal Rolls Index Cards (Source: Ancestry.com)
Joining the Navy
In 1941, Eric applied to join navy but had to wait four months for the call up. His reason for enlisting in the Navy instead of the army was the opportunity for adventure, to go back to England and for a proper bed.
He was trained at Flinders Naval Depot for convoy duty until May 1942 when Sydney Harbour was attacked by the Japanese midget submarines (31 May to 1 June 1942). To honour the dead, he served as a pallbearer at the military funeral for the dead Japanese found in captured midget subs.
From then on, the original plans to cross the Atlantic Ocean were cancelled and Eric was drafted to a naval ship escorting merchant ships as part of a convoy up and down the Australian coast to guarantee their safety from enemy attack.
His first night out at sea was on board the SS Iron Knight in a convoy of 14 ships. Sadly one ship was sunk that day. In total about 20 ships were lost and others suffered torpedo damage. He counts himself lucky having served four years as a convoy signalman. His role required using Morse code and flags to communicate between the fleets to ensure all ships sailed at the same time. As the war progressed north, he too moved to Queensland protecting merchant ships carrying iron ore and coal – primary resources from being destroyed by the Japanese.
3 years distance led to him and Enid breaking up. He then married another childhood sweetheart Isabel Duncan in 1944 while still serving in the navy.
Below are Eric's naval records from the National Archives of Australia: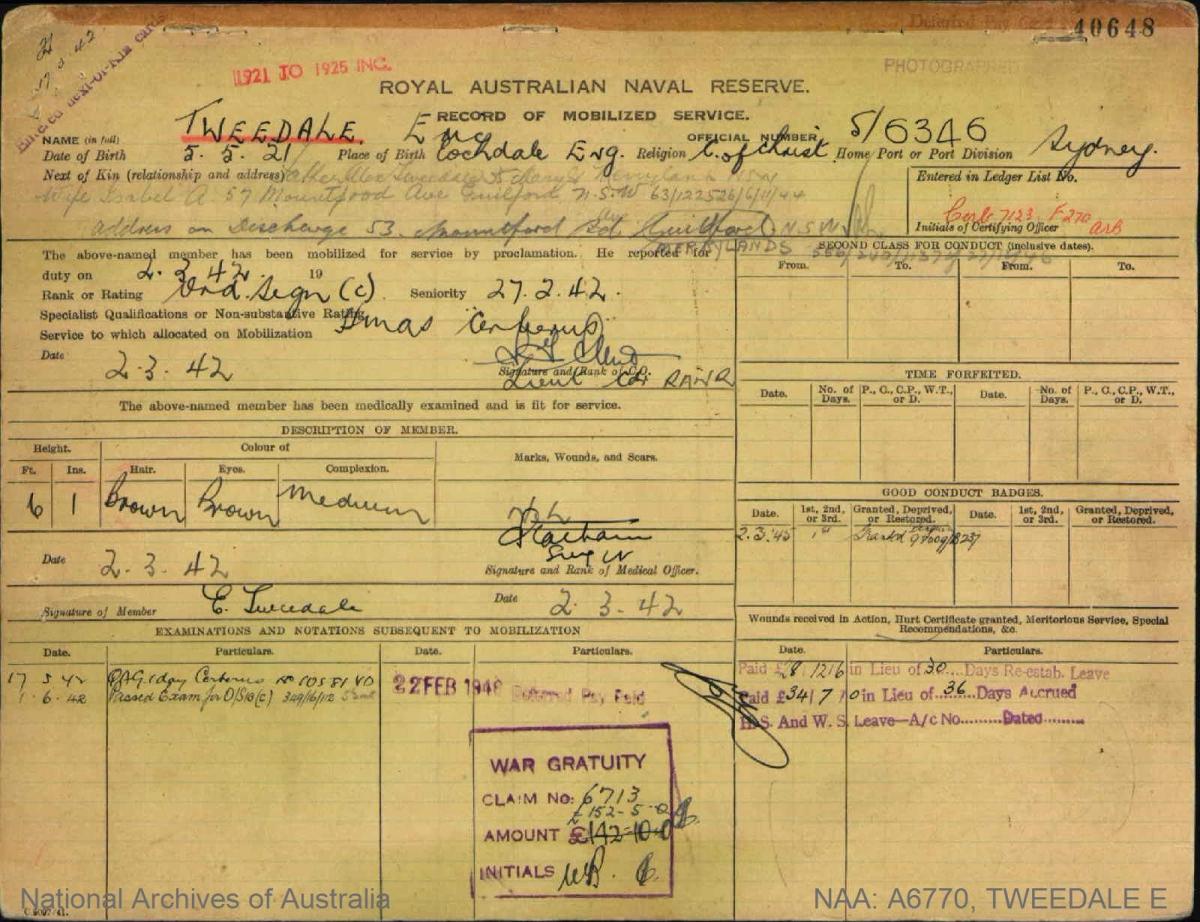 Royal Australian Naval Reserve, Record of Mobilised Service Record for Eric Tweedale, service number S/6346 (Source: National Archives of Australia, barcode 5401623)
Sporting Career
Eric first played rugby at Cumberland Oval in 1937 after legendary Wallaby forward enforcer "Wild Bill" Cerutti introduced him to the game. At 17 years old, he was selected to play first grade Rugby and he played for Parramatta (now Western Sydney Two Blues) on and off for 21 years.
"Whilst on the coast during the war, I used to get the odd time at home so I would go back to Parramatta and play. When I finally returned from New Guinea in July 1945, Parramatta and Randwick were the two leading teams, and I was soon back amongst it."
        

Extracted from Eric's interview with Greg Growden, ESPN on 8 April 2015
Eric not only played rugby but also from age 16 played first grade cricket with Central Cumberland as a fast-medium bowler from his 1940/41 debut. He played with the likes of Lou Benaud, father of Richie Benard. 
Post war and Wallabies debut
After he was discharged from the war, he returned to working for Shells Oil Company while also pursuing his sporting career. In 1946, he became a father to a daughter named Kay and was drafted for the famous 1946 Wallabies team that played against the All Blacks in Australia's first international Test post-war. Half of the team were returned soldiers. He played prop forward / front row forward and went on to be part of one of the most famous touring teams, the 1947-48 Wallabies, who did not have their line crossed in internationals against Scotland, Ireland, Wales and England. He also play for Australia until 1949, having represented his country in Wallaby gold on ten occasions, travelling to Britain, France and Canada throughout his successful sporting career.
With 13 representative caps to his name, the Lifetime Parramatta Two Blues forward also represented the NSW Waratahs (#794) from 1946-1950. Eric played with the likes of Sir Nicholas Shehadie and Trevor Allan in the post-war era of rugby union as a front rower.
Post retirement
Post retirement from professional rugby playing at the age of 38, Eric became involved in coaching. He was an active member of the RSL and various community clubs.
He continued working for Shells and later was transferred to the country where he was stationed at Forbes until he moved back to Sydney for Isabel's ailing health and they lived with his widowed mother. 
After 20 years of marriage, Isabel died at age 42 from terminal illnesses. Not long after, his mother too passed away in 1964. Eric found romance in second wife Phyllis Addicoat, an American, whom he had met in England during the Wallabies tour. His second marriage lasted for 42 years until Phyllis passed away in 2008.
At the request of the Merrylands RSL Younger Set Committee to meet he reconnected with former fiancée Enid Bradshaw nee Wagner, his current partner in 2004, 46 years later. Their love story was featured in three televised news reports. Both reside in separate residence home in self-care units at Peninsula Village in Umina.
Today, Eric has the honour of being the oldest surviving Rugby player and on 5 May 2020 celebrated his 99th birthday.
References
      

The couple in their younger days [image 1] In Cathy Stubbs. (2018, January 22). Couple find each other by chance after 62 years apart, Central Coast Gosford Express Advocate. Retrieved from https://www.dailytelegraph.com.au/newslocal/central-coast/couple-find-each-other-by-chance-after-62-years-apart/news-story/9063db561e116ba807f00a371b8d1876 ; Western Sydney Two Blues Rugby (n.d.) [image 2]. In Honour board : A proud history of achievement. Retrieved from http://twobluesrugby.com.au/wall-of-fame/ ; Growden, Greg. (2019, May 30). Eric Tweedale holding a photo of the 1946 Australia team [image 3] In Greg Growden. Eric Tweedale holding a photo of the 1946 Australia team. In G. Growden. Oldest living Wallaby, Eric Tweedale, has his say on the state of the game, The Sydney Morning Herald. Retrieved from https://www.smh.com.au/sport/rugby-union/oldest-living-wallaby-eric-tweedale-has-his-say-on-the-state-of-the-game-20190530-p51ss1.html

     

Rugby.com.au staff & Bray, Gordon (2020, May 5). Remarkable Tweedale celebrates 99th birthday. Retrieved from 

https://www.rugby.com.au/news/2020/05/04/classic-wallabies-tweedale-99-interview

     

Growden, Greg. (2019, May 30). Oldest living Wallaby, Eric Tweedale, has his say on the state of the game, The Sydney Morning Herald (Ruck & Maul). Retrieved from

https://www.smh.com.au/sport/rugby-union/oldest-living-wallaby-eric-tweedale-has-his-say-on-the-state-of-the-game-20190530-p51ss1.html

     

Stubbs, Cathy. (2018, January 22). Couple find each other by chance after 62 years apart, Central Coast Gosford Express Advocate. Retrieved from https://www.dailytelegraph.com.au/newslocal/central-coast/couple-find-each-other-by-chance-after-62-years-apart/news-story/9063db561e116ba807f00a371b8d1876

     

Cumberland City Council. (2018). Oral history : Interviews with locals : Eric's story. Retrieved from https://www.cumberland.nsw.gov.au/oral-history

     

Jones, Cathy. (2006) Arnott's biscuit Homebush. Retrieved from https://strathfieldheritage.org/industry-commerce/arnotts-biscuits-homebush/

     

Australian Screen & National Film and Sound Archive of Australia. (1939). Menzie's Declaration of War (1939). Retrieved from http://aso.gov.au/titles/radio/menzies-speech-declaration-war/clip1/

     

Ancestry.com (2008). Alexander Tweedale in the British Army WWI Medal Rolls Index Cards, 1914-1920 [database on-line]. Provo, UT, USA: Ancestry.com Operations Inc. Retrieved from Ancestry Library edition.

     

National Archives of Australia. (1939-1948) Tweedale E. (Service Number - S/6346) NAA Barcode 5401623. Retrieved from https://recordsearch.naa.gov.au/SearchNRetrieve/Interface/ViewImage.aspx?B=5401623

 

Wikipedia contributors. (2020, February 28). Parramatta Two Blues. In Wikipedia, The Free Encyclopedia. Retrieved from https://en.wikipedia.org/wiki/Parramatta_Two_Blues

   

Growden, Greg. (2015, April 8). Oldest living Wallaby keeps a keen rugby eye, ESPN. Retrieved from 

http://en.espn.co.uk/australia/rugby/story/261317.html

  

Tasker, Norman & Heads, Ian (eds). (2015). Richie: The man behind the legend. Concord, N.S.W. : Stoke Hill Press. Retrieved from https://books.google.com.au/books?id=akrkCgAAQBAJ&lpg=PT5&dq=eric%20tweedale%20cricket&pg=PT82#v=onepage&q=eric%20tweedale%20cricket&f=false

  

Wood, Tom. (2018). Parramatta [Central Cumberland] District Cricket Club : List of players appearing in first grade - from 1893/94. [No. 267 : Eric Tweedale], p. 5. Retrieved from http://www.parracricket.com.au/files/267/files/Parramatta%20DCC%20-%20First%20Grade%20Player%20List%201893-2018.pdf

  

Wikipedia contributors. (2020, June 24). Australia national rugby union team. In Wikipedia, The Free Encyclopedia. Retrieved from https://en.wikipedia.org/wiki/Australia_national_rugby_union_team

  

NSW Rugby (2018, March 20). Eric Tweedale: The Oldest Living NSW Waratah, YouTube. Retrieved from https://www.youtube.com/watch?v=CiN1d_3UEKA