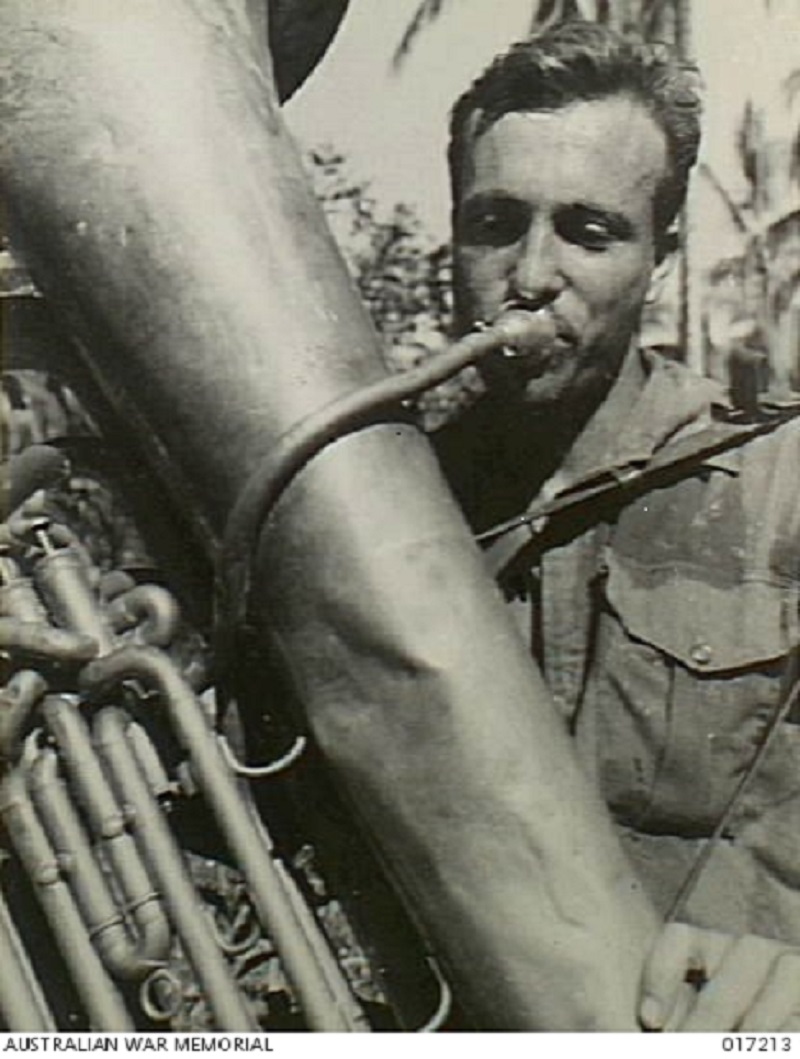 Private Colin Walter Gazzard was born in Parramatta on the 5 November 1922, and enlisted in the Australian Army on the 29 September 1941 with the service number N280827. He was discharged a few months later on the 11 November 1941, and his posting at the time of his discharge was Area Commandant of Liverpool. Colin reenlisted in the Australian Army a day later on the 12 November 1941 with the service number NX52887. He listed Betty Colliver as his next of kin. [1]
Colin was posted to New Guinea and was involved in the Allied activities in the Madang and Alexishafen area. Colin was also one of the Australian bandsmen playing the tuba in the military band. Alexishafen is located on the north coast of New Guinea north of Madang. On the 18 December 1942 Madang was occupied by the Imperial Japanese Army, and a few nights later they landed in barges at Alexishafen. The Japanese subsequently developed the area into a base and an airfield. On the April 26, 1944, after many missions, the Australian Army liberated Alexishafen. [2]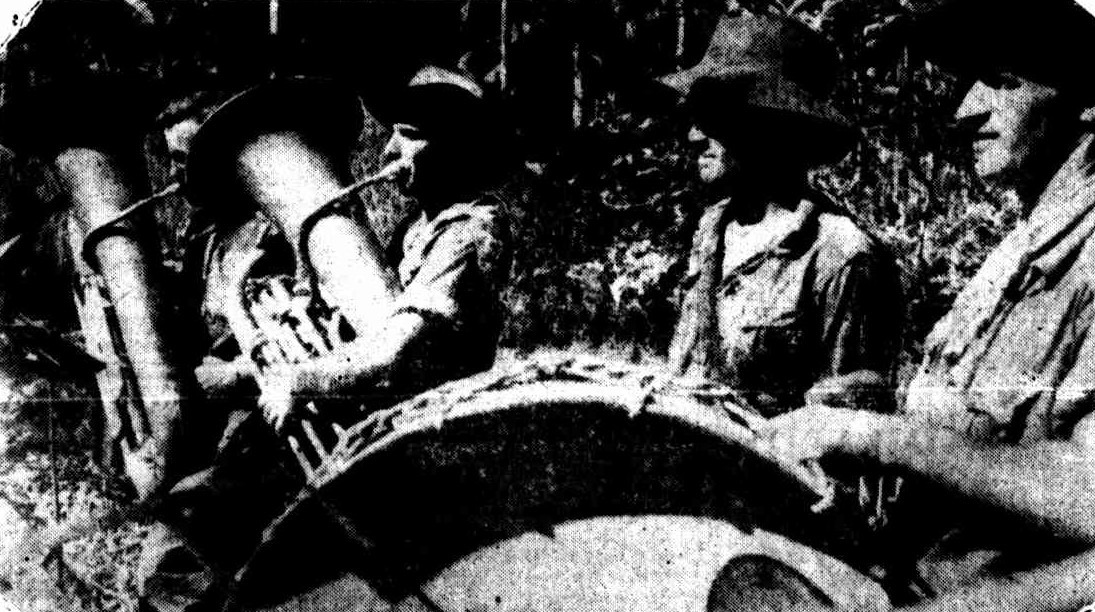 Australian troops who occupied the former Japanese base of Alexishafen. The bandsmen from left to right: Private Colin Gazzard, Parramatta; Private K.J. Mansell, Leichardt; Private F.C. Mansell, Campsie; Private W.Flynn, Granville. Source: The Cumberland Argus [3]
Colin was discharged from the Australian Army on the 2 July 1946, having been posted with the 13 Australian Small Ships Company. He died on the 8 September 2001 and he is buried at the Arakoon General Cemetery in Arakoon, Kempsey Shire, NSW.

Caroline Finlay, Regional Studies Facilitator, Parramatta Heritage Centre, City of Parramatta, 2020
References:
[1] Australian Government Department of Veterans' Affairs. (2020). DVA's Nominal Rolls. Retrieved from https://nominal-rolls.dva.gov.au/veteran?id=170182&c=WW
[2] Pacific Wrecks. (1995-2020). Allied missions against Alexishafen, Alexishafen Airfield and Alexishafen II (Danip Airfield). Retrieved from https://pacificwrecks.com/airfields/png/alexishafen/missions-alexishafen.html
[3] No Title. (1944, June 14). The Cumberland Argus and Fruitgrowers Advocate, p. 1. Retrieved from http://nla.gov.au/nla.news-article106130311