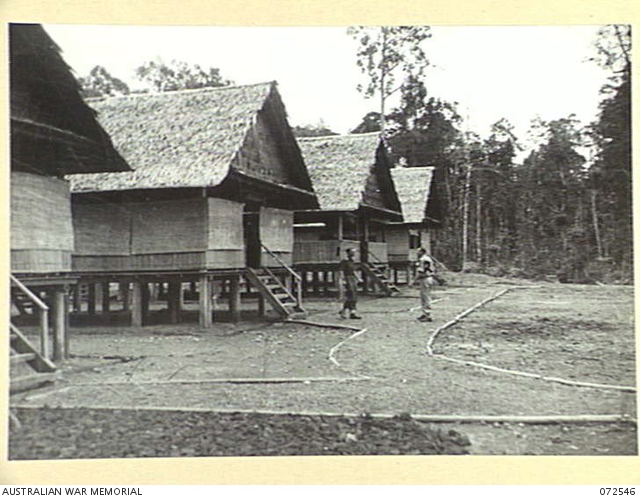 Brigadier Kenneth Malcolm Graham was born on the 15 April 1900 to Thomas and Jennie Graham in Cecil Park, New South Wales. He was living at 25 Pennant Hills Road North Parramatta when he enlisted in the Australian Army on the 17 July 1942. [1] He registered his wife Winifred Graham (nee Barham), whom he had married on the 7 April 1928 at St John's Anglican Cathedral Parramatta, as his next of kin. His service number was NX111986.
By the time of his discharge on the 22 July 1946, Kenneth had attained the rank of Temporary Brigadier. [2] A month earlier in June 1946, it was recommended that he receive the Order of the British Empire (O.B.E.) by the Governor General of Australia, Prince Henry Duke of Gloucester. On the 25 January 1949 at Admiralty House Sydney, he received the O.B.E. for meritorious service and devotion to duty. He also received the Efficiency Decoration (E.D.) for his extended service with the Commonwealth Volunteer Military Forces.
A few years after he enlisted in the Australian Army, Kenneth served with the Australian New Guinea Administrative Unit Headquarters, and acted as Chairman of the Australian New Guinea Production Control Board for the Department of External Territories. Following the Japanese attacks on the mainland of New Guinea, civil administration ceased in February 1942. The Australian Army began inducting administration officers and civilians into administrative units, and in April 1942 they were formed into the Australian New Guinea Administrative Unit. This unit was responsible for the administration of Papua and New Guinea until the end of the war. [3]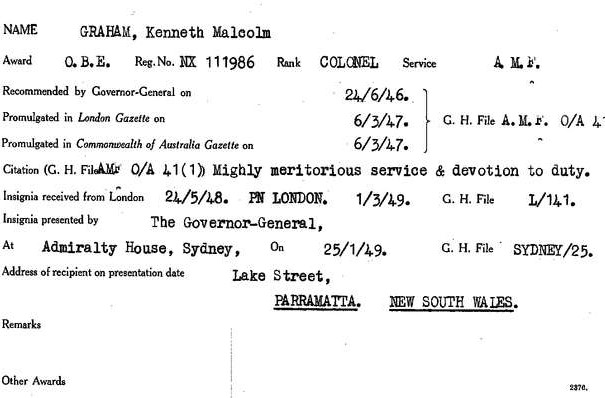 Honours and Awards Kenneth Malcolm Graham. Source: Australian War Memorial R1568440
After his discharge Kenneth was placed upon the Regimental Supernumerary List, and began his new career in an administrative position with Parramatta Clyde Motors [4] He was also an active member of the Parramatta Returned and Services League (R.S.L.).
On the 17 December 1979 Kenneth died and was laid to rest at the Northern Suburbs Crematorium. All the members of the Epping R.S.L., of which he was an active member at the time of his death, were invited to his funeral which was held at St. Albans Church of England, Epping.

Caroline Finlay, Regional Studies Facilitator, Parramatta Heritage Centre, City of Parramatta, 2020
References:
[1] Ancestry.com. Australia, Electoral Rolls, 1903-1980 [database on-line]. Provo, UT, USA: Ancestry.com Operations, Inc., 2010.
[2] Australian Government Department of Veterans' Affairs. (2020). DVA's Nominal Rolls. Retrieved from https://nominal-rolls.dva.gov.au/veteran?id=219796&c=WW2
[3] National Archives of Australia Research Guides. (2020). Papua and New Guinea. Retrieved from http://guides.naa.gov.au/land-of-opportunity/chapter28/
[4] Decoration for Parramatta soldier. (1949, February 9). The Cumberland Argus and Fruitgrowers Advocate, p. 4. Retrieved from http://nla.gov.au/nla.news-article111532008