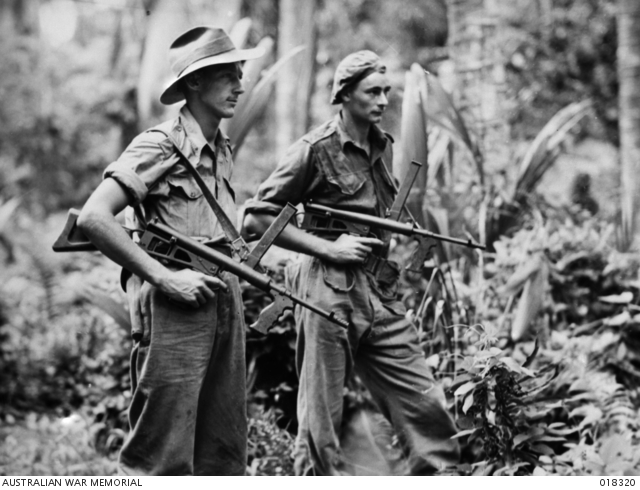 This photograph shows Private Leon Ravet of Parramatta and Private Bernard Kentwell of Cronulla on patrol duty on the 4 April 1945 during World War Two. This photograph was taken in New Britain, the largest island of the Bismarck Archipelago in the southwestern Pacific Ocean, Papua New Guinea. Both men were posted with the 19 Australian Infantry Battalion (South Sydney Regiment), 6 Brigade, 5 Division. They are also both holding an Owen gun which was an Australian submachine gun designed by Evelyn Owen in 1939. The Owen was the only completely Australian designed submachine gun of World War Two, and was first used by the Australian troops fighting the Imperial Japanese Army in New Guinea.
Leon was born on the 3 August 1922 in Granville to Edward Leon Ravet and Dorothy Hazel Cattell Smith. His mother Dorothy was given as his next of kin when Leon enlisted in the Australian Army in Parramatta on the 20 October 1941. He had the rank of Private with the service number NX195331 (N191106), and married Audrey Royal May Hickey in Glebe before the end of the war in 1944. [1]
On the 23 December 1942 Leon faced court-martial for being Absent Without Leave (AWL) from the 2 October to the 5 December 1942. [2]
The 6 Brigade of the 19 Battalion that Leon belonged to was scheduled to go to New Britain in September 1944, but rather than becoming involved in a major offensive they used active patrolling to confine the Japanese to Rabaul and the Gazelle Peninsula. By the end of February 1945 the 19 Battalion had crossed the Mevelo River and was patrolling east to the Wulwut River, and by mid-March they reached Bacon Hill which was captured by the 14 Battalion who had relieved the 19 Battalion. [3] With the capture of Bacon Hill, the Australians established a line of defence across the neck of the Gazelle Peninsula which they patrolled for the rest of the war. [4]
The 19 Battalion was disbanded in July 1945 and Leon was discharged from the Australian Army on the 2 May 1946. Leon died on the 23 February 2008 and is buried at the Iluka Columbarium in Clarence Valley Council, NSW.

Caroline Finlay, Regional Studies Facilitator, Parramatta Heritage Centre, City of Parramatta, 2020
References:
[1] Australian Government Department of Veterans' Affairs. (2020). DVA's Nominal Rolls. Retrieved from https://nominal-rolls.dva.gov.au/veteran?id=289015&c=WW2#R
[2] Maitland Court Martial. (1942, December 23). The Cumberland Argus and Fruitgrowers Advocate. p. 6. Retrieved from http://nla.gov.au/nla.news-article167553711
[3] Australian War Memorial. (2020). 19 Australian Infantry Battalion. Retrieved from https://www.awm.gov.au/collection/U56101
[4] Australian War Memorial. (2020). 19 Australian Infantry Battalion. Retrieved from https://www.awm.gov.au/collection/U56101