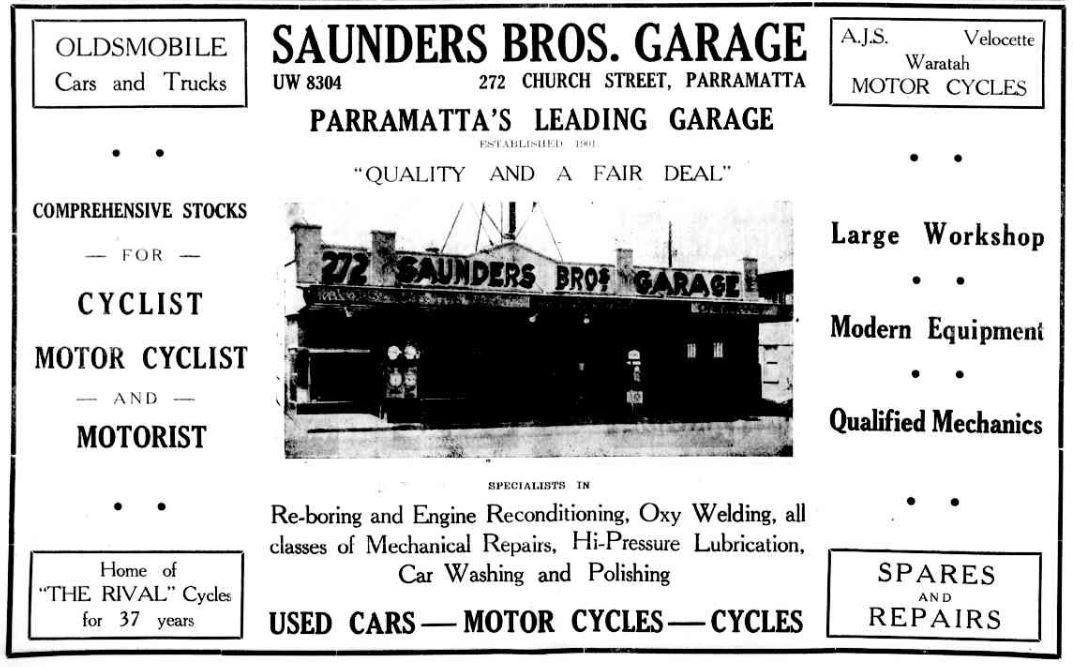 Leslie Harold Saunders was born on the 30 September 1906 to Harold Oliver Saunders and Ida Fairless Greenman of 40 High Street, Harris Park. He signed the form for the registration of the Universal Obligation in Respect to Naval or Military Training, which was under the Defence Act 1903-1918, on the 27 January 1920. He signed as Les Saunders, and was listed as being enrolled at Parramatta Commercial School. [2] Not unlike his brother Reginald Oliver Saunders, he also became an apprentice at his father's garage in Church Street Parramatta, Saunders Bros. Garage.
Lesley had his first examination for enlistment in the Citizen Forces on the 29 April 1924, and on the 30 June 1924 he was medically examined and found fit and allotted to the Australian Field Artillery (AFA) 35 Battery. He married Ethel Madge (nee Gray) at St. John's Anglican Cathedral Church Parramatta on the 12 September 1931. After World War Two began Leslie enlisted in Parramatta in the Australian Army on the 27 March 1942.  He was attached to the 19 Battalion Volunteer Defence Corps, service number N192033, and named his wife Ethel Saunders as his next of kin. [3] When war broke out the Australian Army was four separate armies, with the Volunteer Defence Corps (VDC) being one of the four. The VDC was a part-time volunteer military contingent based on the British Home Guard, and was run by the Returned & Services League of Australia (RSL).
Leslie and his brother Reginald, who had also enlisted in the VDC, were both discharged from the Australian Army on the 30 September 1945. Both held the rank of Lance Corporal at the time of their discharge. After World War Two ended, and the demise of their father Harold in January 1946, Leslie and his brother Reginald inherited the Saunders Bros. Garage. Leslie also went on like his father and brother to compete in motor cycle racing events, and was also a member of the Cumberland Golf Club and the Parramatta Bowling Club.
Leslie died on the 28 February 1969 and was buried on the 3 March 1969 at All Saints Anglican Cemetery in Fennell Street North Parramatta.

Caroline Finlay, Regional Studies Facilitator, Parramatta Heritage Centre, City of Parramatta, 2020
References:
[1] Saunders Bro's. garage [Advertisement]. (1938, October 26). The Cumberland Argus and Fruitgrowers Advocate, p. 38. Retrieved from http://nla.gov.au/nla.news-article104974035
[2] National Archives of Australia. (2020). Saunders, Leslie Harold. Retrieved from https://recordsearch.naa.gov.au/SearchNRetrieve/Interface/ListingReports/ItemsListing.aspx
[3] Australian Government Department of Veterans' Affairs. (2020). DVA's Nominal Rolls. Retrieved from https://nominal-rolls.dva.gov.au/veteran?id=385969&c=WW2
สล็อตออนไลน์ฟรีเครดิต
Truly loads of good material!