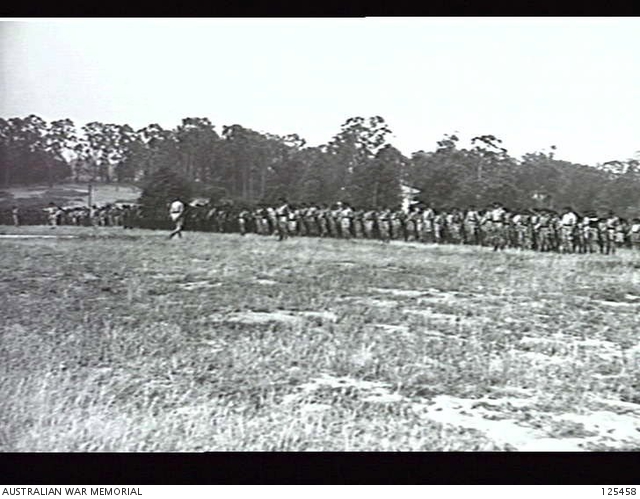 Reginald Oliver Saunders was born on the 16 January 1910 in Parramatta to Harold Oliver Saunders and Ida Fairless Greenman of 40 High Street, Harris Park. He became an apprentice mechanic at his father's garage, the well-known Saunders Bros. Garage at 272 Church Street Parramatta, and whilst an apprentice on the 1 February 1924 he signed the form for the registration of the Universal Obligation in Respect to Naval or Military Training which was under the Defence Act 1903-1918. He was fourteen years of age. [1]
On the 21 September 1935 Reginald, most often referred to as Reg, married Nellie Linda May Prudin at St. John's Anglican Cathedral Church Parramatta. A few years after World War Two started Reginald enlisted in the Australian Army on the 21 January 1942 in Parramatta, and named his wife Nellie Saunders as his next of kin. During the war he was attached to the 19 Battalion Volunteer Defence Corps, service number N192098, and by the time of his discharge on the 30 September 1945 he had attained the rank of Lance Corporal. [2]
When war broke out the Australian Army was four separate armies, with the Volunteer Defence Corps (VDC) being one of the four. The VDC was a part-time volunteer military contingent based on the British Home Guard, and was run by the Returned & Services League of Australia (RSL). In February 1942 the VDC amalgamated into another part of the Australian Army, the Citizen Military Forces (CMF), but with different conditions of service. [3]
After his discharge Reginald remained a Parramatta resident, living for decades at 141 Victoria Road North Parramatta. [4] He was a member of the Cumberland Golf Club and Parramatta Bowling Club, and as a result of his keen interest in fishing he also became a member of the Parramatta Amateur Fisherman's Club. He also competed successfully in motor cycle racing events. [5]
Reginald died in Parramatta on the 5 January 1996, and is buried at Pinegrove Memorial Park in Minchinbury, Blacktown City.

           Caroline Finlay, Regional Studies Facilitator, Parramatta Heritage Centre, City of Parramatta, 2020
References:
[1] National Archives of Australia. (2020). Saunders, Reginald Oliver. Retrieved from https://recordsearch.naa.gov.au/SearchNRetrieve/Interface/ViewImage.aspx?B=9313302
[2] Australian Government Department of Veterans' Affairs. (2020). DVA's Nominal Rolls. Retrieved from https://nominal-rolls.dva.gov.au/veteran?id=386011&c=WW2#R
[3] Australian Government Department of Defence. (2020). How to research family history. Retrieved from https://www.army.gov.au/our-heritage/history/how-research-family-history
[4] Ancestry.com. Australia, Electoral Rolls, 1903-1980 [database on-line]. Provo, UT, USA: Ancestry.com Operations, Inc., 2010.
[5] Pioneered Growth of Vast Motor Centre. (1952, June 11). The Cumberland Argus and Fruitgrowers Advocate, p. 5. Retrieved from http://nla.gov.au/nla.news-article132146828