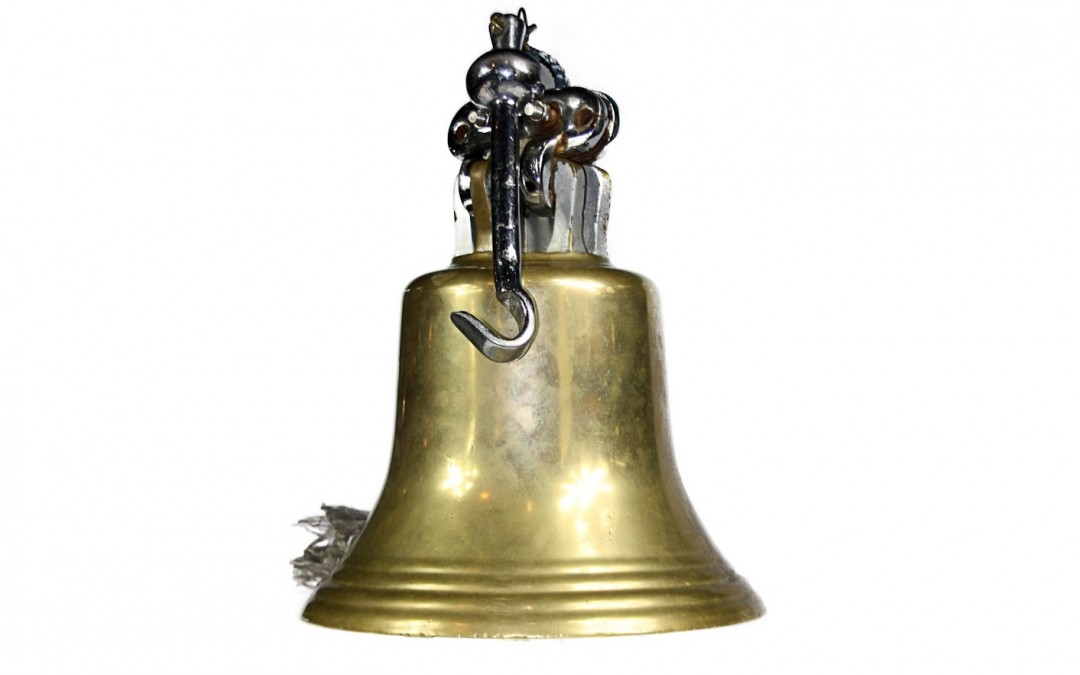 The ship's bell has a centuries long tradition of use in navy and merchant ships. Bells are used for timekeeping, sounding alarms, and ceremonies, including baptisms. It is Navy tradition for a ship's bell to be used only for the one dedicated ship. Each new ship commissioned has a new bell.
A ship's bell is usually made of brass or bronze and inscribed with the commissioning date of the ship to which it belongs. It is unique to the ship and commemorates the service of that ship. In the possession of Parramatta City Council is the ship's bell from HMAS Parramatta III which was commissioned on 4 July 1961 and decommissioned on 11 January 1991. Parramatta III was the first of the Type 12 frigates built in Australia and saw active service during the Vietnam War as an escort for the fast troop transport HMAS Sydney and also patrol duties during the Indonesian Confrontation between 1964 and 1965.
In another long standing naval tradition it is customary when a ship is named after a city or town for the residents to identify themselves with the ship by offering a gift to the ship. Parramatta Council, reminded of this tradition in letter from G. E. Barwick, Attorney General, meet on 11 May 1959, and resolved "That a presentation of a Ship's Bell be made to the ship", HMAS Parramatta, which was at that time under construction. Following some correspondence and telephone conversations between the Mayor and Captain Clift, General Manager, Garden Island, the Town Clerk wrote to Captain Clift on 19 June 1959 confirming that Council wished to make a presentation of a ship's bell for the new HMAS Parramatta.
On 5 November 1959, the Secretary, Department of the Navy wrote to the Mayor confirming approval of the sale to Council of a bell suitable for the purpose of presentation to the ship.The bell was purchased by Parramatta City Council at a cost of ₤21.14.0.
On 4 July 1961, the Mayor Alderman A.R.C. Thomas attended the commissioning of the HMAS Parramatta and presented the ship's bell, which was provided by the Council on behalf of the citizens of Parramatta .
In 1991, HMAS Parramatta III was decommissioned and towed away from Australia to be broken down for scrap. The bell was returned to Parramatta City Council where it remains. The bell had served the crew well as as a baptismal font, with the names of babies born to members of the crew inscribed on the inside of the bell.
Peter Arfanis, Archivist, Parramatta City Council, Parramatta Heritage Centre, 2013