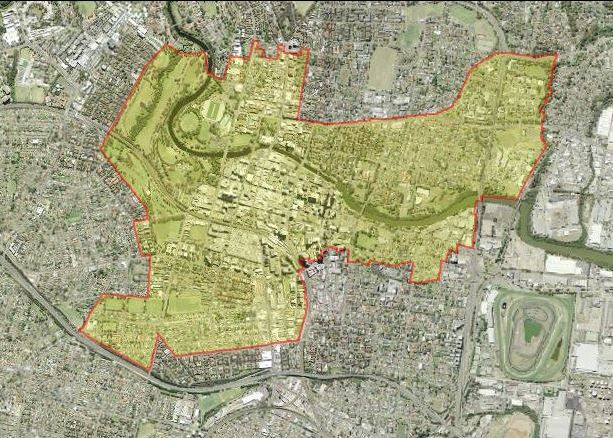 Aerial photograph of Paramatta. Source: Six Maps
For over 60,000 years, the area comprising present day Parramatta has been occupied by the Burramattagal people, a clan of the Darug, who first settled along the upper reaches of the Parramatta River. The Darug people still populate the areas of Parramatta, Greater Western Sydney, La Perouse and the Blue Mountains.
Burramattagal is thought to be derived from the Aboriginal word for 'place where the eels lie down' to breed (within the Parramatta River). The Burramattagal have a close connection with the river, from which they caught fish, eels, and other food.
Soon after Governor Phillip's arrival with the First Fleet (of convicts from England) in 1788, present day Parramatta was developed as a farming settlement to feed the new English colony.
Rosehill:
Present day Parramatta was named Rose Hill by Arthur Phillip on 24 April 1788. It was to honour George Rose, secretary to the treasury department of the navy. First wheat crop was harvested at Rosehill in 1789. Rosehill was renamed Parramatta in 1791.
Parramatta: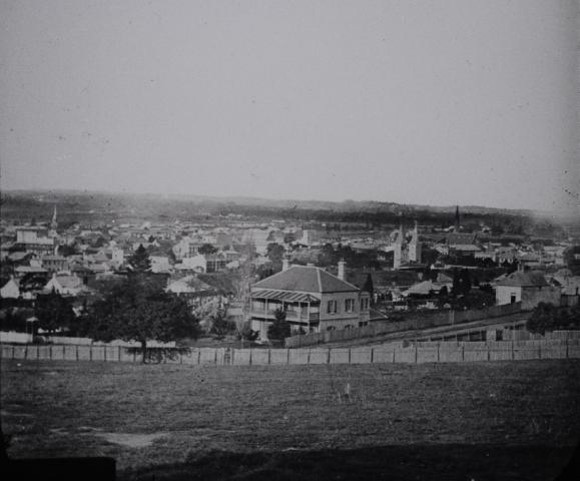 Parramatta 1900s, Local Studies Photographic Collection, City of Parramatta
Parramatta is also known as the 'River City' as Parramatta River flows through the Parramatta. Parramatta is the second European settlement in Australia and the economic capital of Greater western Sydney. It is also commonly referred to as the "cradle city" because of its significant farming contribution to help feed the whole colony.
The City of Parramatta:
Parramatta was granted city status by an Act of Parliament and it was formally inaugurated by the Governor of New South Wales, Lord Wakehurst on 27th October 1938, the first day of its of its 150th Anniversary celebrations. By 1955, the conditions for a municipality to seek city status
In 1955, for the constitution of a municipality, a population of 3,000 with a minimum density of one persons, per acre and an unimproved capital value of £240, 000, yielding £3,000 pa at a rate of threepence in the pound, is required … average population of 15,000 for the preceding five years … an average annual income of £20,000 for the same period and be an independent centre of population.

(Australian Encyclopaedia, 1956 edn, vol 5, 'Local Government', p. 353).
1788: 24th April 1788 Site of Rose Hill (Parramatta) chosen by Governor Phillip
1789:  First wheat crop harvested at Rose Hill
1791:  Rose Hill renamed Parramatta
1793: Elizabeth Farm built
1799: Old Government House built
1839: Lennox Bridge completed
1843: "Parramatta Chronicle" First Parramatta newspaper published
1959: Parramatta Leagues Club opened
1961: David Jones store opened @ Church Street
1975: "Westfield" largest shopping complex in southern hemisphere
1978: Westmead Hospital opened
1988: Riverside Theatre Complex opened
1993: River cat Service to Parramatta
2010: Old Governor House listed in "World Heritage List"
2013: David Jones Building on Church Street demolished
2017: Western University Parramatta Campus opened
2019: Bankwest Stadium with 30,000-seat capacity opened
Eat Street:
Chruch Street is also known as Eat Street. Church Street is a home to many restaurants and shops. Most of the restaurants on Church Street have outdoor dinning area that's why it is famous as Eat Street.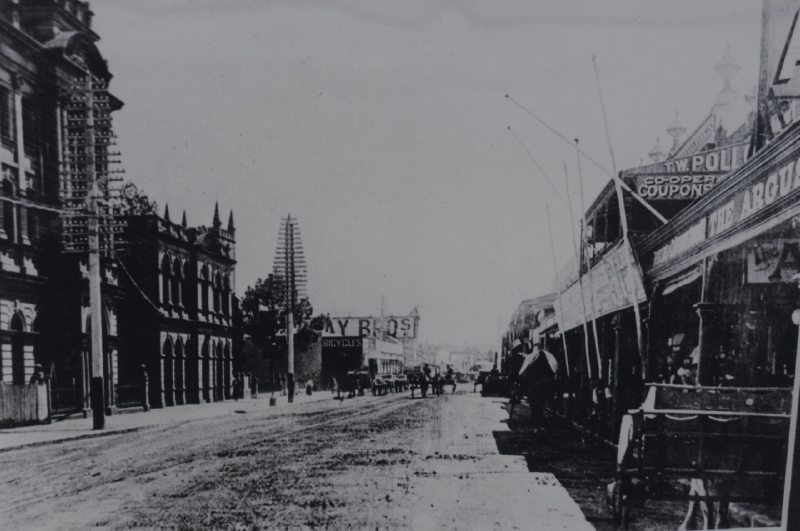 Church Street 1900s, Local Studies Photographic Collection, City of Parramatta, LSOP 00303
Commercial Hub:
The western part of the Parramatta is known as the Parramatta Justice Precinct and houses the corporate headquarters of the New South Wales Department of Attorney General and Justice. Parramatta is also a home for other legal offices like the Children's Court of New South Wales, the Sydney West Trial Courts, Legal Aid Commission of New South Wales, Office of Trustee and Guardian (formerly the Office of the Protective Commissioner), NSW Registry of Births, Deaths and Marriages, Office of the Director of Public Prosecutions and a branch of the Family Court.
Parramatta Court House, Local Studirs Photographic Collection, City of Parramatta, LSOP 00167
Parramatta Square:
Situated adjacent to St John's Cathedral is the area now referred to as Parramatta Square. But don't be fooled by the modern facade for this area has been a community hub at the centre of Parramatta for over 200 years. Over its long history it has been a market place, an Aboriginal and European meeting place, a city centre, and a Civic hub.
Historically the area has been defined as the large block of land bounded by Church Street, The Railway Line (and later Darcy Street), Smith Street and Macquarie Street. It is hard to imagine now, but once this land was part of a natural valley that fed three separate ponds, with tall stands of trees growing in the rich volcanic soil. All of which was managed for tens of thousands of years by the local Burramattagal clan of the Darug Peoples.
Parramatta Hospital:
The Colonial Hospital was third hospital in Parramatta to take care of the convict's health. This hospital was established in Parramatta in 1818. This hospital was in operation for 30 years. First two hospitals were also located at the same place known as General Hospital.
In 1948, Colonial Hospital became the Parramatta District Hospital.
Asylums:
Parramatta was known as City of Asylum in 1840s. Parramatta was a home for many hospitals and mental institutions to take care of mentally ill people.
Macquarie Street Asylum and the Chinese Community
Parramatta Female Factory and Insane Asylum
Lunatic Asylum Male and female wards 1848 – 1956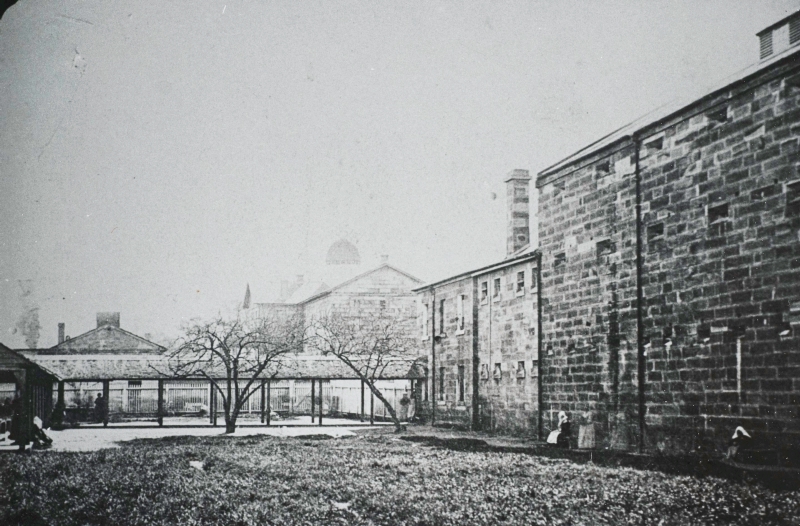 Parramatta Hospital for the Insane Dining Yard 1875-1895, Local Studies Photographic Collection, City of Parramatta, LSP 00171
The Parramatta Female Factory and Institutions Precinct is a heritage-listed conservation site in Parramatta.The site was used as the historically significant Parramatta Female Factory from 1821 to 1848. After its closure, the main factory buildings became the basis for the Parramatta Lunatic Asylum (now the Cumberland Hospital), while another section of the site was used for a series of other significant institutions: the Roman Catholic Orphan School (1841–1886), the Parramatta Girls Home (1887–1974), the "Kamballa" and "Taldree" welfare institutions (1974–1980), and the Norma Parker Centre (1980–2008).
Worship:
St John's Cathedral (Anglican) is the oldest Church in Parramatta. Church Street takes its name from St John's Cathedral, which was built in 1803.
St Patrick's Cathedral (Roman Catholic) is one of the oldest Catholic churches in Australia. In 1996 fire devastated, the original structure which was built in 1854. This Church was rebuilt to its original state.
The Leigh Memorial Church, like other buildings in Parramatta is built on the land of the Barramattagul people of the Darug nation. When Leigh Memorial Church opened its doors on the 21 June 1885 it was a relative latecomer to a town whose church spires were closely dotted across the skyline. Perhaps more significantly for this story it was also at this time the tallest spire in Parramatta, at 43 metres, and was the latest in a number of Wesleyan churches which ran in a row westwards along Macquarie Street.
Parramatta and Districts Synagogue:
Parramatta and Districts Synagogue in Parramatta is a home to the Jewish community of western Sydney.
Buddhist Temple:
A Buddhist temple is located in Cowper Street, Parramatta.
Mosque:
Parramatta's Mosque is in an apartment building on Marsden Street, Parrmatta.
Hindu Temple:
BAPS Swaminarayan Hindu temple located on Eleanor St, Rosehill. Swaminarayan, the founder of the Swaminarayan Sampraday, established temples, known as mandirs, as part of his philosophy of theism and deity worship. These mandirs are known as Swaminarayan Hindu temples.
Cemetery:
All Saints Anglican Cemetery:
The All Saints Cemetery is of great significance for Parramatta for historical, social and scientific reasons. The cemetery is associated with a number of significant people – Gregory Blaxland, William Griffith, Mary Ann Ralph, Robert and Martha Moxham, William and Robert Goodwin and Reverend John C. Bravey are buried here.
St John's Cemetery:
The cemetery is highly significant as it is a heritage-listed cemetery established in 1790. It is one of the oldest surviving European cemetery in Australia. It is the final resting place of many notables – over 50 First Fleet graves, early European settlers, such as the Reverend Samuel Marsden, his wife Elizabeth, land holder D'Arcy Wentworth and family, land holders and farmers the Blaxland family, Charles Fraser, soldier and colonial botanist, who was appointed the first superintendent of the Sydney Botanic Garden by Governor Macquarie in 1816.
St Patrick's Roman Cemetery:
St Patrick's Roman Catholic Cemetery is a heritage-listed cemetery on the corner of Pennant Hills Road and Church Street, North Parramatta. It is the earliest Catholic cemetery in Australia, and was in use from 1824 to 1972.
Parks:
Parramatta Park:
Parramatta Park is spread over 85 hectare of land. It is a large park adjacent to Bankwest Stadium. Parramatta Park is a very popular venue for major events like Tropfest, Australia Day celebrations, New Year fireworks, walking, jogging and bike riding.
Prince Alfred Square:
Prince Alfred Square is a Victorian era park located on the northern side of the Parramatta River. It is one of the oldest public parks in New South Wales. Prior to being a public park, it was the site of Parramatta's second gaol and the First Female Factory.
Mills: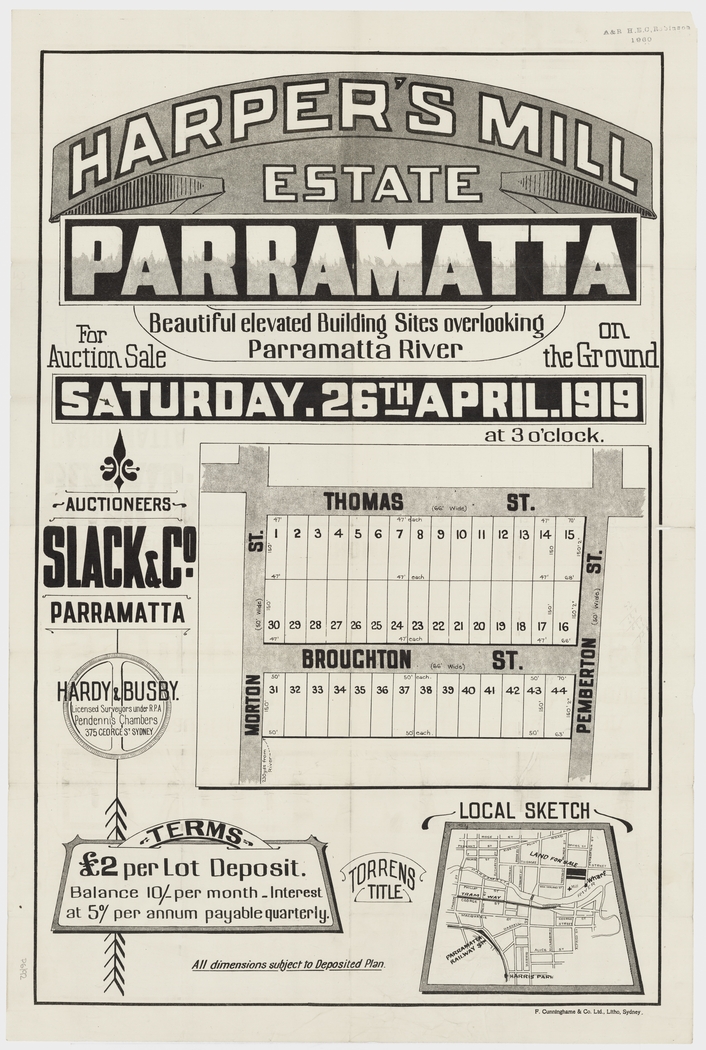 Parramatta Woollen Mills
Harvey's Mill
The Cumberland Steam Mill
Dares Mill
Education:
Schools:
Parramatta is home to several primary and secondary schools.
Arthur Phillip High School – oldest public school in the district
Macarthur Girls High School – successor to an earlier school 'Parramatta Commercial and Household Arts School'
Our Lady of Mercy College – oldest Catholic schools in Australia
Parramatta East Public School
Parramatta Public School
Parramatta West Public School
St Patrick's Primary Parramatta
College and Universities:
Alphacrucis College
University of New England study centre
Western Sydney University – the Flagship Parramatta City Campus located at One Parramatta Square.
Demography: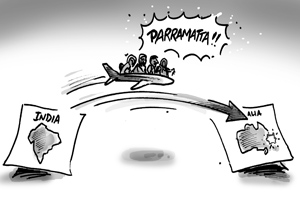 According to the 2016 census conducted by the Australian Bureau of Statistics, the most common country of birth in Parramatta is India representing 29.8% of the population, outnumbering Australian born residents at 24.3%. The next most common are China 12.0%, the Philippines 2.2%, South Korea 1.5% and Nepal 1.5%. However, only 6.5% identify their ancestry as Australian; the other common self-identified ancestries were Indian 26.9%, Chinese 16.3%, English 7.7% and Filipino 2.4%. About one quarter (23.5%) of people spoke English at home; other languages spoken at home included Mandarin 11.8%, Hindi 9.8%, Cantonese 4.5%, Tamil 4.4%, Gujarati 4.1% and Arabic 4.1%.

Neera Sahni, Research Services Leader, City of Parramatta, Parramatta Heritage Centre, 2020