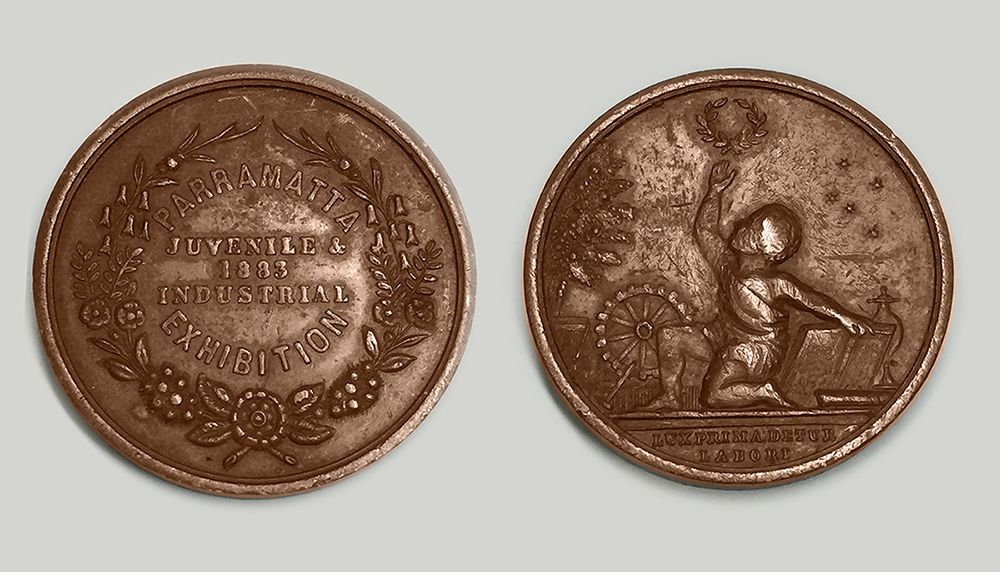 Intercolonial Juvenile Industrial Exhibition Medal, front and back. City of Parramatta Cultural Collection 2019.006. Source: City of Parramatta Council, 2019.
Recently acquired by the City of Parramatta, this 1883 medal from the Intercolonial Juvenile Industrial Exhibition represents a significant event in Parramatta's history.
The Exhibition showcased the achievements and talent of young people in the arts, design, manufacturing, agriculture and other creative pursuits.
Parramatta Park was selected as the secondary site for this exhibition following the 1882 fire of the Garden Palace in the Royal Botanic Gardens. A glass and corrugated iron structure was built by the Hudson Brothers in two months and reportedly 7000 people turned up on the opening day on the 19th December 1883, mostly arriving by train and steamer ferry.
It is unknown to whom or why this medal was awarded but interestingly we have an 1884 Minute book from the exhibition organising committee with a small newspaper clipping pasted in the back. This lists all the prizes awarded at the exhibition including one 6 ½ year old girl named Elsie Hall who grew up to be Australia's first female concert pianist.
Barker, G, Trial by Fire – the formation of the Powerhouse Museum's collections from the ashes of the Garden Palace. Retrieved from https://maas.museum/inside-the-collection/2013/03/04/trial-by-fire-the-formation-of-the-powerhouse-museums-collections-from-the-ashes-of-the-garden-palace/
The Juvenile Industrial Exhibition. (20 December, 1883, p3). Evening News (Sydney,1869 – 1931). Retrieved on 12 July 2019 from https://trove.nla.gov.au/newspaper/article/10883709
Parramatta Intercolonial Juvenile Industrial Exhibition (20 December, 1883, p9). The Sydney Morning Herald (NSW,1842 – 1954). Retrieved on 12 July 2019 from https://trove.nla.gov.au/newspaper/article/13546157
Minutes to the Meetings of the Organising Committee for the Parramatta Juvenile Industrial Exhibition 8 January 1884 – 7 April 1884. Parramatta Heritage Centre