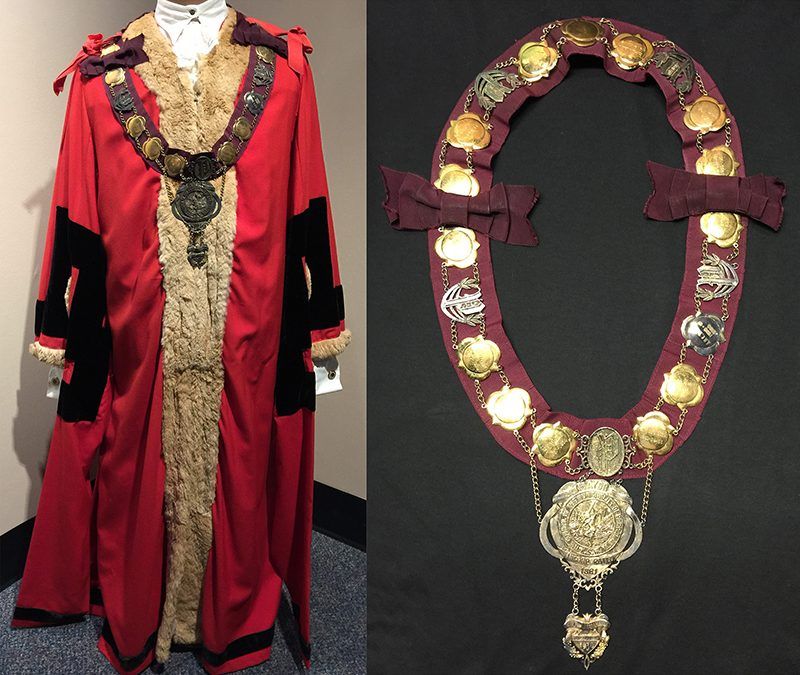 Purchased in 1967 from London tailors, Ede and Ravenscroft Ltd, these Parramatta Mayoral robes were the second set purchased in Council's history.
Red with a black facing and trimmed fur they were worn with a lace jabot or neck ruffle and the Chain of Office. The chains were commissioned from Angus and Coote in Sydney in 1949.
The wearing of robes is an English tradition dating back to the 1300s and it is reasonably common for Australian Mayors and Lord Mayors to wear them at formal functions over their normal clothes. However, it is an individual choice and not consistently adopted across Local Government in Australia.
The regalia generally consists of a set of robes, chains of office and a hat. There is no standard colour for mayoral robes but common colours are black, purple, blue, red and gold. The hat can be bicorne or tricorne with some form of gold embellishment and feathers.
Note: To view the interactive model, please use the following browsers: Mozilla Firefox, Google Chrome, Opera, Safari, Edge or to view on your mobile phone iOS 8+ and Android 4.0. Click on the ParraHistoryandHeritage link below to see all the 3D models in Sketchfab.
View all the objects and find out more about the 3D scanning techniques.

Alison Lykissas, Cultural Collections Officer, Parramatta Heritage Centre, 2019
References:
Bolin, F.D (1972) Civic Ceremonial and Protocol, Sydney, NSW. The Law Book Co.Ltd and Hicks Smith & Sons Pty Ltd
Bray, S.W (compiler) (2011) A Grand Type of Citizen: a guide to the Mayors and Lord Mayors of Parramatta 1861-2011. Parramatta City Council
City of Parramatta, (2015) Background research notes regarding Mayoral Robes, Ref: D03597808
City of Parramatta, (1988, August 15) Parramatta Bicentennial Community Committee Minutes (3699/H)
City of Sydney (2015) Mace, Chain and Robes. Retrieved 14 Nov 2018 from https://www.cityofsydney.nsw.gov.au/learn/sydneys-history/civic-history/symbols-of-the-city/mace-chain-and-robes
Penrith City Local History (n.d) Mayoral Regalia and Chain of Office. Retrieved 13 November 2018 from https://penrithhistory.com/local-government/mayoral-regalia-and-chain-of-office