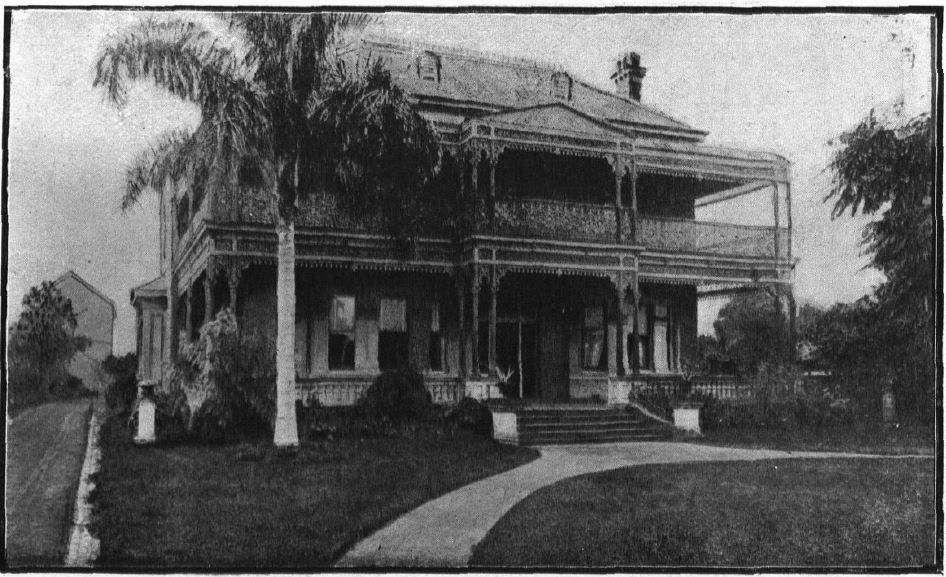 The above featured image is of "Hiawatha" house which once stood on the north side of George Street between Smith and Charles Streets in Parramatta, N.S.W. A good example of a Victorian town house, Hiawatha (also found spelt as 'Hyawatha') was a popular venue for wedding receptions, social celebrations and meetings in the mid-twentieth century. The house has long since been demolished, first in the 1960s to make way for a bowling alley, and again in late 1980s for the current iconic landmark A-grade commercial building that is known as 'The Octagon'.[2] 
History of Hiawatha from 1883 to 1960
Hiawatha was built in 1883 for Joseph William Withers (c1841-1914), J.P., former 1894-95 Mayor of Parramatta[3]. Withers of Surry Hills, N.S.W. became part of Parramatta's well known families when he married Sarah Anne/Annie Eury (c1847-1933) on 11 June 1868 at the home of Captain Michael Eury (1817-1888) on George Street, Parramatta. She was the eldest daughter of Captain Eury and sister to James Eury (1854-1925). In 1883, he had Hiawatha built for his growing family which included his children Ernest A. F. (1873-1915), twin daughters Blanche Naomi Maud (1876-1950, future Mrs Alban Gee) and Gertrude Laura May (b.1876, the future Mrs Charles Ernest Byrnes), Milton Hedley V. (1878-1960), Oswall Edgar Bruce (1879-1919), Beatrice Maude A. (1882-1916, the future Mrs Eric G. Stokes), Montague "Harold" Reginald (1884-1933) and Ruby Myrtle Gwendoline Withers (1885-1955, the future Mrs Francis J Beale).[4]
In 1891, Withers began his political career representing the Anderson Ward in local council and was elected Mayor of Parramatta in 1894.[5]
By 1903, he instructed Stack and Co. to auction 'Hiawatha' and his household items on 7 December, 2pm as he was leaving town.[6] On 2 December 1914, he passed away at his last known residence 'Elstow', Myagah Road, Mosman, aged 73.[7]
Alexander John Charles Christie
Alexander John Charles Christie (c1870-1933) was the next owner of Hiawatha. He was the Superintendent of the Mint and had worked there from junior clerk in 1890 until The Sydney Mint was closed in January 1927. Christies was the son of Alexander J. and Mary Ann Christie. He was born in Parramatta in 1870 and married Alice Eva McKelvey/MacKelvey in 1898 at St Patrick's Cathedral.
During the Christie family's residency at Hiawatha, the Christie's celebrated the birth of their children Maria (Marie) Agnes, Alice Veronica (Ronny), Stella, Joseph and John. As well as the reception of the marriages of his children from Marie marrying Dr. Terence Aubrey Daly of Macquarie-street, Parramatta, the youngest son of the late Mr. and Mrs. Edward Daly, of Concord on Wednesday 31 August 1921; Ronny marrying John I. Gorman, the eldest son of Mr. and Mrs. Edmond Gorman, of the Riverina, and "San Marino," Beaumaris, Victoria on Wednesday 16 June 1926.
It was also where his beloved wife Alice collapsed while preparing for an outing and died from a sudden heart afflection on 2 September 1932. Alexander passed away on Saturday 28 February 1933, aged 63. Devoted Roman Catholics, the Christies were buried at North Rocks Cemetery.[8]
Hiawatha Hiawatha Catering Co. Function Centre
Hiawatha remained in the Christie family while also being used as a place of entertainment for the community until its title was transferred from Joseph Christie to Ruby Florence Tolhurst (nee Rogers) in 1946.[9] Ruby Florence Tolhurst was a divorcee and the mother of Ronald Cyril Tolhurst (1916-1996) of Concord West. Ronald and Royce Victor Beavis were the registered proprietors of Hiawatha Private Hotel and Restaurant (on 23 October 1946) and Hiawatha Catering Co. Pty Limited (on 13 November 1946).[10] They remodeled Hiawatha on 'continental lines' to become a Restaurant, Cabaret, Function Centre and offer guest accommodation.[11] On 28 June 1949, Beavis became a joint tenant to the deed.[12] He was later joined by George Cecil O'Connell as co-director. O'Connell had previously served in the First World War as a Private of the 10th Australian Light Horse (service number 3440) and postwar had accumulated twenty years' experience in wedding receptions, being the owner of "Parisienne" top-line wedding receptionists in the western suburbs, before joining the Board of Directors of "Hiawatha" taking over that phase of "Hiawatha's" activities.[13]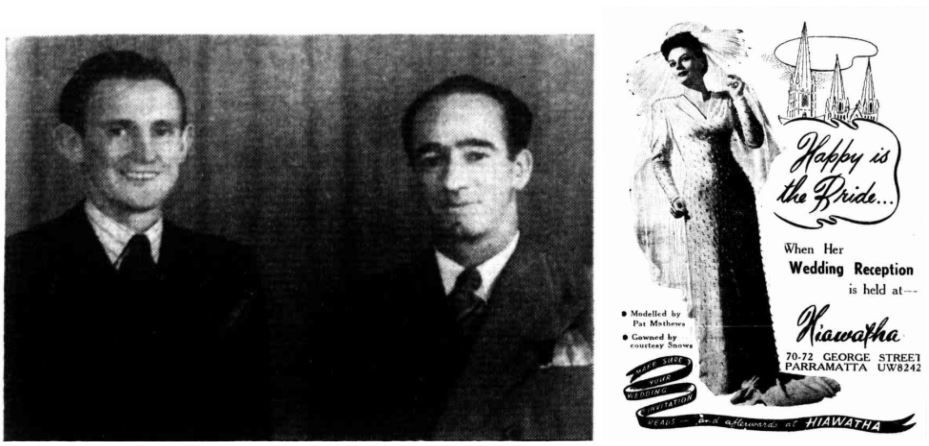 Under the management of O'Connell, he brought many new innovations to Parramatta including a new cocktail bar adjoining the fruit juice bar and soda fountain which opened off to the ballroom and main banquet room in 1948 as shown below in The Cumberland and Fruitgrowers Advocate newspaper.[14]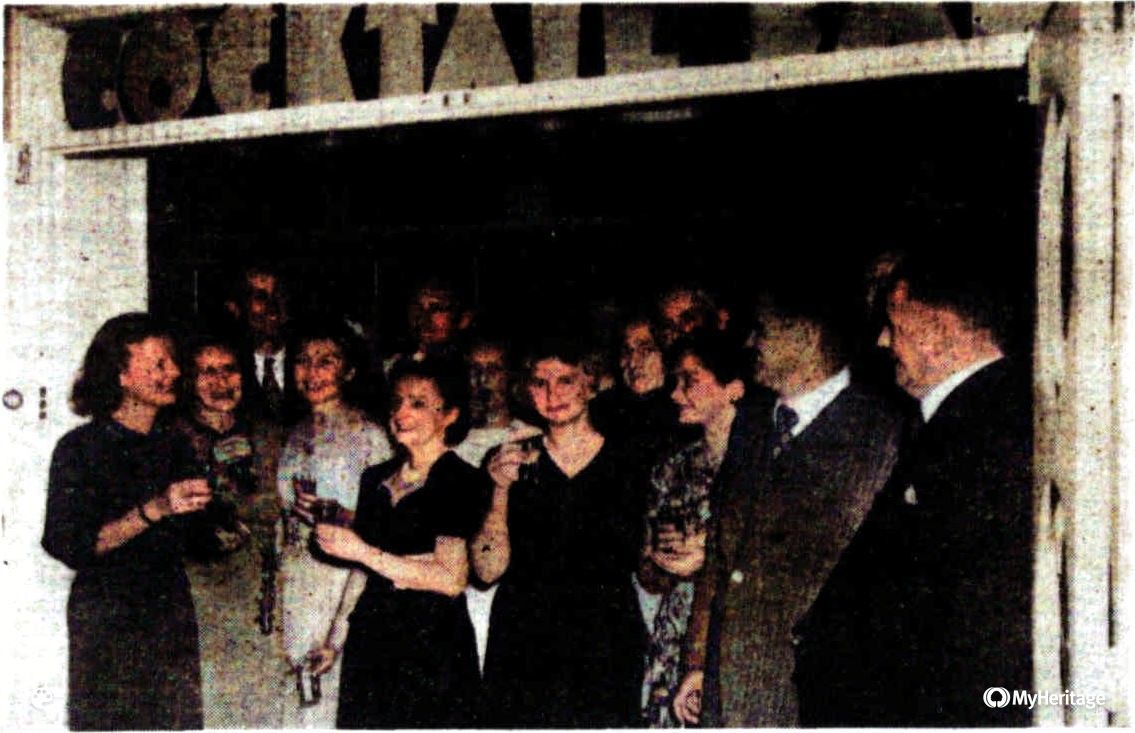 O'Connell passed away suddenly on 5 July 1952 at Hiawatha, where he had resided with his wife Mary and daughter Thelma.[15]
Parramatta Police-Citizens' Boys' Club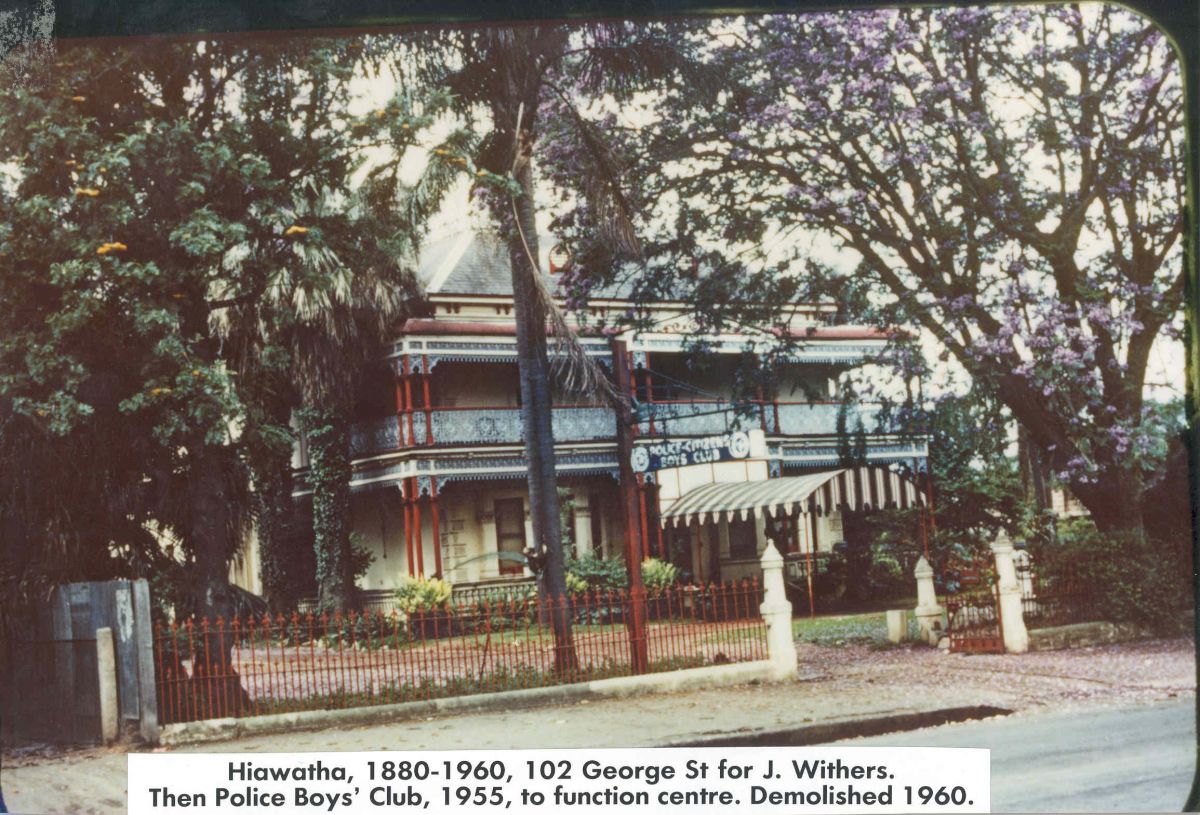 In 1953, Hiawatha was transferred to the Federation of NSW Police Citizens Boys' Club.[17] In 1962, the Federation of NSW Police Citizens Boys' Club had vacated Hiawatha after L.J. Hooker helped them secure larger premises.[18]
Parramatta Indoor Bowling Centre
Hiawatha was later demolished in order to build an American-style tenpin bowling centre in Parramatta. The Parramatta Indoor Bowl Centre was also known as the Ten Pin Bowling Centre which may have been built based on the designs of architects Fisher and Jackson.[18]
The Octagon
(Source: Office Hub)[19]
The near 22,000 square metre land for the A-grade commercial building known as 'The Octagon' at 110 George Street, Parramatta was consolidated between 1978 to 1984 at a cost of $1 million, including the site of the Bowling Centre, former Hiawatha site. It was designed by lead architect John Andrews and developed by W. McNamara Group and C. Itoh for Permewan Wright Consolidated (owned by JGL Investments). Building commenced in 1986 and was completed in late 1989 at $60 million dollars. The Octogon is an unique building featuring eight octagonal pods with 20,000 square metres of office space on 6 levels, and 2,000 square metres of ground floor commercial retail space enveloping the central courtyard. In 2012, the building was extensively refurbished.[20]

Anne Tsang, , Research Assistant, Parramatta Heritage Centre, City of Parramatta, 2021
References
Creagh, Pearce Rochford (photographer). "Hiawatha," residence of Mr. A. J. C. Christie, Parramatta. In Robert S. Hillier (compiler). (c. 1905).

Beautiful Parramatta : descriptive and illustrative.

Parramatta, [NSW] : Federal Printing Works, p. 55. Available online at

http://search.slv.vic.gov.au/permalink/f/1o9hq1f/SLV_VOYAGER1302817

Brown, Shylie. In Demolished houses, p. 105

City of Parramatta (Parramatta Heritage Centre, Research Service) (2014, June 14). Joseph W Withers 1894. Retrieved from

http://arc.parracity.nsw.gov.au/blog/2014/06/17/joseph-w-withers-1894/

 

Retrieved from

https://australianroyalty.net.au/tree/purnellmccord.ged/individual/I75552/Joseph-William-Withers

  ; 

To the ratepayers of Anderson ward. (1891, January 10).

The Cumberland Mercury,

p. 5. Retrieved from

http://nla.gov.au/nla.news-article249001605

; To the ratepayers of Anderson ward. (1891, January 28).

The Cumberland Mercury,

p. 3. Retrieved from

http://nla.gov.au/nla.news-article249001895

; Government advertisements : Electoral district Of Parramatta. General election, July, 1898. Nomination of candidates [Advertisement] (1898, July 27).

The Cumberland Argus and Fruitgrowers Advocate

, p. 8. Retrieved from

http://nla.gov.au/nla.news-article85840269 ;

The Parramatta election. Mr. O'Reilly's protest. The petition lodged at the house. Grounds upon which it is based. Charges of dead voting, official irregularities, and improper conduct. A re-count asked for. (1898, September 3).

The Cumberland Argus and Fruitgrowers Advocate

, p. 4. Retrieved from

http://nla.gov.au/nla.news-article85842035

Auction sale (1903, December 2).

The Cumberland Argus and Fruitgrowers Advocate

, p. 3. Retrieved from http://nla.gov.au/nla.news-article85683454 ; Monday, 7th December, at 2 o'clock sharp. … ["Hyawatha," George-street, Parramatta] Advertising (1903, December 5).

The Cumberland Argus and Fruitgrowers Advocate

, p. 9. Retrieved from

http://nla.gov.au/nla.news-article85686838

Death : Withers [Death notice] (1914, December 5).

The Cumberland Argus and Fruitgrowers Advocate

, p. 6. Retrieved from

http://nla.gov.au/nla.news-article85964564

Parramatta day by day. Mr. A. J. Christie : Death last Saturday : Prominent Parramatta citizen (1933, March 2).

The Cumberland Argus and Fruitgrowers Advocate

, p. 10. Retrieved from

http://nla.gov.au/nla.news-article107800292

NSW Land Register Services (1942, 1947). Primary application 29721 ;

Volume 5313 - folio 244, 245 & 246. Historical Land Records Viewer. Retrieved from

https://hlrv.nswlrs.com.au/

 

Hiawatha private hotel and restaurant. (1946, October 18).

Registered firms, Dun's gazette for New South Wales, vol. 76

, no. 16. Sydney : Dun's Gazette, p. 208. Received from

http://nla.gov.au/nla.obj-836131114

; Hiawatha catering co. pty., limited. (1946, December 6).

Registered companies., Dun's gazette for New South Wales, vol. 76

, no. 23. Retrieved from

http://nla.gov.au/nla.obj-795246388

  

Historic "Hiawatha": 70-72 George Street Parramatta [Advertisement] (1946, November 20).

The Cumberland Argus and Fruitgrowers Advocate

, p. 8. Retrieved from

http://nla.gov.au/nla.news-article105741740

; "Hiawatha" has become social rendezvous (1946, December 11).

The Cumberland Argus and Fruitgrowers Advocate

, p. 9. Retrieved from

http://nla.gov.au/nla.news-article105740123

; Colorful opening for beautiful Hiawatha (1947, January 2).

The Cumberland Argus and Fruitgrowers Advocate

, p. 6. Retrieved from

http://nla.gov.au/nla.news-article105739339

NSW Land Register Services (1949). Volume 5979 folio 29 and 30. Historical Land Records Viewer. Retrieved from

https://hlrv.nswlrs.com.au/

 

Mr. George C. O'Connell, owner of "Parisienne" top-line wedding receptionists of the western suburbs, has joined the Board of Directors of "Hiawatha." (1947, June 4).

The Cumberland Argus and Fruitgrowers Advocate

, p. 7. Retrieved from

http://nla.gov.au/nla.news-article105744126

 

A new cocktail bar at Hiawatha (1948, May 19).

The Cumberland Argus and Fruitgrowers Advocate

, p. 6. Retrieved from

http://nla.gov.au/nla.news-article105737047

; MyHeritage (2021) See your heritage in color. Available online at

https://www.myheritage.com/incolor/

 

O'Connell, George Cecil [Death notice] (1952, July 7).

The Sydney Morning Herald

, p. 10. Retrieved from

http://nla.gov.au/nla.news-article18272012

; Death of Mr. G. C O'Connell (1952, July 9). The Cumberland Argus, p. 1. Retrieved from

http://nla.gov.au/nla.news-article132148047

; "Brock" (1952, July 16). Parramatta Chamber of Commerce. In Roundabout,

The Cumberland Argus

, p. 1. Retrieved from

http://nla.gov.au/nla.news-article132149442

City of Parramatta (Local Studies Library) (2020). Hiawatha, 1880-1960, 102 George St for J. Withers. Then Police Boys' Club, 1955, to function centre. Demolished 1960. [Photograph]. Local Studies Photograph Collection Object Number LSP00678, P0549273L. Retrieved from

http://heritagecentre.parracity.nsw.gov.au/search.do?id=90322&db=object&page=1&view=detail

NSW Land Register Services (1953). Volume 6729 folio 108. Historical Land Records Viewer. Retrieved from

https://hlrv.nswlrs.com.au/

 

 L. J. Hooker Limited congratulates the Federation of Police-Citizens Boys' Clubs on the magnificent Parramatta Club Rooms. (1962, March 7).

The Cumberland Argus

, p. 6-7. Retrieved from

http://nla.gov.au/nla.news-page15030827

and

http://nla.gov.au/nla.news-page15030828

City's bowling alley (1960, September 7). The Cumberland Argus, p. 5. Retrieved from

http://nla.gov.au/nla.news-article131616633

; Reeves, Simon. (2010). Remember those bowling nights?

Victorian News, May 2010.

East Melbourne, Victoria : National Trust of Australia (Vic), p. 6. Retrieved from

https://www.nationaltrust.org.au/wp-content/uploads/2016/02/NT-Vic-Magazine-2010_2_May.pdf#pages=6

 

OfficeHub (2021) Octagon building : 110 George Street, Parramatta, NSW 2150 [image] Retrieved from

https://www.office-hub.com/au/buildings/octagon-building-parramatta-nsw-a363m000001SLA2AAO

 

Commerce hits the trail to the west (1987, October 02).

The Sydney Morning Herald

, p. 47 ; Parramatta has all the room in the world (1987, October 29).

The Sydney Morning Herald

, p. 37 ; Commercial property : How the west was won. (1987, November 17)

The Sydney Morning Herald

, p. 32 ; Cook, Danielle. (1989, April 22). Out west, the CBD is blooming,

The Sydney Morning Herald

, p. 46 ; Dixon, Andrea (1990, May 19) Sluggish demand for office space,

The Sydney Morning Herald

, p. 42 ; City of Parramatta Council (2010). The Octagon 110 George Street Parramatta NSW 2150, My Development [portal], property number 306191. Available online at

http://eplanning.parracity.nsw.gov.au/Pages/xc.Track/SearchProperty.aspx?id=306191

; Knight Frank Australia & CBRE (n.d.)

Think inside the Octagon, 110 George St Parramatta - leasing information

. Retrieved from

http://www.octagonparramatta.com.au/

or

http://www.octagonparramatta.com.au/media/Octagon-Leasing-Information-Memorandum-A4.pdf