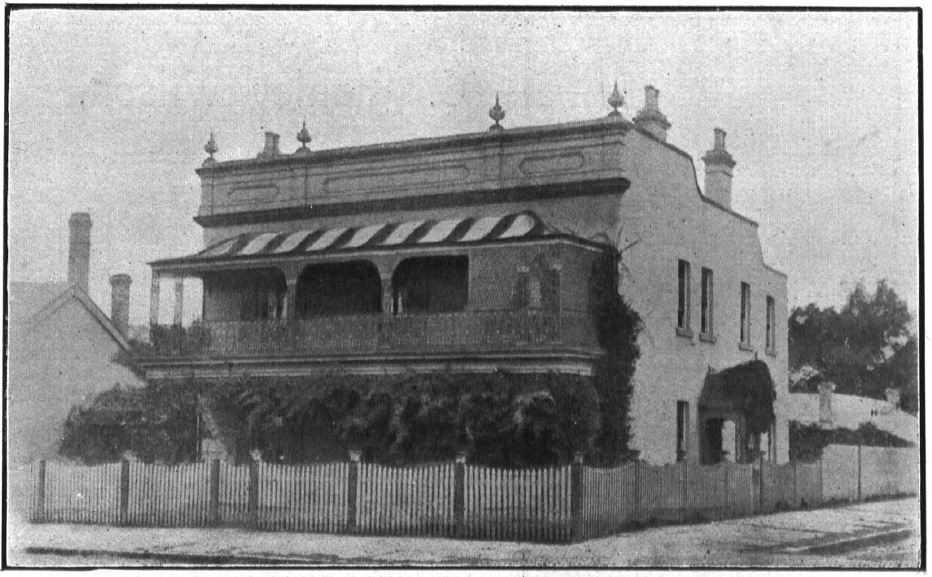 Did you know that Sir Henry Parkes, the father of the Australian Federation once lived in the heart of Parramatta? Well, he did and around 1925, Parramatta Council approved the request by the Parramatta and District Historical Societies to have a tablet placed on the site with the owner's permission. The site and building was 'Mangaplah' (or 'Mangapalan') and can be seen in the photograph above[1] which is part of our Local Studies Photographic Collection under the object number LSP00140.[2]
It was built in 1883 on the north-east corner of Macquarie and Marsden Streets, Parramatta, near the School of Arts (which was on its left).[3] The present day site of 16 Macquarie Street (also known as 144 Marsden Street, Parramatta). The original owner was Cyrus Edgar Fuller (1846-1911), newspaper proprietor and editor of The Cumberland Mercury, as well as owner of The Fuller lighting company, stationer, and major landowner. (Fuller was later declared bankrupt in 1893.)[4]
After Mangaplah was erected, it was leased to Sir Henry Parkes (1815-1896) for three years from 1885 to 1887.[5]
It was next leased to auctioneer William A. Brodie for a year in 1888 who also advertised for the sale of the property.[6] A local real estate ad described Mangaplah as:[7]
The next tenant was architect James Hill from 1891 to 1892.[8] Next was surgeon Dr. Andrew Semple for a few months in 1892-1893 before he vacated due to foul odours from the gutters. The real estate agent managing the property A. L. Hilton and Co. wrote to Council complaining about the issue.[9] 
In 1894, Mangaplah was used as a boarding house with builder Rolland Nicolle and his family living there when their young 4 year old son Eric was involved in a serious accident while playing in the front yard with another boarder. Sarah Coombers Bailey was the lady in charge.[10]
In 1894, William Hitchcock (c. 1839 - d. 28 August 1915, aged 76) came to Parramatta to join William Hart in partnership to form the timber merchant business of Hart, Hitchcock and Co. According to the Sands Directory, he was the next resident of Managaplah for the years 1895 to 1896.[11]
From 1897 until his death in 1912, John James also known locally as "J.J." Miller (c1840 - d.1912, aged 72), a financial agent operated and resided in Mangaplah. After his death, his wife Mrs Isabel/Isbella Sunter Miller (1862-d.23.06.1941, aged 79) an insurance agent continued the business while also helping many local charities.[12] 
Looking at the Torrens Title land records (volume 1272 folio 174) for Mangaplah, from 14 February 1899, the National Mutual Life Association of Australia was the proprietor of section 13, lot 88 corner. Then on 16 October 1929, the title was transferred to Mercantile Mutual Insurance Company Limited of 117 Pitt Street, Sydney. The address recorded in the Sands Directory and Council Valuation Books list Mangaplah as the north side of Macquarie Street, Parramatta, house number 12. In 1936, the valuation books indicated there were flats, office and garage. By 1942, the house number had changed to 16/18 Macquarie Street.[13]
An article 'Old mansion to go' in The Sydney Morning Herald (18 November 1966, p. 18)[14] states that Mercantile Mutual Insurance Company had submitted a development application which Parramatta Council had approved in principle. That "Mangaphal, the two-storey century-old Parramatta mansion which was occupied for some years in the 1880s by Sir Henry Parkes, is to be demolished." It was to "make way for a modern four-floor office block" which still stands today as 144 Marsden Street, Parramatta.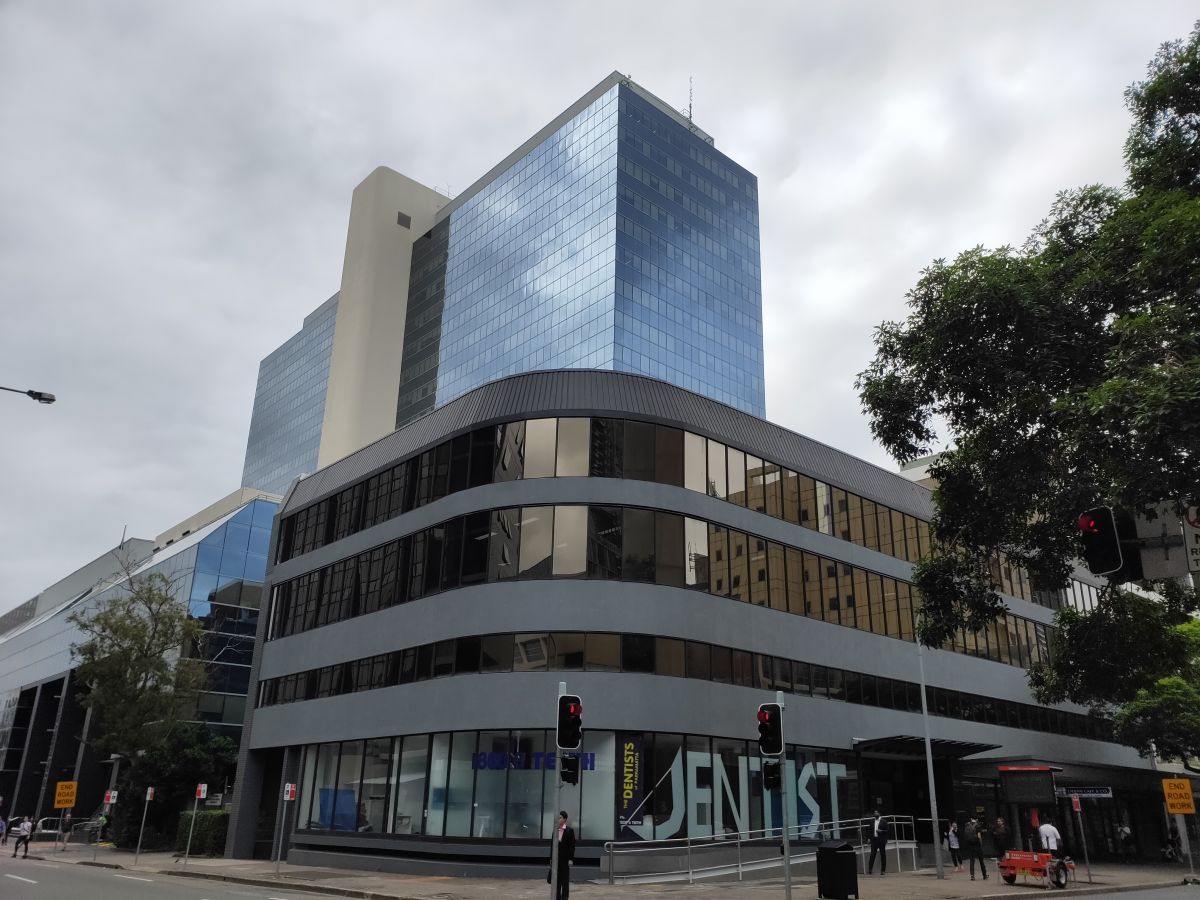 Anne Tsang, , Research Assistant, Parramatta Heritage Centre, City of Parramatta, 2021
References
Creagh, Pearce Rochford (photographer). "Mangaplah," residence of J. J. Miller, Esq. In Robert S. Hillier (compiler). (c. 1905).

Beautiful Parramatta : descriptive and illustrative.

Parramatta, [NSW] : Federal Printing Works, p. 100. Available online at

http://search.slv.vic.gov.au/permalink/f/1o9hq1f/SLV_VOYAGER1302817

or City of 

Parramatta Council (/Local Studies Library). (2020). "Mangaplah"( or "Mangaphal") the residence of J. J. Miller, Esq., a street view, circa 1900. (Residence at one time of Sir Henry Parkes. Located at the corner of Macquarie and Marsden Streets, Parramatta.). Local Studies Photograph Collection, Object Number LSP00140. Retrieved from

http://heritagecentre.parracity.nsw.gov.au/search.do?id=90643&db=object&view=detail&directoryResult=true

 

Unreserved auction. Household furniture, etc. Thursday morning, August 3, at 11. [Advertisement]. (1894, July 28).

The Cumberland Mercury

, p. 4. Retrieved from

http://nla.gov.au/nla.news-article252758915

 

For private sale. [No. 3 - "Managaplah House,"... Apply to C. E. Fuller, Parramatta or Sydney] (1884, February 23).

The Cumberland Mercury

, p. 8. Retrieved from

http://nla.gov.au/nla.news-article248784010

;

Parramatta. - To let, furnished or unfurnished, Mangaplah House, Macquarie- Street [Public notice] (1884, October 4).

The Sydney Morning Herald

, p. 23. Retrieved from

http://nla.gov.au/nla.news-article28368595

 

Brevities : Sir Henry Parkes… The old knight lived in Parramatta for some years, in "Mangaplah" (1896, May 2).

The Cumberland Argus and Fruitgrowers Advocate

, p. 1. Retrieved from

http://nla.gov.au/nla.news-article85765295

 

Notice to speculators, … No. 4. "Mangaplah House" (1887, October 5).

The Cumberland Mercury

, p. 3. Retrieved from

http://nla.gov.au/nla.news-article248801590

  

Handsome family residence to let. [Advertisement]. (1887, July 13).

The Cumberland Mercury

, p. 3. Retrieved from

http://nla.gov.au/nla.news-article248800554

 

City of Sydney Archives (2021).

1891 Part 4 - Suburban Directory - Paddington to Waterloo

(01/01/1891 - 31/12/1891), [A-01137378]. Retrieved from

https://archives.cityofsydney.nsw.gov.au/nodes/view/1900127

;

1892 Part 4 - Suburban Directory - Newtown to St Peters

(01/01/1892 - 31/12/1892), [A-01137367]. Retrieved from

https://archives.cityofsydney.nsw.gov.au/nodes/view/1900116

 

Local and general : The Macquarie-Street gutters again. (1892, August 3).

The Cumberland Mercury

, p. 2. Retrieved from

http://nla.gov.au/nla.news-article249010378

; Parramatta Borough Council. Correspondence. (1892, September 17).

The Cumberland Mercury

, p. 7. Retrieved from

http://nla.gov.au/nla.news-article249011011

; The sanitation of the Borough. (1892, September 17).

The Cumberland Mercury

, p. 4. Retrieved from

http://nla.gov.au/nla.news-article249011031

  

Superior board and residence [Advertisement] (1893, March 8). The Cumberland Mercury, p. 3. Retrieved from

http://nla.gov.au/nla.news-article252747902

; Serious accident to a child. (1893, July 19).

The Cumberland Mercury

, p. 2. Retrieved from

http://nla.gov.au/nla.news-article252750146

; The interpleader case at the small debts court. Mr. Dunn's pigs. (1893, July 22).

The Cumberland Mercury

, p. 6. Retrieved from

http://nla.gov.au/nla.news-article252750369

 

Personal pars : The late Mr. William Hitchcock. (1915, September 4).

The Cumberland Argus and Fruitgrowers Advocate

, p. 6. Retrieved from

http://nla.gov.au/nla.news-article86094886

; The late Mr. William Hitchcock. (1915, October 30).

The Daily Telegraph

, p. 11. Retrieved from

http://nla.gov.au/nla.news-article239116812

; City of Sydney Archives (2021). 1895 Part 4 - Suburban Directory - Newtown to Ryde (01/01/1895 - 31/12/1895), [A-01137334]. Retrieved from

https://archives.cityofsydney.nsw.gov.au/nodes/view/1900083

Another Parramatta Identity. "J.J." Mr. J. J. Miller's colonial experiences. (1906, March 31).

The Cumberland Argus and Fruitgrowers Advocate

, p. 4. Retrieved from

http://nla.gov.au/nla.news-article85936498

; Death of Mr. J. J. Miller. (1912, March 13).

The Cumberland Argus and Fruitgrowers Advocate

, p. 2. Retrieved from

http://nla.gov.au/nla.news-article86132786

; Public notice. Mrs. J.J. Miller (1912, March 16).

The Cumberland Argus and Fruitgrowers Advocate

, p. 12. Retrieved from

http://nla.gov.au/nla.news-article8613382

NSW Land Registry Services. (2008).

New South Wales Certificate of title. Application no. 10394. Register book, vol. 1272 folio 174.

[The National Mutual Life Association of Australasia Limited]. Available online via Historical Land Record Viewer

https://hlrv.nswlrs.com.au/

; Parramatta visited by Historical Society (1954, December 14).

The Gosford Times and Wyong District Advocate

, p. 3. Retrieved from

http://nla.gov.au/nla.news-article162873224

; Congratulations from kindred companies. (1955, April 27).

The Cumberland Argus

, p. 3 (supplement). Retrieved from

http://nla.gov.au/nla.news-article131388514

; Dictionary of Sydney (n.d.) Mercantile Mutual Insurance Company. Retrieved from

https://dictionaryofsydney.org/organisation/mercantile_mutual_insurance_company#ref-uuid=6760b957-6868-19cb-6636-c2319fb4f872

 

Old mansion to go'. (1966, November 18).

The Sydney Morning Herald,

p. 18