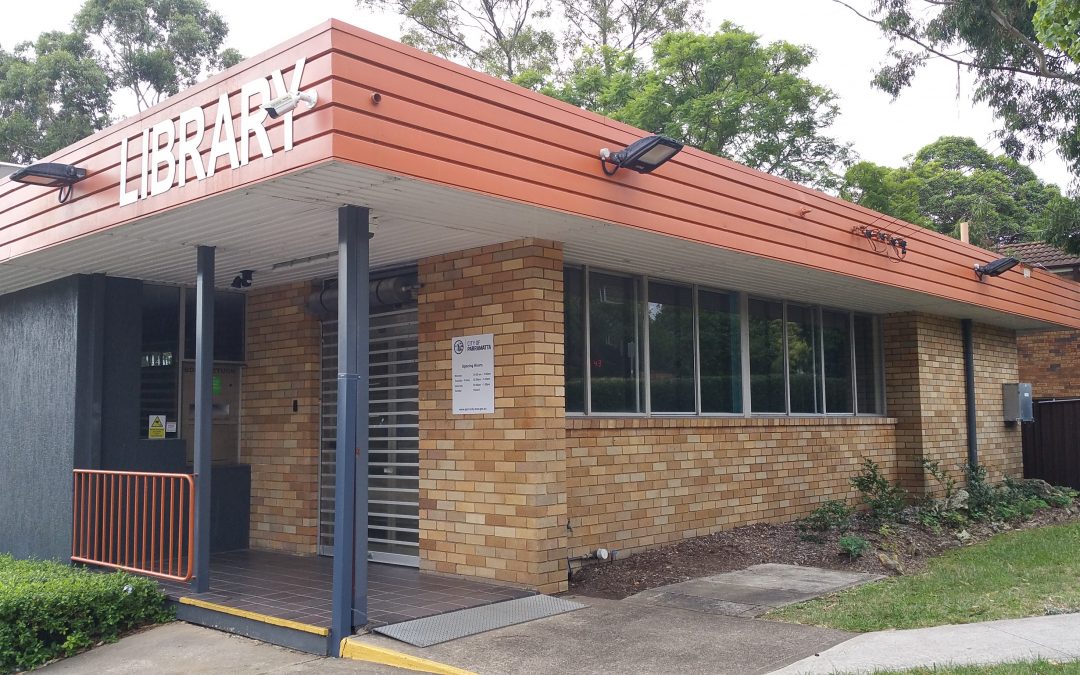 On 11 August 1966, the land title in which Carlingford Branch library is now located at, 17 Lloyd Avenue, Carlingford NSW 2118 (View Map) was transferred to Baulkham Hills Shire Council.  Two years later plans were proposed to Baulkham Hills Shire Council to build a library for Carlingford. The architect was Bruce S. Smith of 70 Macquarie Street, Parramatta.On 26 July 1969 Carlingford Library was officially opened.
History of Carlingford
The area was originally known as Mobbs Hill after William Mobbs, an early settler. Carlingford probably received its name to honour Lord Carlingford who was Under-secretary of State for the Colonies from 1857 to 1860. His title is associated with the town of Carlingford in Ireland. The name was suggested by Frederick Cox who heard one of his employees describe the similarities between Mobbs Hill and the scenery of Carlingford in Ireland. Residents voted for the name in 1886.
History of the Carlingford Branch Library site
Date
Title
Owner
Notes

1.05.1857

Original crown grant 

James Larra

 

Portion 113 of Carlingford in Shire of Baulkham Hills, Parish Field of Mars and County of Cumberland




600 acres ; 

Sketch book 1 folio 77

11.12.1913 to 20.01.1916

PA 19028




2639-142

Louisa Harris & Arthur William Harris

Joint tenancy

5.05.1916

2663-79

Burntrell & Bannerman Ltd

3 acres 1 rod 39.25 perches. 

Subdivided

21.03.1918

2832-61

Catherine Hall

36.5 perches

27.05.1925

2832-61

Winton Leet Turnbull, fireman

 

21.10.1946

2832-61

Boy Scout's Association (NSW branch)

 

11.08.1966

Transfer no. K421196

Shire of Baulkham Hills Council

 

1968

 
Baulkham Hills Shire Council

Plans were proposed to Baulkham Hills Shire Council for Carlingford Library at Lloyds Avenue, Carlingford. The architect was Bruce S. Smith of 70 Macquarie Street, Parramatta.

26.07.1969

 
 

Carlingford Library officially opened

1970

 
 

Plans for the extension of Carlingford Kindergarten were drawn.

8.10.1974

Lease no. P137816

 

Joint tenants

 

Lot 1 DP 8508

Hills Shire Council
 

1982

 
 

Further library additions plans were drawn by Regency Design Centre of Castle Hill

1996

 
 

Proposed alterations and extensions were drawn by Stephenson & Turner Architect

2016

 
 

Council amalgamation. Carlingford Library transferred from Hills Shire Council to City of Parramatta Council

7.11.2016

 
City of Parramatta Council

Handover of Carlingford Library from The Hills Council to City of Parramatta

10.11.2016

 
 

Carlingford Branch Library officially reopened
Carlingford Branch Library services
Carlingford Library is open during the following hours:
Monday: 10am – 7pm

Tuesday, Wednesday, Thursday, Friday: 10am – 5.20pm

Saturday: 10am – 1pm
A Justice of the Peace Service is available. Please check here for times or contact the library to check availability on 02 9806 5850. They also offer a facsimile service on 02 9638 1146
For future developments: see North Rocks Park Precinct, Carlingford Masterplan  

Anne Tsang, Research Assistant, Parramatta Heritage Centre, City of Parramatta 2020
References
City of Parramatta Council (2017). Locations and opening hours.Retrieved from 

https://www.cityofparramatta.nsw.gov.au/living-community/library/locations-and-opening-hours

 

City of Parramatta Council (2017). Parramatta library 60 year anniversary. Retrieved from  

https://www.cityofparramatta.nsw.gov.au/living-community/library/parramatta-library-60-year-anniversary

McClymont, J. (2003).

Pictorial history : Baulkham Hills Shire

. Alexandria, N.S.W. : Kingsclear Books, p. 32. Available online at

https://books.google.com.au/books?id=9jvgKYpi8wUC&lpg=PA32&ots=dcgwcH8LUu&dq=carlingford%20library%201969&pg=PA32#v=onepage&q=carlingford%20library%201969&f=false

City of Parramatta Council. Internal records D04527548, D04527549, D04527552. Restricted access.

McHardy, C. (2016, December 9). Carlingford – a brief history. Retrieved from http://arc.parracity.nsw.gov.au/blog/2016/12/09/carlingford-a-brief-history/

The Hills Shire Council, Projects Division. (). Public domain plan : Carlingford precinct. Retrieved from

https://www.thehills.nsw.gov.au/files/sharedassets/public/ecm-website-documents/page-documents/building/dcp/carlingford_precinct_public_domain_plan.pdf

 

Carlingford Library, undated [Photograph]. (n.d.). Photo no. 33, in State Library of New South Wales. Collection of photographs of public libraries throughout New South Wales. Available online at

https://www2.sl.nsw.gov.au/content_lists/library_act/library_act.html

City of Parramatta (2020). North Rocks Park Precinct, Carlingford Masterplan. Retrieved from https://www.cityofparramatta.nsw.gov.au/recreation-environment/our-parks/park-and-reserve-masterplans/north-rocks-park-precinct-masterplan