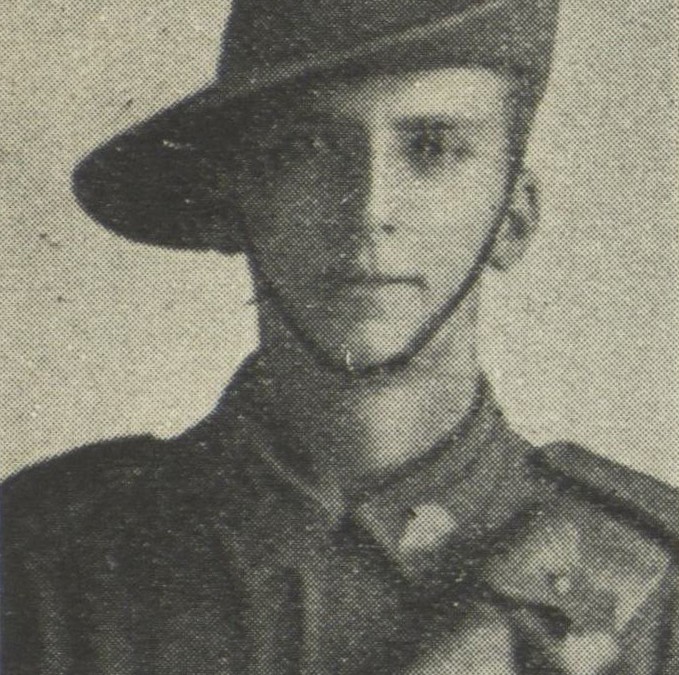 Alfred Herbert Currell was 18 years old when he enlisted in the Australian Imperial Force (service number 1539) in Warwick Farm on 27 August 1915 with his older brother Ernest Horatio Currell (service number 1538).
Born 17 September 1897 in Ashfield, N.S.W., Alfred was the youngest son of Mr Horatio John and Mrs Augusta Currell (nee Price) of Baulkham Hill. He was 5 foot, 9 and 1/4 inches, with a dark complexion, brown hair, grey eyes and was a Methodist. Prior to enlistment, he worked as an apprentice coach builder for James R. Dellow and Son, Parramatta and had served 2 years as a Senior Cadet.
On 23 October 1915 he embarked along with his brother from Sydney for overseas duties aboard HMAT SS Hawkes Bay. Taken on strength, he was transfered from the 12th Reinforcements of 1st Light Horse Reserve Regiment in Heliopolis to 2nd Divisional Ammunition Column (D.A.C.) in Zeitoun, and later to the Base Depot in France before rejoining the 2nd D.A.C. in France. By 8 April 1919 he was returned to Australia per Trases Montes. He was awarded an 1914/15 Star (6168), British War Medal (22620), and Victory Medal (22393).
Upon his return his beloved mother had died at Parramatta District Hospital on 22 October 1918. In 1936 he married Adeline Maream Milne in Hillston, New South Wales and settled in Goulburn, working as a Building and Health Inspector for the Goulburn City Council. In 1980 he passed away.
Anne Tsang, Research Assistant, City of Parramatta, Parramatta Heritage Centre, 2014
Reference
Ancestry Library edition
Australian War Memorial. (no date). Private Alfred Herbert Currell. Retrieved from https://www.awm.gov.au/collection/P10841748
Conflicting evidence in case at local industrial court. (1953, July 16). Goulburn Evening Post, p. 3. Retrieved from http://nla.gov.au/nla.news-article100382589
National Archives of Australia. (1914-1920). NAA: B2455, Currell A H, Item barcode 3478370. Retrieved from https://recordsearch.naa.gov.au/SearchNRetrieve/Interface/ViewImage.aspx?B=3478370
Parramatta brothers. (1916, March 4). The Cumberland Argus and Fruitgrowers Advocate, p. 4. Retrieved from http://nla.gov.au/nla.news-article86076007
The Cumberland Argus, compiler. (1920). Parramatta and district soldiers who fought in the Great War, 1914-1919. Parramatta, N.S.W. : The Cumberland Argus, p. 39. Retrieved from http://nla.gov.au/nla.obj-81891304