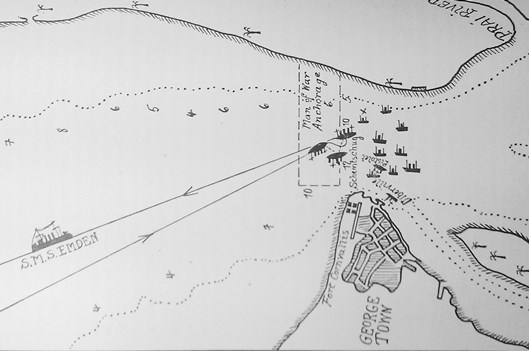 The Emden's Raid on Penang, from a sketch made by an officer of the Emden, A Jose, The Royal Australian Navy 1914-1918, 1933
[see 
part one
, 
part two
, 
part four
, 
part five
 for the entire history of its exploits and sinking by HMAS Sydney] … The Emden's next move was a bold one. To run down to Penang, off the coast of Malaysia, and catch and sink any vessels in the harbour at George Town (Tanjung). On the 25 October she took on coal from the Buresk off the Nicobar groupi and then hoisted the dummy fourth funnel to imitate a British cruiser. After this she he ran down to Penang where there were two French destroyers in port and a third, the Mousquetii on patrol duty outside the harbour.
Near the mouth of the harbour was the Russian light cruiser Zhemtchug who had recently returned from scouting in the eastern bay and was preparing to overhaul her engines.At 5 am on 28 October the Emden ran in through the narrow mouth of the harbour just missing the Mousquet, and at this point he was nearer capture than ever before, or again until the Cocos fight.iii In the harbour she found discovered the Zhemtchug at anchor (and asleep) among a number of trading vessels. As she passed, she fired a torpedo which hit the Russian's stern, and began a tornado of shells. Turning and re-passing, she fired another torpedo, which caught the Zhemtchug amidships and sank her. Soon after Muller he was warned that a destroyer was approaching the harbour mouth and promptly ran out to meet her. The morning mirage, however, had been deceptive, and after one or two shots had been fired he found she was only a government steamer.A larger vessel was then sighted and as he turned towards her found she was the British steamer Glen Turret. A prize crew was sent over, and the cutter carrying it had just returned when a warship was seen approaching. The Emden then steered for the newcomer, which turned out to be the destroyer Mousquet, which came on undisturbed and within five minutes was practically blown to pieces.
While picking up the survivors Muller noted one of the other French destroyers coming out of harbour, and thought it safer to disappear. This he managed to do during a heavy rainstorm, though the destroyer held on to him for four hours. He now made north-westwards to the Nicobar Islands.
On 30 October the Emden captured its final prize, the British steamer Newburn. To this vessel Muller transferred the French prisoners picked up from the Mousquet, and sent her off to Sumatra. The Emden then proceeded to make for the Cocos Islands, where the Exford had been waiting for him (and for the Markoniamtia) since 30 October.
The next installment of this story – 'her arrival and destruction by HMAS Sydney off Direction Island [iv] – will be published on 9 November.

Compiled from Charles Bean's, History of World War One, Volume 9, by Geoff Barker, Collections and Research Services Coordinator, Parramatta Council Heritage Centre, 2014
Endnotes
i http://en.wikipedia.org/wiki/Nicobar_Islands
ii http://www.wrecksite.eu/wreck.aspx?105954
iii http://en.wikipedia.org/wiki/Battle_of_Penang
iv http://en.wikipedia.org/wiki/Direction_Island_(Cocos_(Keeling)_Islands)