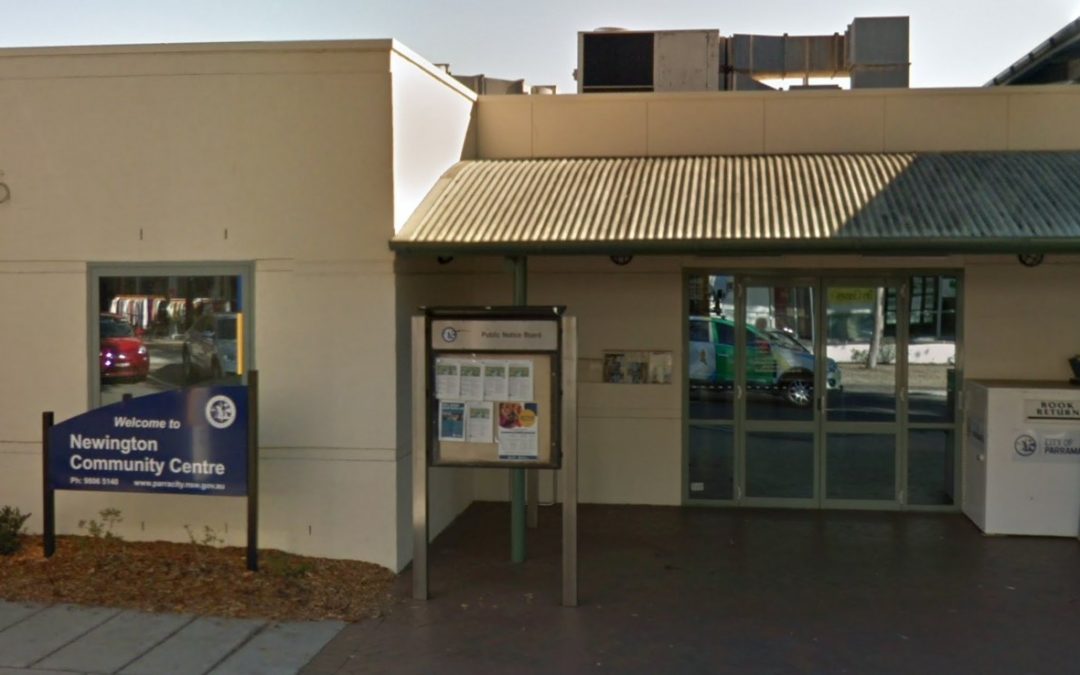 Newington Library was opened on Saturday 1 December 2001 as part of the Newington Community Centre. 2,000 people attended the official opening event by held by the then Auburn Council (proclaimed a City on 24 June 2009).
From Thursday 12 May 2016, Auburn City Council was abolished. Parts south of the  Western (M4) Motorway amalgamated with Holroyd City Council and Parramatta City Council (Woodville Ward) to form Cumberland Council and areas north of the Western (M4) Motorway including the Sydney Olympic Park and Newington merged into City of Parramatta Council.
Newington Community Centre is located on Avenue of Europe and Avenue of Asia in Newington, New South Wales. It is in close proximity to the Newington shopping centre, behind the Newington Medical Centre.  
The Centre features a main hall with a capacity of 100 and a meeting room which seats 40 people which is available for bookings.
As mentioned, it also offers a part-time Library and Customer Service operation to residents. The current Library opening hours are: 
Thursday: 2pm – 6pm 

Saturday: 9am – 12.00 noon.
You can contact the Library on (02) 9806 5842
History of Newington 
Newington is situated on the traditional Aboriginal lands of the Wann clan, known as the Wann-gal. In 1807, John Blaxland acquired 520 hectares of land in the County of Cumberland reserving the original grants of Waterhouse, Shortland, Archer and Haslam. He named the estate Newington after his family estate in Kent, Englandand established a series of salt pans on the banks of the Parramatta River. By 1827, it was producing 8 tonnes of salt each week for the Sydney market. Blaxland also established a tweed mill, limekiln and flour mill. Newington House was completed in 1832 and St Augustine's Chapel in 1838. 
The suburb of Newington took its name from Blaxland's Newington Estate. The present suburb of Newington is bounded by Holker Street in the north, Louise Sauvage Pathway and Haslams Creek in the east, the Western (M4) Motorway in the south, and Henricks Avenue, Carnarvon Street and the industrial area in the west and is part of the Rosehill Ward. The 2017 Estimated Resident Population for Newington is 6,228, with a population density of 69.53 persons per hectare.
See also our articles:
History of Newington Community Centre
Prior to the Centre opening as a community space, it was originally built and used as the Olympic and Paralympic Athletes Village media and conference centre during the 2000 Olympic Games. After the Paralympics games concluded, the space was converted to the Newington Community Centre.

Anne Tsang, Research Assistant, Parramatta Heritage Centre, City of Parramatta 2020
References