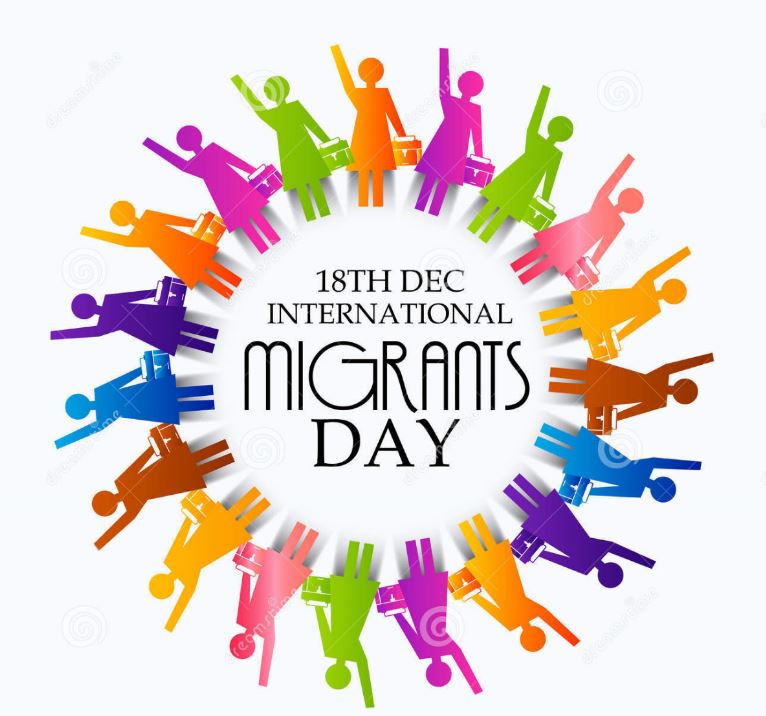 International Migrants Day: As the world observes International Migrants Day this year on 18th December, let us dig deeper to understand how this day started.  On 18th December 1990, The General Assembly adopted a resolution on the International Convention on the Protection of the Rights of All Migrant Workers and Members of Their Families. This day is to highlight the challenges faced and the contributions made by the roughly 272 million migrants living new lives and building new communities in every corner of the globe. On this day, we salute migrants and the communities they join, the communities they remake through their mutual effort and support them. #WeTogether.
Australian Bureau of Statistics: As per ABS statistics from the end of FY 2019, there were over 7.5 million migrants living in Australia. About 29.7% of Australia's population were born overseas. Australia's population in the 2019 census represent people born in countries around the globe:
England (986,000) continues to be the largest group of overseas-born living in Australia.

China (677,000) remained in second place from 2017 with strong growth since 2002

India (660,000) with strong growth remained in third place with an extra 68,000 people

Sri Lanka (140,000) continued to increase and is now in tenth place, moving Scotland (134,000) to eleventh place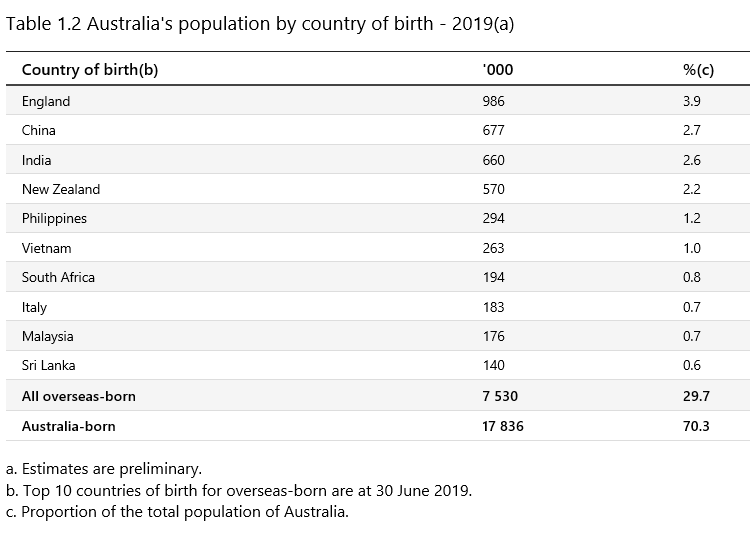 (Australian Bureau of Statistics. (2020). Source: Migration, Australia )
City of Parramatta: The City of Parramatta is located in Sydney's western suburbs, about 24 kilometres from the Sydney CBD. The City of Parramatta is bounded by The Hills Shire Council and Hornsby Shire Council in the north, the City of Ryde and the City of Canada Bay in the east, the Strathfield Council area and the Cumberland City Council area in the south, and Blacktown City Council in the west. City of Parramatta is home to over 257 thousand residents: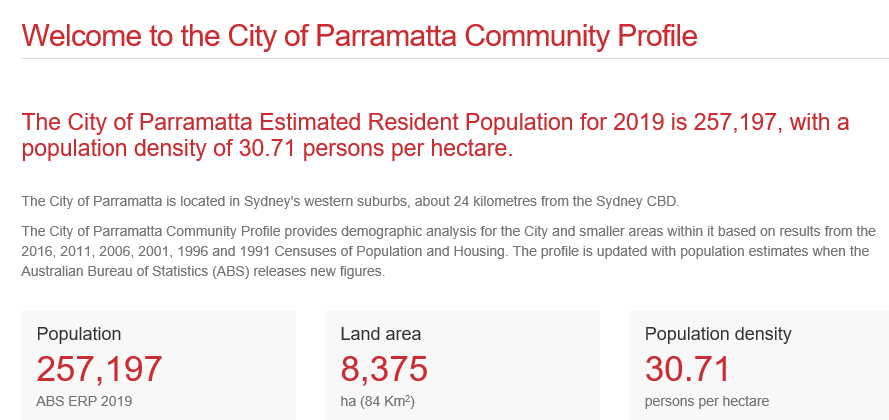 (.idcommunity. (2019). Source: City of Parramatta Community Profile)
As Parramatta emerges as a cosmopolitan global city, we are looking to a diverse range of immigration, beyond those of early colonial settlement. These immigrants range from labour, hawkers, family reunions and increasingly growing volumes of temporary and skills-based migrants. 
City of Parramatta Population by Ancestry: The three largest ancestries in the City of Parramatta in 2016 were Chinese, English and Australian followed by Indians, Irish, Korean, Scottish, Lebanese, and Italian.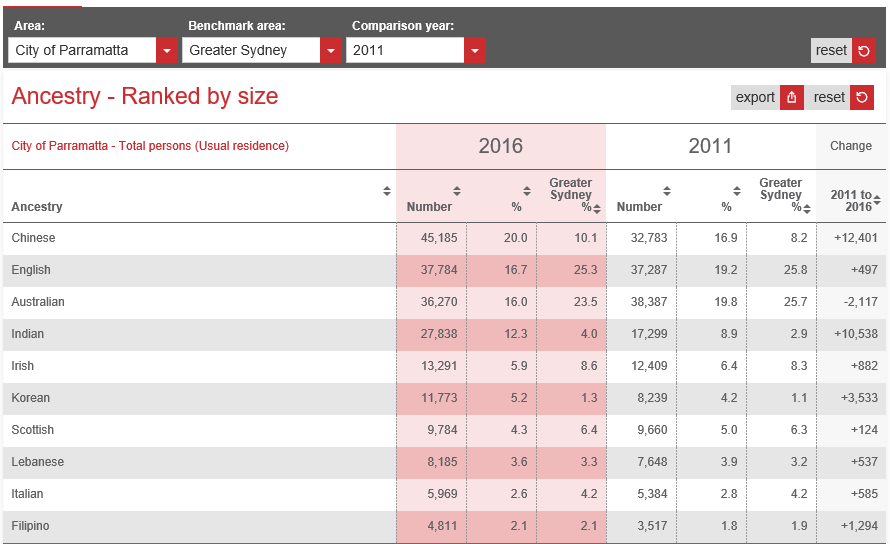 (.idcommunity. (2016). Source: City of Parramatta Ancestry)
City of Parramatta Population by Birthplace: Birthplace data along with the Language Spoken at Home and Religion places India in the first place followed by China, Korea and Hong Kong.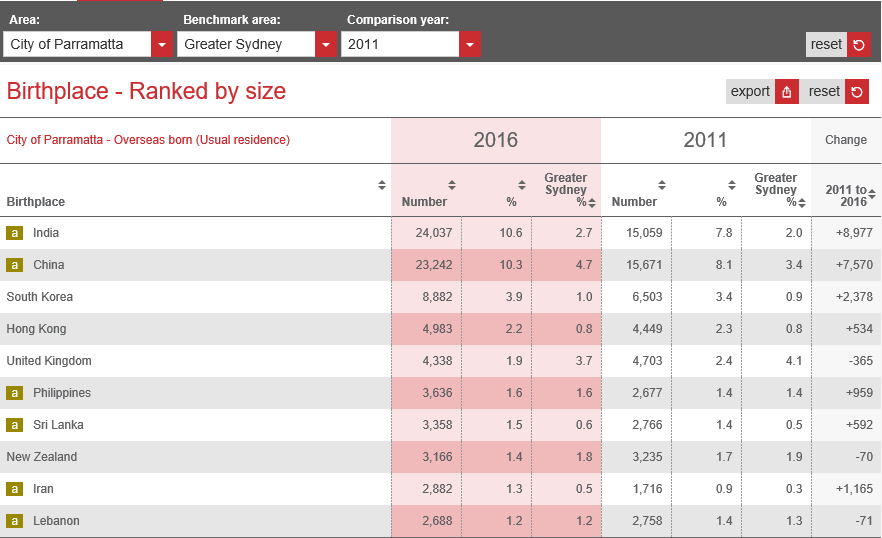 (.idcommunity. (2016). Source: City of Parramatta Birthplace)
Migrants: Migrants from various parts of the globe have made Parramatta their home over the years. City of Parramatta is  home to diverse people from convicts to immigrants of British, European, Indian, Chinese, Korean, Greek and  Lebanese ancestry, and includes many other descendants who came to Australia by boat to discover the opportunities to conduct business and/or to start a new life.
Chinese Immigrants: Before the 1850s, Chinese labourers faced harsh conditions and physical hardship in Australia. While in Australia, Chinese labourers would walk along a winding country road in search of work and cleared bushland for farming. Mak Sai Ying is the earliest known Chinese immigrant to have arrived in Sydney and settled in Parramatta.
Indian immigrants: A study of DNA has found that Indian people may have come to Australia around 4000 years ago. Let us look back and explore the centuries of contributions of Indians to the development of Australia and especially to the City of Parramatta. Many Indians came to Australia as hawkers, traders, banana growers, and sugar cane farmers. The first Muslim Indian arrived in Tasmania in 1813. The first Hindus came as indentured labourers in 1816. The first Sikhs arrived in Brisbane in 1844. Indians have been coming to Parramatta to purchase horses since the 1820s. Harris Park within the Parramatta local government area has Indians living and owning businesses. Harris Park is also known as "Little India".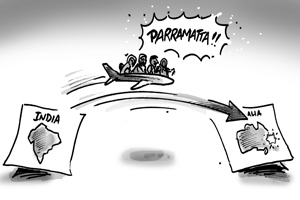 Parramatta is considered the heart of the Indian community and Harris Park the heartland with 39% of the businesses, shops and restaurants being Indian owned. No wonder the  City of Parramatta and the NSW government want to promote Harris Park as 'Little India' to tourists.
Parramatta's Indian-born population is young, and the majority (64 per cent) have a degree or higher qualification. Parramatta has become an increasingly important destination for migrants arriving in Australia through skilled migration schemes, and is now one of the four top employment centres for skilled migrants.
Lebanese immigrants: Lebanese migrant Rosie Broheen left her village in Lebanon in the 1890s seeking opportunity in Australia; she sold useful items house to house in and around Parramatta.
Greek immigrants: There are accounts of Greek and Maltese communities living and trading in Parramatta in the 1920s and 1930s. Bill Gay, the son of market gardener George Gay, recounts the Greek cafes of Parramatta including the Cumberland Cafe and another milk bar run by the Psaltis family.
Italian immigrants: Italian families also moved into Parramatta and established local businesses. Jim Tortas established a chain of restaurants beginning with the Bar Roma Steakhouse in Parramatta, and others went on to become poultry farmers and vegetable growers.
Businesses - Baltia Pty. Ltd.: This was a small Shop in 91a Argyle Street, Parramatta. Batlia's advertisement in the local papers listed some of the imported products available such as cheeses from countries like Denmark, Switzerland, Germany, France, Norway and Holland.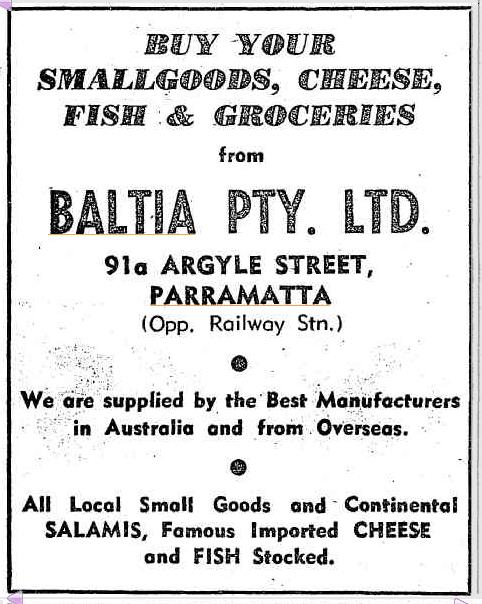 (Advertising. (1956, April 11). The Cumberland Argus) 
Madame Leuba: Leuba Hairdresser was the oldest hairdresser in the Parramatta District in 1939.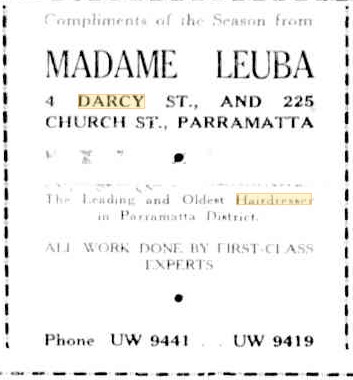 (Advertising. (1939, December 13). The Cumberland Argus and Fruitgrowers Advocate)
(Advertising (1907, February 16). The Cumberland Argus and Fruitgrowers Advocate)
Sing Choy – Market Gardener, Green Grocer & Interpreter: Sing Choy's smile and sonorous 'Good Morning' was described as 'a feature of Parramatta town life'. As market gardener and storeman, Choy was well-known in Parramatta, but it was his services as interpreter for the local Chinese community that established his reputation.
St Ioannis Greek Orthodox: This parish on George Street, Parramatta celebrated their 60th anniversary in May 2020.
To conclude, we can say that as each wave of immigrants settled in Parramatta, little knots of eateries and restaurants served as meeting places where lonely groups of migrants chatted in their native tongue and recreated the tastes of home.  

Neera Sahni, Research Services Leader, Parramatta Heritage Centre, City of Parramatta, 2020
References:
Advertising (1907, February 16). The Cumberland Argus and Fruitgrowers Advocate, retrieved on 14/12/2020 from https://trove.nla.gov.au/newspaper/article/86154194
Advertising. (1939, December 13). The Cumberland Argus and Fruitgrowers Advocate, retrieved on 14/12/2020 from https://trove.nla.gov.au/newspaper/article/106213619
Advertising. (1956, April 11). The Cumberland Argus, retrieved on 14/12/2020 from https://trove.nla.gov.au/newspaper/article/131389541?searchTerm=baltia
Australian Bureau of Statistics. (2020). Migration, Australia retrieved on 14/12/2020 from https://www.abs.gov.au/statistics/people/population/migration-australia/latest-release
.idcommunity. (2016). City of Parramatta Ancestry  retrieved on 15/12/2020 from https://profile.id.com.au/parramatta/ancestry
.idcommunity (2016). City of Parramatta Birthplace retrieved on 15/12/2020 from https://profile.id.com.au/parramatta/birthplace
.idcommunity. (2019). City of Parramatta Community Profile retrieved on 15/12/2020 from https://profile.id.com.au/parramatta
Badhwar, N. Harris Park – the 'Little India' of Australia, retrieved on 16/12/2020 from http://www.indiandownunder.com.au/2012/07/harris-park-the-little-india-of-australia/
Barns, S. (2017). Lebanese Migration, retrieved on 15/12/2020 from https://historyandheritage.cityofparramatta.nsw.gov.au/blog/2017/07/14/lebanese-migration
Glen (2014). The story of culturally diverse communities – Indians in Parramatta, retrieved on 16/12/2020 from http://blog.id.com.au/2014/population/demographic-trends/the-story-of-culturally-diverse-communities-indians-in-parramatta/
Gothe-Snape, J & McCarthy, P K. (2017), Indians top list newly arroved migrants 2016, retrieved on 16/12/2020 from http://www.sbs.com.au/yourlanguage/punjabi/en/article/2017/01/27/indians-top-list-newly-arrived-migrants-2016
Hage, G. At Home in the Entrails of the West: Multiculturalism Ethnic Food and Migrant Home-Building. Retrieved on 12/12/2020 from https://www.academia.edu/12916012/At_Home_in_the_Entrails_of_the_West_Multiculturalism_Ethnic_Food_and_Migrant_Home-Building
Rosales, M. (2014). Baltia Delicatessen 1956-1961 Parramatta. Retrieved on 12/12/2020 from https://historyandheritage.cityofparramatta.nsw.gov.au/blog/2014/11/19/baltia-delicatessen-1956-1961-parramatta
Sahni, N. (2017). Indians untold story, retrieved on 16/12/2020 from https://historyandheritage.cityofparramatta.nsw.gov.au/blog/2017/06/29/indias-untold-story-in-australia
Sahni, N. (2017). Indians in Parramatta for Australian Horses, retrieved on 16/12/2020 from https://historyandheritage.cityofparramatta.nsw.gov.au/blog/2017/07/04/indians-in-parramatta-for-australian-horses-1820s
Sahni, N. (2018). Sing Choy: Market Gardner, Green Grocer, Interpreter, retrieved on 16/12/2020 from https://historyandheritage.cityofparramatta.nsw.gov.au/research-topics/agriculture-and-farming/sing-choy-market-gardener-green-grocer-interpreter
Sahni, N. (2017). Mak Sai Ying aka John Shying, retrieved on 12/12/2020 from http://arc.parracity.nsw.gov.au/blog/2017/01/27/mak-sai-ying-aka-john-shying/
Sahni, N. (2017). Chinese Settlement in New South Wales, retrieved on 16/12/2020 from http://arc.parracity.nsw.gov.au/blog/2017/01/27/chinese-settlement-in-new-south-wales/