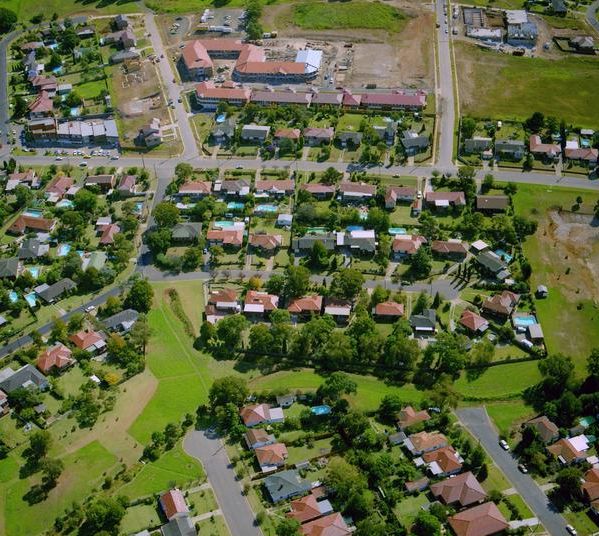 The Wallumedegal people inhabited the land in the area now known as Carlingford prior to settlement by Europeans with the first recorded contact being made by an exploration party several months after the arrival of the First Fleet in January 1788.
Early European settlers in the district included convicts William Mobbs, George Spurway, Joseph Eyles and later Parramatta-born Frederick Charles Cox. William Mobbs arrived as a convict per Barwell on 18 May 1798. His wife and children arrived in 1801 and the following year he acquired 30 acres of land on what is now the western side of Marsden Road overlooking the Dundas Valley. Mobbs established an orchard as well as mixed cropping such as wheat on his property which he called Orange Grove. The venture proved to be very successful enabling him to expand his holdings and by 1828 Mobbs had amassed an estate of over 700 acres and was renowned in the colony for the quality of his citrus fruit. The area around his property soon became known as Mobbs Hill.
For more information, here is our brief history on Carlingford. 
Name

Origin & Meaning

Source

Aaron Place

First names of the builder, developer and real estate agent families street naming theme in the area.

McAndrew, A. (2002). Carlingford Connexions.

Ada Place

Acknowledging Ada M Mills, daughter of J. Y.Mills and niece of subdivider C. W.Mills.

Parramatta Council. (199-). Suburban names review, part 1.

Adderton Road

Named after Adderton Estate which was originally owned by Captain Moffat in the 1840s, when it was an orchard.

McAndrew, A. (2002). Carlingford Connexions.

Adrian Court

Possibly named after the Australian aviator Adrian Lindley Trevor Cole in alignment with an aviator street naming theme in the area. Adrian significantly contributed to both World Wars.

Wikipedia. (2021). Adrian Cole (RAAF officer)

Ainslie Parade

Origin unknown.

 

Alamein Avenue

Named after the Battle of El Alamein in North Africa during World War 2. This was part of an estate owned by a veteran of the North African campaign, Jim Milner.

McAndrew, A. (2002). Carlingford Connexions.

Alexander Parade

After the land was purchased in the 1950s by Jim Sinclair Millner, he subdivided the estate which created various streets such as Alexander Parade, which he named after his British generals during World War 2.

Staples, C. (2018). From Fruit Bowl Farms to Housing Boom.

Alexandra Place

Named after the current Queen of the United Kingdom and Commonwealth Queen Elizabeth II who was born Elizabeth Alexandra Mary Windsor. Carlingford maintains a members of royalty street naming theme.

McAndrew, A. (2002). Carlingford Connexions.

Alkira Road

Aboriginal word for bright sunshine.

McAndrew, A. (2002). Carlingford Connexions.

Anne Marie Place

Origin unknown.

 

Anthony Street

First names of the builder, developer and real estate agent families street naming theme in the area.

McAndrew, A. (2002). Carlingford Connexions.

Arcadian Circuit

The origins of this street name is not precisely known though it can be assumed, since Arcadia is defined as a region or scene of simple pleasure and quiet, that the street name was a term of endearment or advertising.

 

Avonlea Drive

This name refers to a field by a river which was more accurate when the street was created in a 1960s subdivision than it was today. At the time, there existed by the street (where Lyndelle place is now) a dam holding approximately 5 million gallons of water known as the Hazelwood Dam. However, during the 1960s, the land around this dam was subdivided by the Lyon Group and Craiglea Buildings P/L who drained the dam shortly after for housing development. Today, a small stream flows through the area, no doubt a remnant of the dam that once was.

Staples, C. (2018). From Fruit Bowl Farms to Housing Boom.

Azile Court

Potentially named after the French word for refuge, Asile.

McAndrew, A. (2002). Carlingford Connexions.

Baker Street

Named after Private William Baker who acquired the land in 1796.

McAndrew, A. (2002). Carlingford Connexions.

Balaka Drive

Derives from a native word meaning content.

McAndrew, A. (2002). Carlingford Connexions.

Balmoral Place

This street's naming policy maintains the monarchal theme in the area.

McAndrew, A. (2002). Carlingford Connexions.

Bardia Road

This streets acknowledges the Battle of Bardia, the first Australian victory in World War 2. Carlingford maintains a scenes of famous battles street naming theme.

AWM London. (2021). Bardia

Barellan Avenue

Named after the Aboriginal word for meeting of the waters as, at the time, water collected at a swamp which is now the Edwin Ross Reserve.

McAndrew, A. (2002). Carlingford Connexions.

Barons Avenue

The Kingsdene Estate theme names maintained a monarchal theme. Baron is a title of nobility.

McAndrew, A. (2002). Carlingford Connexions.

Barrington Place

Named after George Barrington (1755-1805), a thief who was sent to Botany Bay in 1790 and later appointed the Chief Constable in Parramatta by Governor Hunter in 1796.

McAndrew, A. (2002). Carlingford Connexions.

Bellevue Drive

This drive, meaning beautiful view in French, shares its name with several places in Australia, most notably the historic Bellevue House in Glebe.

 

Benghazi Road

Like the nearby Alemein or Tobruk avenues, this road adopts its name from the World War 2 battleground from the North African campaign, in which Australia played a vital role.

 

Bettington Road

Named after James Brindley Bettington (1796-1857) who purchased Oatlands in 1840.

McAndrew, A. (2002). Carlingford Connexions.

Bevan Place

Former convict John Bevan and wife Ann raised 14 children in the area. Many descendants operated orchards or plant nurseries.

The Hills Shire. (2021). Street Name Origins

Billyard Place

Billyard was named as part of the builder, developer and real estate agent street naming theme in the area.

McAndrew, A. (2002). Carlingford Connexions.

Blenheim Road

Named after the now-demolished Blenheim House, owned by the Cox family.

McAndrew, A. (2002). Carlingford Connexions.

Boundary Road

Descriptive.

 

Bradley Drive

Named in honour of Lieutenant William Bradley maintaining an explorer street naming theme in the area. When Governor Phillip rowed up Parramatta River with an exploring party in April 1788 they landed approximately where Duck River meets Parramatta River, and walked to the present site of Parramatta. Captain John Hunter and Lieutenant William Bradley sailed up what is now known as the Parramatta River, as far as Homebush Bay.

Parramatta History and Heritage. (2020). Auburn - A Brief History

Brand Street

Original land grantee in the area Curtis Brand was granted 30 acres of land in the Ponds.

McAndrew, A. (2002). Carlingford Connexions.

Brendon Place

Possibly following the British place naming theme in the area. Brendon is a village in Devon, England.

McAndrew, A. (2002). Carlingford Connexions.

Broadway Circuit

American place name theme.

McAndrew, A. (2002). Carlingford Connexions.

Brooklyn Crescent

American place name theme.

McAndrew, A. (2002). Carlingford Connexions.

Broulee Place

Broulee - Aboriginal word, the street name being a misspelling of 'Broula', a word taken to mean trickling water. Towns of NSW naming theme.

Parramatta Council. (199-). Suburban names review, part 1.

Buckland Avenue

Named after Sir Thomas Buckland Memorial Home.

McAndrew, A. (2002). Carlingford Connexions.

Bushland Crescent

Most likely a descriptive name as a large plot of bushland lies two streets away as part of North Rocks Park.

 

Buyuma Street

Aboriginal term for foot of the hill.

McAndrew, A. (2002). Carlingford Connexions.

Calool Road

Translated from Aboriginal, this word means kurrajong, a species of plant native to Australia.

 

Camelot Court

The Kingsdene Estate was a master planned subdivision established in the early 1960s. It was a joint project developed by The Australian Women's Weekly and Lend Lease Corporation titled Carlingford Homes Fair. The land was subdivided and designed according to the contours of the land by Clarke Gazzard and Yeoman. Some of the houses were designed by architects who are considered legends in the field, including Neville Gruzman, Ken Woolley and Michael Dysart, and Towell, Jansen and Gerry Rippon.

Collier, S. (2018, December 10). Carlingford is a suburb to watch in 2019

Campton Court

Named after Commando Len Campton who was killed in World War 2.

McAndrew, A. (2002). Carlingford Connexions.

Captain Strom Place

Named after Captain Herman Strom, who was born in Sweden in 1854, retired in 1928 after 40 years of service with Mcllwraith McEacharn Ltd.

Obituary: Captain Herman Strom. (1938, October 15). The Age

Carlingford Road

The suburb of Carlingford was named in honour of Lord Carlingford, the British Under Secretary of Colonies between 1847 and 1860. There is also a town of Carlingford in County Louth, Leinster, Ireland and it was from here that the suburb's name originated. Carlingford Road was named after the suburb.

McClymont, J. (2001). Pictorial History: Parramatta & Dictrict.

Carmen Drive

Type of peach grown on 10 acre orchard Hillside by Frederick Orth.

The Hills Shire. (2021). Street Name Origins

Carolyn Avenue

Named after Carolyn Scarf as part of the first names of the builder, developer and real estate agent families street naming theme in the area.

McAndrew, A. (2002). Carlingford Connexions.

Casben Close

Subdivided by the Casben Developers company in 1969, this area was part of a property known as The Glen which was later a poultry farm by Malcom Macdonald until 1967.

Staples, C. (2018). From Fruit Bowl Farms to Housing Boom.

Cassandra Place

Origin unknown.

 

Cedarwood Place

Flower, tree and nature street naming theme in the area.

McAndrew, A. (2002). Carlingford Connexions.

Charles Street

A subdivision of the Cox's Gem of Carlingford Estate and is named after Fighting Charlie Cox, a veteran of the South African War (1899-1902) and World War 1.

McAndrew, A. (2002). Carlingford Connexions.

Cherry Avenue

Most likely in reference to the various fruit-bearing orchards in the surrounding area.

 

Christel Avenue

Origin unknown.

 

Citrus Grove

Most likely in reference to the various fruit-bearing orchards in the surrounding area.

 

Clover Close

Flower, tree and nature street naming theme in the area.

McAndrew, A. (2002). Carlingford Connexions.

Coleman Avenue

Coleman was named as part of the builder, developer and real estate agent street naming theme in the area.

McAndrew, A. (2002). Carlingford Connexions.

Colin Place

Most likely named after the subdivsion engineer for Brush Farm, Colin Court.

Parramatta Council. (199-). Suburban names review, part 1.

Constitution Court

This street's naming policy maintains the monarchal theme in the area here with an allied Australian flavour.

McAndrew, A. (2002). Carlingford Connexions.

Coral Tree Drive

Named after the coral trees which used to adorn this area. Named by Jack Burke.

McAndrew, A. (2002). Carlingford Connexions.

Correy Place

Origin unknown.

 

Coverdale Street

This street was originally part of a 5 acre property known as Woodleigh, owned by Robert and Helen Lees who ran a poultry farm (though grew fruits and vegetables too) on this property. It was later developed by Stocks and Holdings. The name Coverdale derives from a family who lived on nearby Pennant Parade.

Staples, C. (2018). From Fruit Bowl Farms to Housing Boom.

Craiglea Garden

The name Craiglea most likely comes from the developers of this area, Craiglea Buildings P/L, who subdivided the surrounding land to form Craiglea Garden.

Staples, C. (2018). From Fruit Bowl Farms to Housing Boom.

Cressfield Avenue

Cressfield was named as part of the builder, developer and real estate agent street naming theme in the area.

McAndrew, A. (2002). Carlingford Connexions.

Cudal Place

Following towns of NSW naming theme in the area. Some records also suggest it is the Aboriginal word for flat.

Place and See. (2021). Cudal

Cumberland Highway

Reference to County of Cumberland. It was completed in 1988.

Wikipedia. (2021). Cumberland Highway

Curtis Court

Named after ex-convict and early land grant owner Curtis Brand.

McAndrew, A. (2002). Carlingford Connexions.

Dalmar Place

(1984) Acknowledging the presence of the Dalmar Methodist Homes which commenced in this vicinity in the 1920s.

Parramatta Council. (199-). Suburban names review, part 1.

Dalwood Place

British place name theme. Dalwood is a village in the county of Devon.

McAndrew, A. (2002). Carlingford Connexions.

Dandarbong Avenue

(1958) From Council's Aboriginal words street naming policy, the word taken to mean very pretty.

Parramatta Council. (199-). Suburban names review, part 1.

Darwin Street

This street, when it was part of the Mobbs Estate and alongside various nearby streets, were named after famous figures, scientist Charles Darwin in this case.

Staples, C. (2018). From Fruit Bowl Farms to Housing Boom.

Donald Street

Named after Donald Mack as part of the first names of the builder, developer and real estate agent families street naming theme in the area.

McAndrew, A. (2002). Carlingford Connexions.

Douglass Avenue

Possibly named after Andrew Sneap Hammond Douglass White. In 1788, it was estimated the Wallumedagal population was between two to three thousand, but following the smallpox epidemic in 1789 the population was decimated. An orphan named Nanbree or Nanbarry, nephew of the Cadigal leader Colebee was seriously ill from smallpox but recovered after treatment by Surgeon John White, who adopted him and named him Andrew Sneap Hammond Douglass White.

Parramatta History and Heritage. (2019). Dundas and Dundas Valley - A Brief History

Dryden Avenue

Dryden was named as part of the builder, developer and real estate agent street naming theme in the area.

McAndrew, A. (2002). Carlingford Connexions.

Dunmore Avenue

A common English name which was given to this street when it was part of the Station Hill Estate and most likely named to evoke a nostalgic, familiar sentiment for marketing purposes as most names in the estate were given English names.

Staples, C. (2018). From Fruit Bowl Farms to Housing Boom.

Dunrossil Avenue

The origins of this name is no doubt connected with the nearby Dunrossil Park though its lexical roots are not clear. It can be speculated that the name would be linked to the title of Viscount Dunrossil which was created for Australian Governor-General William Morrison (1893-1961) though there is little evidence to support this.

Staples, C. (2018). From Fruit Bowl Farms to Housing Boom.

East Honiton Avenue

Honiton Estate was the homestead of Mr F. C. Cox whose father was born in Honiton, Devonshire, England. In 1917, it was subdivided and in 1946, the name was altered to Honiton Avenue East and Honiton Avenue West.

 

Ebony Avenue

Flower, tree and nature street naming theme in the area. Ebony is also a town in Kent, England.

McAndrew, A. (2002). Carlingford Connexions.

Edinburgh Avenue

This street's naming policy maintains the monarchal theme in the area.

McAndrew, A. (2002). Carlingford Connexions.

Eighth Avenue

Descriptive.

 

Elsmore Place

Elsmore was named as part of the builder, developer and real estate agent street naming theme in the area.

McAndrew, A. (2002). Carlingford Connexions.

Empire Court

This street's naming policy maintains the monarchal theme in the area.

McAndrew, A. (2002). Carlingford Connexions.

Evans Road

(1956) Named by the Housing Commission, in Explorers theme acknowledging George Evans whose surveying and exploring skills contributed immensely to the growth of the Colony. He set out the access route across the Blue Mountains which was later constructed under the supervision of William Cox.

Parramatta Council. (199-). Suburban names review, part 1.

Eyles Reserve

Eyles Reserve is bounded by Dandarbong Avenue and Perry Street in Carlingford. The name Eyles acknowledges Joseph Eyles (1774-1856) and his descendants who have made a significant contribution to the local community in Carlingford. Joseph Eyles arrived in Australia as a convict on 13 December 1801. He was granted his freedom in 1807 and granted a parcel of land at Parramatta. An orchard was planted on the grounds and the land was used to farm wheat, corn, oats and potatoes. Two of Joseph's sons, James Eyles (1820-1907) and William Eyles (1818-1859), remained in the district as local orchardists. Alexander Eyles (1843-1919), son of James, served as an alderman on the inaugural Dundas Municipal Council from 1889 until 1899. Alexander built the nearby Lauriston House, now heritage listed, where he lived until his death in 1919.

 

Farnell Avenue

James Farnell was State parliamentary member for Parramatta between 1864-1874.

Death Of James Squire Farnell. (1888, August 21). The Australian Star

Felton Road

Barrengarry, administration building for James Ruse High School, was built for the Felton family in 1885.

The Hills Shire. (2021). Street Name Origins

Fleming Street

Similar to nearby Darwin Street, this street was named after famous scientist Alexander Fleming who discovered penicillin in 1928.

Staples, C. (2018). From Fruit Bowl Farms to Housing Boom.

Freeman Place

(1984) Acknowledging Mr Freeman for his nine year span of service as Director of Child and Family Care at Dalmar Methodist Homes.

Parramatta Council (199-) Suburban names review, part 1.

Freestone Avenue

Named after Mrs Freestone, wife of the Commander of the K-13 submarine, whose land she sold to Lend-Lease Homes Pty. Ltd. in 1962 became the site of the Kingsdene Housing Estate.

McAndrew, A. (2002). Carlingford Connexions.

Georgian Avenue

The Georgian era is a period in British history from 1714 to circa  1830 -37, named after Kings George I, George II, George III and George IV. It often refers to a style of architecture. Most likely used here for advertising purposes.

Wikipedia. (2021). Georgian era

Gibbons Street

Named after W. K. Gibbons who owned a home nearby called Minden. This was later sold and repurposed by the Church of England.

McAndrew, A. (2002). Carlingford Connexions.

Glengarry Lane

Named after the nearby Glengarry tennis court which was built by Edgar Shields in 1933 in response to the Great Depression.

McAndrew, A. (2002). Carlingford Connexions.

Gossell Grove

Origin unknown.

 

Gowan Court

Commemorating Gowan Brae formerly owned by Colonel James Burns.

McAndrew, A. (2002). Carlingford Connexions.

Grace Street

Origin unknown.

 

Grimes Lane

This part of Pennant Hills Farm was subdivided by the Eyles Family into smaller fruit growing farmlets in which two un-named narrow lanes were provided for access to the new lots. The better sections were inherited by members of the family, a corner by Jeffery H. Grimes and his wife Josephine (nee Eyles). During the 1890s, Dundas Council attended to the un-named streets in the area generally acknowledging the fruit growing and farming families associated with the growth of the area. This lane was named after the Grimes family accordingly.

Parramatta Council. (199-). Suburban names review, part 1.

Haines Avenue

Possibly American place name theme.

McAndrew, A. (2002). Carlingford Connexions.

Harebell Close

Flower, tree and nature street naming theme in the area.

McAndrew, A. (2002). Carlingford Connexions.

Havilah Place

Named after Havilah Little Children's Home (1918 - c. 1980). This home was established by the Homes and Hostels Committee for Children, which in 1930 merged with the Church of England Homes. In 1950, Havilah moved to Seven Oaks at Carlingford next to the Church of England Boys' Home on Pennant Hills Road. The Seven Oaks property was renamed Havilah and became a group home in the 1970s. It closed around 1980 and the property was sold. After Havilah in Carlingford was sold, the area was rezoned with new street developments. The frontage of the property was reoriented from Pennant Hills Road to a new street, and currently has the address 29 Bevan Place, Carlingford.

McAndrew, A. (2002). Carlingford Connexions.

Hepburn Avenue

Part of the Yandoo Estate and sold in 1920, the Hepburn was likely given as its Scottish roots created an attractive familiarity to the street.

Staples, C. (2018). From Fruit Bowl Farms to Housing Boom.

Hibiscus Avenue

Likely named after the flower, a reference to the area's botanical roots.

 

Hilar Avenue

An acronym of the names of Bernie Reich's children, Helen, Ian, Luke, Anne Reich.

McAndrew, A. (2002). Carlingford Connexions.

Hillside Lane

Hillside orchard run by Frederick Orth 1950 - 1964, previously owned by Kinney.

The Hills Shire. (2021). Street Name Origins

Hollister Place

Timothy Hollister was granted 30 acres in 1797 on North Rocks Road and Jenkins Road.

The Hills Shire. (2021). Street Name Origins

Homelands Avenue

Named after the numerous houses built in the area.

McAndrew, A. (2002). Carlingford Connexions.

Honiton Avenue

Honiton Estate was the homestead of Mr F. C. Cox whose father was born in Honiton, Devonshire, England. In 1917, it was subdivided and in 1946, the name was altered to Honiton Avenue East and Honiton Avenue West.

Municipality of Dundas.—Alteration of names of roads. (1947, January 24). Government Gazette of the State of New South Wales

Howard Street

Named after an original land grantee in the area.

McAndrew, A. (2002). Carlingford Connexions.

Illarangi Street

(1958) From Council's Aboriginal words street naming policy, the street name being a mis-spelling of the word 'Illalange' taken to mean camp on a hill.

Parramatta Council (199-) Suburban names review, part 1.

Imlay Avenue

Named after an original land grantee in the area.

McAndrew, A. (2002). Carlingford Connexions.

Inala Place

(1962) From Council's Aboriginal words street naming policy, the word taken to mean peaceful place.

Parramatta Council (199-) Suburban names review, part 1.

James Street

Possibly named after James Milson an early land grantee in the area. He used to travel horseback from his land at Milson's Point which was named after him, to his farm at Pennant Hills which became Carlingford. His original land grant became part of the Tomah Estate.

McAndrew, A. (2002). Carlingford Connexions.

Janell Crescent

Origin unknown.

 

Jenkins Road

Part of the Carlingford Honiton Estate subdivided in 1917, and named after an original pioneer of the area.

SLNSW. (1886-1960). Carlingford subdivision plans

Jennie Place

Origin unknown.

 

Karingal Avenue

From the Aboriginal word Karingal meanining happy camp/home. Named by a developer, Nigirovich, a former Russian supreme court judge.

McAndrew, A. (2002). Carlingford Connexions.

Kay Street

Named after Alfred T. Kay, town clerk of Dundas Council.

McAndrew, A. (2002). Carlingford Connexions.

Keats Street

As with Darwin and Fleming streets, Keats street was named after a famous figure, English poet John Keats (1795-1821).

Staples, C. (2018). From Fruit Bowl Farms to Housing Boom.

Keeler Street

Named after Edward Keeler, a local orchardist whose main abode was situated along Pennant Hills Road.

McAndrew, A. (2002). Carlingford Connexions.

Kerribee Place

Named after the Aboriginal word Kerrabee (also known as Corroboree) meaning dancing and singing.

McAndrew, A. (2002). Carlingford Connexions.

Kimberley Road

Part of the Ross Estate, owned by Sidney and Ellen Ross who later owned and managed a dairy farm bearing their familial name. In 1952, the land was subdivided when they decided to relocate as housing development in the surrounding areas became more prevalent. This resulted in the creation of Kimberly Road and Way Close. The name Kimberley may have been selected in honour of HMS Kimberley, a K-class destroyer of the Royal Navy. She served in the Second World War and survived it.

Staples, C. (2018). From Fruit Bowl Farms to Housing Boom.

Kings Place

This street's naming policy maintains the monarchal theme in the area.

McAndrew, A. (2002). Carlingford Connexions.

Kirk Place

Kirk is a common place name in both Scotland and England. Kirk Merrington is a village in County Durham, in England.

McAndrew, A. (2002). Carlingford Connexions.

Kirriford Way

Origin unknown.

 

Lachlan Grove

Named in honour of the former Governor of NSW Lachlan Macquarie.

Parramatta History and Heritage. (2016). Macquarie Timeline

Lanceley Avenue

Lanceley flower nursey was established here during the 1930s depression.

 

Lasburn Crescent

Origin unknown.

 

Lemongrove Avenue

Possible orchard theme street naming adopted in reference to Carlingford being once a strong farming and orcharding area.

 

Lesley Avenue

Origin unknown.

 

Lime Grove

Possible orchard theme street naming adopted.

 

Lindisfarne Crescent

Named after a small island off the coast of Northumberland, Britain. It is unclear what the crescent was named after as there is also a Lindisfarne Gospel.

McAndrew, A. (2002). Carlingford Connexions.

Linley Close

British place name theme. Linley is a hamlet in Shropshire, England.

McAndrew, A. (2002). Carlingford Connexions.

Lipsia Place

Flower, tree and nature street naming theme in the area. Lipsia Chineses' common name is Bolly Gum.

McAndrew, A. (2002). Carlingford Connexions.

Lloyds Avenue

Captain James C. Lloyd owned Abbotsleigh and operated a 15 acre in the late 1800s and early 1900s.

The Hills Shire. (2021). Street Name Origins

Loch Awe Crescent

Along with Torquil Avenue, Loch Awe was named after the Scottish lake of the same name. The aforementioned streets were part of the McCorquodale Estate and developed for housing during the 1950s.

Staples, C. (2018). From Fruit Bowl Farms to Housing Boom.

Lochinvar Parade

Potentially a reference to the protagonist of Walter Scott's ballad, fifth Canto of Marmion. The name is also shared with a NSW town.

McAndrew, A. (2002). Carlingford Connexions.

Lomax Street

The origin of this name is unknown though it is speculated that it originated from Lomax (previously Lumhalghs) in Lancashire.

McAndrew, Alex. (2002). An ABC of Epping.

Ludmila Close

Ludmila is a Slavic female name, of personal connexion to the developer of this section, Nagonovich.

McAndrew, A. (2002). Carlingford Connexions.

Lynch Close

Origin unknown.

 

Lyndelle Place

Created as part of a housing development project, this place lies on the area where Hazelwood Dam once was. It was drained by the developers during the 1960s to create area for housing.

Staples, C. (2018). From Fruit Bowl Farms to Housing Boom.

Lynden Avenue

Possibly American place name theme.

McAndrew, A. (2002). Carlingford Connexions.

Lynette Avenue

Named after Lynette Scarf as part of the first names of the builder, developer and real estate agent families street naming theme in the area.

McAndrew, A. (2002). Carlingford Connexions.

M2 Motorway

Previous name/replaced: Mahers Road and Marconi Road. These roads were named after the nearby radio transmitter manufacturers at North Rocks Road.

 

Madison Avenue

American place name theme.

McAndrew, A. (2002). Carlingford Connexions.

Maismonde Place

(1958) Acknowledges the family homestead Maismond (subsequently spelt with an 'e' added) Council acceding to the special request of the Marshall family being in lieu of the name Arkana which had been allotted in accordance with Council's street naming policy.

McAndrew, A. (2002). Carlingford Connexions.

Manhattan Court

American place name theme.

McAndrew, A. (2002). Carlingford Connexions.

Manildra Avenue

Towns of NSW naming theme.

McAndrew, A. (2002). Carlingford Connexions.

Manning Drive

Note: On Google Maps it is classed as an unnamed road.

 

Manning Place

Named after Stan Manning, General manager of the Central Methodist Mission.

McAndrew, A. (2002). Carlingford Connexions.

Marook Street

(1958) From Council's Aboriginal words street naming policy, the word taken to mean good.

Parramatta Council. (199-). Suburban names review, part 1.

Marsden Road

Acknowledges the Marsden family. Samuel Marsden consolidated a large holding in the Ermington area through which this road runs, a property which his son Thomas and his daughter Mary (Bobart) developed. The use of the name Marsden throughout its length has applied only since 1958. It is the route which William Cox developed to connect his two farms at Brush Farm and Castle Hill, a route which ran through and beside Pennant Hill Farm. At various times it was referred to as the Pennant Hills Road, the Parramatta Road, and later as Brush Road. After the municipalities of Ryde and Dundas had been incorporated, both Councils agreed to naming the section between Victoria Road and Stewart Street, Flagstaff Road (a name which survived until 1918); the section between Stewart Street and Terry Road, Marsden Street; and the section northerly of Terry Road, Church Street. When the route was given the status of a future County Road under the County of Cumberland Planning Scheme in 1951, the need for a uniform name throughout emerged and the name change to Marsden Road was effected after 1958.

Parramatta Council. (199-). Suburban names review, part 1.

Marshall Road

Named after Joseph Marshall who was granted 30 acres of land at the Ponds in 1794.

McAndrew, A. (2002). Carlingford Connexions.

Martins Lane

Named after John Martin who in 1792 acquired 50 acres near Pennant Hills Road. At the age of 57, Martin became a constable.

McAndrew, A. (2002). Carlingford Connexions.

McKillop Place

Most likely acknowledging Mary MacKillop who was an Australian nun declared a saint by the Catholic Church.

 

McMullen Avenue

This street was once part of a property owned by Edward McMullan and was sold to Metropolitan Developments in 1957.

Staples, C. (2018). From Fruit Bowl Farms to Housing Boom.

Melaleuca Crescent

(1972) Initially this street was proposed to be an extension of Dandarbong Avenue designed to intersect with Stewart Street. For traffic planning reasons Council reversed that proposal choosing a landscaped pedestrian connection in its place. A name which corresponded with the landscaping decision was selected accordingly.

Parramatta Council. (199-). Suburban names review, part 1.

Metcalf Avenue

From 1900 until 1912 Metcalf and Morris operated a horse driven bus along Pennant Hills Road from Parramatta to Epping.

McAndrew, A. (2002). Carlingford Connexions.

Miamba Avenue

Named after the Aboriginal word meaning high wind.

McAndrew, A. (2002). Carlingford Connexions.

Milton Street

Named in honour of John Milton who is considered the most important English poet after William Shakespeare.

McAndrew, A. (2002). Carlingford Connexions.

Mobbs Lane

(c1879) Acknowledging more particularly John T. Mobbs farmer and fruit grower whose land adjoined the lane when it was named by Dundas Council in the 1890s. See also Grimes Lane.

Parramatta Council. (199-). Suburban names review, part 1.

Montgomery Road

Originally part of famous astronomer James Dunlop's estate but later owned by the third president of the Hornsby Council, Lord Livingston Ramsay and then Jim Sinclair Millner. It was subdivided by Millner in 1959 and the streets created were named after his British generals from World War 2.

Staples, C. (2018). From Fruit Bowl Farms to Housing Boom.

Moorilla Avenue

Named by Jack Burke ... [and named after] Mount Moorilla in the Blue Mountains. The word murilla is Aboriginal meaning sandy/pebbly ridge.

McAndrew, A. (2002). Carlingford Connexions.

Morris Street

(c1879) Acknowledging Mr Alf Morris and adjoining owner for many years. Initially this was a narrow lane providing a detour around a deep gully which separates Perry Street and Terry Road. Parramatta City Council widened the lane and formalised the name in the 1960s.

Parramatta Council. (199-). Suburban names review, part 1.

Morshead Avenue

Named in honour of Leslie Morshead (1889-1959) who won fame as the defender of Tobruk during the Second World War and is among the most renowned Australian divisional commanders of that war.

Australian War Memorial. (n.d.). Lieutenant General Leslie James Morshead

Morton Avenue

Acknowledges solicitor John Morton Gould, who was very active in developing real estate in the area.

Parramatta Council. (199-). Suburban names review, part 1.

Moseley Street

William Moseley, Edward Maher and William Paling bought Murray Farm and subdivided from 1882 into smaller properties of 5-10 acres.

The Hills Shire. (2021). Street Name Origins

Mulyan Avenue

(1960) From Council's Aboriginal words street naming policy, the word taken to mean wedge tail eagle. When first formed a small section of the street was named Speers Avenue a name which had to be promptly changed.

Parramatta Council. (199-). Suburban names review, part 1.

Mulyan Lane

(1960) From Council's Aboriginal words street naming policy, the word taken to mean wedge tail eagle.

Parramatta Council. (199-). Suburban names review, part 1.

Murray Farm Reserve

Andrew Murray was granted 250 acres east of Pennant Hills Road in 1823 and later acquired acreage west of this. Subdivision began in 1882. Leslie Kemeny worked on Murray Farm (see Rainbow Farm Reserve).

McAndrew, A. (2002). Carlingford Connexions.

Murray Farm Road

Andrew Murray was granted 250 acres east of Pennant Hills Road in 1823 and later acquired acreage west of this. Subdivision began in 1882.

McAndrew, A. (2002). Carlingford Connexions.

Muruba Avenue

Formerly owned by Bernie Reich and subdivided in 1966-67, this street was named after the Aboriginal word for good or beautiful.

McAndrew, A. (2002). Carlingford Connexions.

Niangla Place

Named after the Aboriginal word for camp/house on the hill.

McAndrew, A. (2002). Carlingford Connexions.

Norfolk Place

Acknowledging Norfolk Island which formed part of the early settlement of Australia acting as a penal settlement largely from 1788 until 5 May 1855.

 

North Rocks Road

Previous name: Governors Arms Road. Governors Arms Road was initially built to enable access to the Darlings Mills where the local residents took their grain to have it milled into flour; passing through a large 300 acre farm of that name originally granted to Thomas Horton James on 18 June 1840. In 1910, it was officially renamed.

Parramatta History and Heritage. (2016). North Rocks – A Brief History

Northam Drive

This drive commemorates Australian Olympic sailor Bill Northam (1908-1988) who represented Australia in the 1964 Tokyo Olympics and won a gold medal for sailing (5.5 metre class).

Wikipedia. (2021). Bill Northam

Norwood Avenue

Originally part of the Finch Estate, this avenue was subdivided around 1960. The name derives from the house they lived in of the same name.

Staples, C. (2018). From Fruit Bowl Farms to Housing Boom.

Oakes Road

Previous name: Cross Street

 

Olinda Crescent

Refers to the National Rhododendron Gardens in the Dandenong Ranges of Victoria.

McAndrew, A. (2002). Carlingford Connexions.

Olympic Court

Acknowledging the Olympic Games. The Ancient Olympic Games were held every four years at the sanctuary of Zeus in Olympia, Greece.

Wikipedia. (2021). Olympic Games

Orchard Road

Street aligns and crosses into the suburb of Beecroft. First used in 1882. Named because of the suitability of the area for orcharding. The Beecroft area had many orchards growing oranges, mandarines and lemons.

Beecroft-Cheltenham History Group. (1995). Beecroft and Cheltenham: the shaping of a Sydney community to 1914.

Page Court

Most likely named after Doctor Sir Earle Christmas Grafton Page, who served as the eleventh Prime Minister of Australia.

Wikipedia. (2021). Earle Page

Paisley Place

Paisley was named as part of the builder, developer and real estate agent street naming theme in the area.

McAndrew, A. (2002). Carlingford Connexions.

Parkland Road

Flower, tree and nature street naming theme in the area.

McAndrew, A. (2002). Carlingford Connexions.

Parklea Place

British place name theme. Parklea is in Liverpool, England.

McAndrew, A. (2002). Carlingford Connexions.

Parma Place

Named by significant landholders the Italian family of Delfinos who donated the cemetery land on which the North Rocks Catholic Cemetery is built. Parma is a town in northern Italy.

McAndrew, A. (2002). Carlingford Connexions.

Paterson Street

This street lies on what was once the Gow family estate and was created when the area was being developed for housing by Stocks and Holdings company around 1960.

Staples, C. (2018). From Fruit Bowl Farms to Housing Boom.

Paul Place

Origin unknown.

 

Peach Court

Most likely in reference to the various fruit-bearing orchards in the surrounding area. The area was renowned for its stone fruit.

McAndrew, A. (2002). Carlingford Connexions.

Pennant Hills Road

First used in 1828. A road leading to the suburb of Pennants Hill. Possible place name origin for the suburb:
(1) Name possibly derived from the practice of using flags, or pennants, to signal between Sydney Cove and Parramatta.
(2) Named after botanist and zoologist Thomas Pennant (1726-1798) a colleague and friend of Sir Joseph Banks.
(3) Named in reference to the Crimson Rosella (Latin: Psittacus pennanti), a common bird in the Pennant Hills area. Also known as Pennant's Parakeet in English bird magazines.

Patrick, T. G. (1994). Street names of Pennant Hills and surrounding suburbs of Beecroft, Cheltenham, Cherrybrook, Thornleigh, Westleigh and West Pennant Hills.

Pennant Parade

Previously used to transport timber from the now extinct mill, the Pennant Hills Timbergetting Establishment, on Epping's Oxford Street.

History Services Blog. (2010). The Convict Heritage of Oxford Street Epping

Pepperina Place

Named by Jack Burke after an alternate term for peppercorn trees.

McAndrew, A. (2002). Carlingford Connexions.

Philip Place

Named after Captain Philip Gidley King who was the third Governor of New South Wales.

McAndrew, A. (2002). Carlingford Connexions.

Pindari Avenue

Named after the Aboriginal word meaning high ground.

McAndrew, A. (2002). Carlingford Connexions.

Pinetree Drive

Flower, tree and nature street naming theme in the area.

McAndrew, A. (2002). Carlingford Connexions.

Pleasant Court

The origins of this street name is not precisely known though it can be assumed that the street name was a term of endearment for real estate advertising.

 

Plympton Road

On this road once existed a 40 acre property, owned by Charles Churchill Tucker, who ran an apple orchard and served as president of the Fruitgrowers' Association as well as councillor on the Hornsby Shire Council in 1906. The road thus derives from Tucker's home, known as the Plympton.

Staples, C. (2018). From Fruit Bowl Farms to Housing Boom.

Poinsettia Avenue

Flower, tree and nature street naming theme in the area.

McAndrew, A. (2002). Carlingford Connexions.

Post Office Street

In 1915 Post Office Estate was advertised for auction.

The Hills Shire. (2021). Street Name Origins

Priddis Avenue

Origin unknown.

 

Railway Lands

In 1896, a private railway line was opened between Black Wharf on the Parramatta River to Carlingford by Mr B. C. Simpson. An extension of the private railway from Clyde, which was once destined for Dural, terminated at Carlingford, with the line bisecting Cox's property. The station opened as Pennant Hills on 2 April 1896, then, as part of the state government railway line, it became known as Carlingford on 1 August 1901. A small village commercial centre developed around the railway station from this time and later a larger shopping complex was developed at the corner of Carlingford and Pennant Hills Roads.

Parramatta History and Heritage. (2019). Carlingford – A Brief History

Raimonde Road

(1919) Acknowledging Mrs Saratta Raimonde former resident fruit grower of the area.

Parramatta Council. (199-). Suburban names review, part 1.

Rainbow Farm Reserve

Laszlo Kemeny, a Hungarian immigrant who arrived in the area in the 1930s, pioneered a spray irrigation system for farming.

Fertilizers Act, 19[?]4. (1967, August 4). Government Gazette of the State of New South Wales

Rembrandt Street

Like the nearby streets of Darwin, Keats and Fleming, Rembrandt street was named in honour of a famous figure, artist Rembrandt Van Rijin (1606-1669).

Staples, C. (2018). From Fruit Bowl Farms to Housing Boom.

Rickard Street

Named for Sir Arthur Rickard, the owner of a prominent real estate business in the area, the Rickard Company.

McAndrew, A. (2002). Carlingford Connexions.

Robbie Crescent

Possibly acknowledging as part of the area's military officers street naming theme, Sir Horace Clement Hugh Robertson (1894–1960) known as Red Robbie to distinguish him from his brother.

Australian Dictionary of Biography. (2006). Robertson, Sir Horace Clement Hugh

Robin Street

Created as part of the subdivisions by Jim Millner in 1959, this street bears the name of a British general whom Millner served under in World War 2.

Staples, C. (2018). From Fruit Bowl Farms to Housing Boom.

Roselea Way

Named to reference the rose nurseries around the area. Rose-Lea meaning the grove of roses.

McAndrew, A. (2002). Carlingford Connexions.

Rosewood Avenue

Flower, tree and nature street naming theme in the area.

McAndrew, A. (2002). Carlingford Connexions.

Runnymede Way

Runnymede is a meadow alongside the River Thames in England, associated with the signing of Magna Carta, thus as a consequence is, with its adjoining hillside, the site of memorials.

Wikipedia. (2021). Runnymede

Sandringham Drive

This street's naming policy maintains the monarchal theme in the area.

McAndrew, A. (2002). Carlingford Connexions.

Sherwood Street

British place name theme.

McAndrew, A. (2002). Carlingford Connexions.

Shirley Street

This street lies on land formerly known as the Pennant Estate which was developed by Newline Construction. The origins of this name is unknown.

Staples, C. (2018). From Fruit Bowl Farms to Housing Boom.

Snowdon Avenue

This street's naming policy maintains the monarchal theme in the area.

McAndrew, A. (2002). Carlingford Connexions.

Sovereign Avenue

This street's naming policy maintains the monarchal theme in the area.

McAndrew, A. (2002). Carlingford Connexions.

Staten Place

American place name theme. Staten Island is a borough of New York City.

McAndrew, A. (2002). Carlingford Connexions.

Statham Avenue

Named after Edwyn Joseph Statham who had been the assistant Engineer of Roads, went on to serve on the first Baulkham Hills Shire Council in 1906.

Parramatta History and Heritage. (2016). North Rocks – A Brief History

Sun Valley Place

Flower, tree and nature street naming theme in the area.

McAndrew, A. (2002). Carlingford Connexions.

Sylvia Avenue

Origin unknown.

 

Talinga Street

Aboriginal word for sandhill.

Aboriginal House Names and their meanings (1961, December 20). The Australian Women's Weekly

Tamboy Avenue

Likely derived from Tambo, the Aboriginal word for delicious to eat, like fish or yam.

McAndrew, A. (2002). Carlingford Connexions.

Tanderra Avenue

Aboriginal word for resting place.

McAndrew, A. (2002). Carlingford Connexions.

Telopea Street

Flower, tree and nature street naming theme in the area.

McAndrew, A. (2002). Carlingford Connexions.

Thallon Street

Thallon was named as part of the builder, developer and real estate agent street naming theme in the area.

McAndrew, A. (2002). Carlingford Connexions.

Thornton Avenue

Most likely acknowledging convict George Thornton who was granted 100 acres in the area in 1823.

The Hills Shire. (2021). Street Name Origins

Timbertop Avenue

Flower, tree and nature street naming theme in the area.

McAndrew, A. (2002). Carlingford Connexions.

Tintern Avenue

British place name theme.

McAndrew, A. (2002). Carlingford Connexions.

Tiptrees Avenue

Flower, tree and nature street naming theme in the area.

McAndrew, A. (2002). Carlingford Connexions.

Tiptrees Lane

Flower, tree and nature street naming theme in the area.

McAndrew, A. (2002). Carlingford Connexions.

Tobruk Avenue

Named for the Battle of Tobruk in North Africa during World War 2. Multiple nearby streets also bear the names of World War 2 African battles.

McAndrew, A. (2002). Carlingford Connexions.

Tomah Street

Named after the Tomah Estate which was an area subdivided and advertised for auction sale on 25 September 1909.

 

Torquil Avenue

Named by the McCorquodale family who owned the land in this area. Torquil is the base root of the name McCorquodale.

McAndrew, A. (2002). Carlingford Connexions.

Tracey Avenue

Origin unknown.

 

Trigg Avenue

Former land owned by several homes for children operated by the Anglican Diocese of Sydney since the 1920s. When the land was developed for housing, street names such as Trigg, Marella, Carramar, Buckland and Lisgar were used to reflect the names of individual houses or Anglican Home Mission Society services. This street was named after Molly Trigg Cottage also known as Church of England Girls' Home, Carlingford (1913 - 1970s).

Find & Connect. (2021). Church of England Girls' Home, Carlingford (1913 - 1970s)

Tripoli Avenue

Named after Tripoli in Northern Africa, a significant location in the Allied campaign during World War 2.

McAndrew, A. (2002). Carlingford Connexions.

Tudor Place

This street's naming policy maintains the monarchal theme in the area.

McAndrew, A. (2002). Carlingford Connexions.

Vickery Avenue

Named after the donor of the land for the Church of England Boys' Home in Carlingford and Norman Cull Memorial Cottage.

McAndrew, A. (2002). Carlingford Connexions.

Village Road

Descriptive.

 

Wattle Place

Flower, tree and nature street naming theme in the area.

McAndrew, A. (2002). Carlingford Connexions.

Watton Road

Type of peach grown on 10 acre orchard Hillside by Frederick Orth.

The Hills Shire. (2021). Street Name Origins

Wavell Avenue

Created as part of the subdivisions by Jim Millner in 1959, this street bears the name of a British general whom Millner served under in World War 2.

Staples, C. (2018). From Fruit Bowl Farms to Housing Boom.

Way Close

Part of the Ross Estate, owned by Sidney and Ellen Ross who later owned and managed a dairy farm bearing their familial name. In 1952, the land was subdivided when they decided to relocate as housing development in the surrounding areas became more prevalent. This resulted in the creation of Kimberly Rd and Way Close.

Staples, C. (2018). From Fruit Bowl Farms to Housing Boom.

West Honiton Avenue

Honiton Estate was the homestead of Mr F. C. Cox whose father was born in Honiton, Devonshire, England. In 1917, it was subdivided and in 1946, the name was altered to Honiton Avenue East and Honiton Avenue West.

 

Westminster Avenue

This street's naming policy maintains the monarchal theme in the area.

McAndrew, A. (2002). Carlingford Connexions.

Wilshire Avenue

Possibly American place name theme.

McAndrew, A. (2002). Carlingford Connexions.

Windsor Avenue

This street's naming policy maintains the monarchal theme in the area.

McAndrew, A. (2002). Carlingford Connexions.

Wondabah Place

The German word for wonderful (wunderbar) as well as the native word for tree/ghost/spirit (wondah) are this street's suspected origins.

McAndrew, A. (2002). Carlingford Connexions.

Woodstock Road

British place name theme.

McAndrew, A. (2002). Carlingford Connexions.

Wyburn Avenue

American place name theme.

McAndrew, A. (2002). Carlingford Connexions.

Yalding Avenue

British place name theme. Yalding is a town in Kent.

McAndrew, A. (2002). Carlingford Connexions.

Yarralumla Drive

Named after Yarralumla in Canberra where Government House is sited. Yaarralumla is the Aboriginal word for aarumlumla meaning an echo.

McAndrew, A. (2002). Carlingford Connexions.

Young Road

Acknowledging Sir John Young, First Baron Lisgar (1807-1876), governor of New South Wales from 1861 to 1867.

National Portrait Gallery. (2021). Sir John Young
Caroline Finlay, Regional Studies Facilitator and Neera Sahni, Research Services Leader, Parramatta Heritage Centre, City of Parramatta, 2021
Disclaimer: We have tried our best to provide a reason behind how these public roads and streets in Carlingford listed got their names but should there be any discrepancies or if you can help us fill in the gaps, please contact us using our online enquiries form