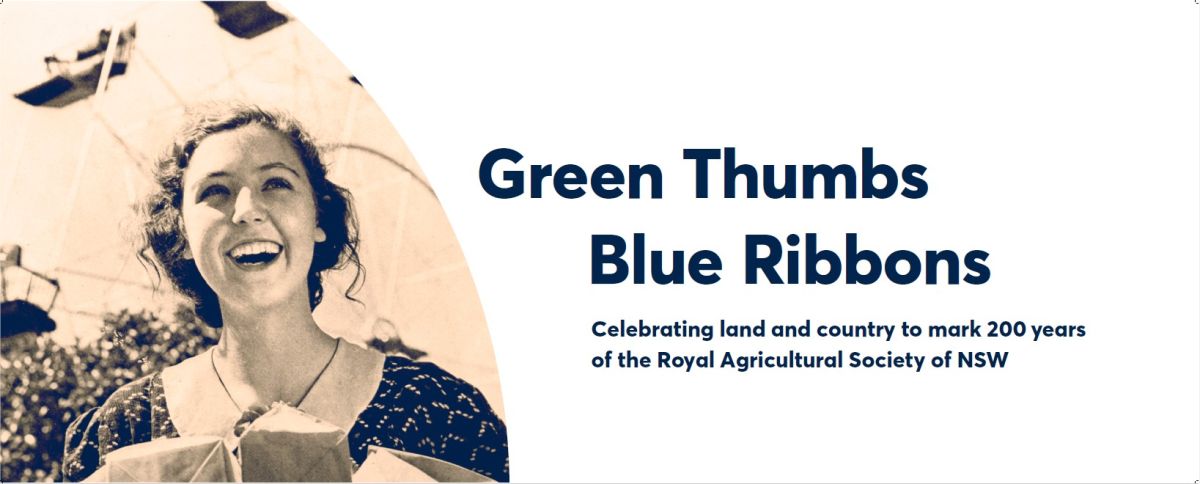 Green Thumbs – Blue Ribbons
Celebrating land and country to mark 200 years of the Royal Agricultural Society 
Through this exhibition, we explore Parramatta's agricultural beginnings and continued intersections of people, land and country across time.
We celebrate our rich agricultural history by bringing together: stories from the Dharug people who managed these lands for tens of thousands of years; with highlights from the Royal Agricultural Society, established 200 years ago; and tales from our market gardeners who have introduced exotic produce to our ever expanding and colourful city and community.
The Royal Agricultural Society of NSW has its roots in Parramatta. In 1822, the newly appointed members gathered at Charles Walker's Red Cow Inn to finetune the rules of the Society and celebrate its new beginnings. At this meeting, Governor Brisbane pledged government support to carry out the activities and aims of the Society, as well as promising  a land grant near Parramatta for an experimental farm. 
The Society organised the first of their annual shows in 1823, with the view to foster the improvement of breed stock and produce by awarding prizes for outstanding results. This first show was held in conjunction with the 'Parramatta Fair'. The Society, which gained its 'Royal' title in the 1890s, continues to play a significant role in supporting agricultural development and community in Australia. Best known for the annual premier event we all know and love, the Royal Easter Show, the Society certainly delivers in 'bringing the country to the city', showcasing the very best of green thumbs, awarding blue ribbons and presenting show time fun.
Today, we not only celebrate 200 years of the Royal Agricultural Society of NSW in Parramatta, but also give thanks to the land and country of the Dharug people and all that have chosen Parramatta as their home, as we continue to grow together, making Parramatta a place of agricultural diversity. 
Presented by the City of Parramatta in partnership with The Royal Agricultural Society of NSW.